Revell-Monogram 1/72 F/A 18 Blue Angels
By Steve Perry
Model by Cina Renee Perry
Introduction
Every modeler who cares about this hobby should keep one or two of Revell/Monogram's SnapTite kits on hand just to give away to youngsters. These kits are well engineered and allow a child to taste that sweet feeling of putting a finished one on the shelf without experiencing undue frustration. These kits may or may not bring in enough kids to "Save the Hobby", but they are a darn fine effort and Revell/Monogram is deserving of our support.
My daughter's first modeling experience came when she was a toddler. I had just put the top wing on an Airfix Tiger Moth and gone into the next room. I was followed soon after by Cina Renee holding the top wing in one hand and the rest of the model in the other with a trail of struts on the floor behind her:
"Air Pane Dada"

"Uh, (oh S#$%), Here Honey, let Daddy help you with that"
And she is the ONLY living being on the planet who could do that and survive.
Several attempts at modeling over the years were frustrated by not yet developed powers of visualization and coordination. Since Dad's attention was her goal rather than the model, she was happy enough to pester me as I built her models. Later as reading skills developed, studying the plans and hunting a specific part on the sprue became her job. Sprue nippers have always been popular. Now that she is eight years old, she is getting to the stage where she can see a finished project in her mind's eye and has enough (barely) attention span to build a few steps at a time before getting distracted. Her tastes in models are broad, she has a completed Nie 17, B-25, VW Beetle, RMS Titanic and a Visible Woman in her collection. Oh yes and a Howard Ike with the loudest paint scheme you've ever seen occupying an honored perch on Grandpa's book shelf. These were all done with varying amounts of "Help" from Dad.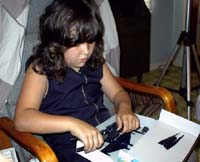 Cutting the pieces from the sprue
What is satisfactory to a kid may send the IPMSer in you over the edge, but remember just getting it together to the point of decals, stickers in the case of SnapTite kits, is their goal. Filling seams is not on the average kid's list of fun things to do. Sticking on "cool" decals and making jet noises as they fly the finished model around the house are a kid's priorities. Keep this point in mind and focus your activities toward these ends and you will have that kid associating models with fun for the rest of her or his life.
IM and Revell/Monogram have provided us with an F/A 18 SnapTite kit. This will be her first one all by herself. The rules of engagement are Dad can tell and show how , but Cina does it. She already likes the markings.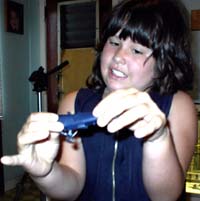 Snapping the pieces into place
The kit consists of two sprues with 16 pieces molded appropriately enough in Navy Blue. One clear canopy, a sheet of peel & press markings and an instruction sheet. The box is printed on all sides and the back is printed full of information on the airplane and the Blue Angels. Bilingual for our Canadian pals. It is listed as 1:72 scale and has recessed panel lines and nice detail. This kit can be made into as fine a scale model of the F/A 18 as the kid's talents will allow.
Construction began with the cutting of the parts from the sprues. "Flat side of the nippers to the part dear." "Mind you don't pinch your fingers". A modicum of parts cleanup followed and then began the painting of the tires, L/G legs and pilot. Here I allowed her to use water cleanup acrylic paints.
I decided that she was not ready to be let loose with CA or other glues, so we built this one glueless as advertised.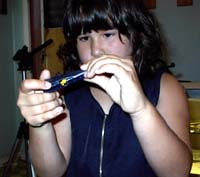 Painting
She followed the steps depicted on the instruction sheet and had no problems finding where things went. Dad did need to help out with a little muscle power to get a couple of the "hard" parts to snap fully into place.
Conclusion
This is a well engineered kit, the parts fit well, the instructions are simple to follow and children do have a good time building and playing with the model. With just a little guidance and attention from a parent this is a fun project that rewards patience, following instructions and attention to detail in just the right measure.