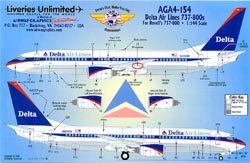 Airway Graphics
1/144 Delta 737-800
Airway Graphics has just released a new sheet, this one targeted for the Revell/Germany Boeing 737-800. Revell/Germany had originally released the kit in Hapag-Lloyd and KLM versions.
The beauty of the Revell kit is that the fuselage can be cut down to represent the 737-600 or 737-700. There are several websites out there that have the appropriate instructions for the conversions.
Ironically, not long after Revell released this kit, Boeing announced the 737-900, which is almost the length of the 727-200. You'll need to stretch the Revell kit to get the 900.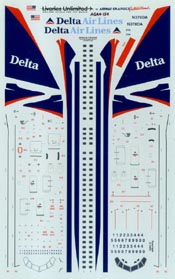 For those who were wanting to buy (or have already purchased) one or more of Revell's 737-800 kits, but wanted a little more variety in markings, your waiting is over. As Delta was one of Boeing's launch customers for the aircraft, it is only fitting that Airway Graphics produce one of their high-quality sets for this carrier. As with any of Airway Graphics decals, this set not only includes the stripes and logos, it also has the doors, windows, maintenance stencils and overwing escape routes. The only other thing you'll need are the Inspar panels that are also available separately from Airway Graphics (unless you really want to paint them on). This Delta set actually takes most of the work out of finishing the aircraft, as all you'll need to do is paint the white and bare metal areas, then apply the markings.
I highly recommend these decals to any airline builder, and if you're not an airline builder, pick up the Revell/Germany 737-800 kit and one of these sets, you'll be a convert! My sincere thanks to Airway Graphics for these review samples. You can pick up any of Airway Graphics releases directly from their website.