| | |
| --- | --- |
| Revell 1/64 Diecast Series | |
Revell-Monogram has been busy diversifying their product lines with some interesting and high quality offerings. In response to the high interest in die-cast collectibles, R-M has been releasing some cool cars in the larger scales and they haven't ignored the 1/64 scale community.
One series that is fun is the American Graffiti collection, based on the popular 1973 movie of the same name. The question on the card asks "Where were you in '62?" - well, I'd rather not think about that. Nevertheless, the cars in this series depict the machines that starred in the movie, complete with openning hoods.
Another interesting and growing line of die-cast cars centers around the Low-Rider phenomenom. Some of you have no-doubt seen some of these machines on the street. There is nothing like seeing a car going up, down, hopping, or going through other strange gyrations, thanks to the advanced hydraulics installed on these cars. R-M has captured these unique machines with positionable axles to replicate some of the more unusual poses that these cars can be seen in. A few of these cars are also available as kits and Key Chains.
For those of you who prefer the stock look of your classic cars, R-M offers many of these same machines as they looked coming off the showroom floor.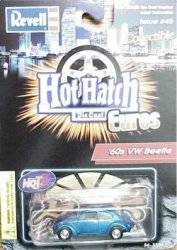 One last offering that rounds out this look is a 1/64 semi that depicts the scene around Mel's Diner from the movie American Graffiti. The trailer features opening rear doors.

Check your favorite hobby retailer or better toy stores for a closer look at these cool cars!
Our sincere thanks to Revell-Monogram for these review samples!