| | |
| --- | --- |
| Revell's 1/24 Richard Petty '70 Plymouth Superbird | |
Overview
With the 1969 season over and the 1970 season coming up, Plymouth contacted Richard Petty and asked what it would take to get him back into a Roadrunner.  Petty told them to design a car with better aerodynamics, so Plymouth teamed up with Petty Enterprises and the end result was the 1970 Plymouth Superbird.  Based on the Dodge Daytona, the Superbird added a long pointed nose and a large rear wing, improving handling at big tracks like Talladega and Daytona.  The design was proven when Pete Hamilton won the 1970 Daytona 500 and both 500-mile races at Talladega while driving a Petty Superbird and Richard Petty himself won a total of 18 races, including Richmond, Dover, Rockingham and Martinsville.  Petty's championship hopes for 1970 were dashed, though, when he suffered a terrible crash at the Darlington Raceway.  This effectively put him out of racing for the rest of the 1970 season.  He returned in 1971 and made up for lost time, with 21 wins, 38 top five finishes, and 41 top ten finishes, winning his third NASCAR Championship.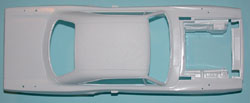 The Kit
Not being an automotive enthusiast, I can't really tell you much about this kit other than you get a complete engine & transmission, a full interior, and a detailed body.  The decals come with a choice of either Petty's racecar or a standard street issue car.  I do know this, though.  Out of the box you're pretty much stuck with building the street version, as there's absolutely no representation of the race interior provided (roll cage, 5-point harness, etc.).  The instructions do point out that you need to sand off the vinyl texture and remove the roof ribs for the race version, though.  With a bit of research on the interior you should be able to build Petty's Superbird fairly easily.
Conclusion
Even though the kit doesn't come with the necessary pieces for the race interior, this kit is very well molded and looks like a '70 Superbird to me.  The decals, in addition to providing everything for Petty's racecar, also provide all the necessary markings to do any of the original color Superbirds.  If you're a Petty fan, or just love big Plymouth muscle, definitely grab this kit.
Our thanks to Revell-Monogram for the review sample.