By the time you read this, another year will have rolled around.  Mankind is still here (so is the planet), the Taliban has been defeated and Afghanistan is trying to return to some level of pre-Taliban normalcy.  What lies ahead in the course of our war on terrorism, no one can say, but there is certainly reason for optimism.  Happy New Year.
In the time-honored tradition of good ol' American entrepreneurship -and flat out opportunism in some cases- the marketplace has been swamped with all kinds of attack related products.  Everything from bumper stickers to rather creative Osama Bin Laden face decals for restroom urinals to very interesting computer art that combines U.S. flags with Bald Eagles and the World Trade Center.  Take another step up the product ladder and you will find high quality, limited edition art prints.  One in particular caught my eye.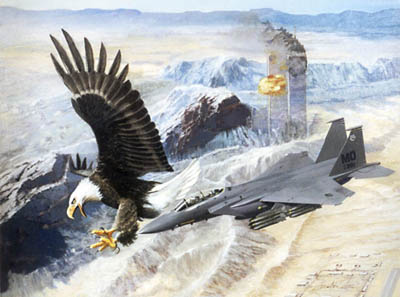 PROWEB FORT WORTH (http://www.prowebfortworth.com), a publisher of aviation related E-books, commissioned a painting by aviation artist Tony Weddel that would capture on canvas a surreal tribute to the avengers of terror attacks on our country.  Within two weeks after 50 pre-orders have been received, the 16" x 20" prints complete with an accompanying story page will be shipped.
As you can see from the photo of the original painting, quality is excellent.  The angry and defiant Bald Eagle, with a McDonnell-Douglas F-15E Strike Eagle (loaded with Mk.82 and Snakeye bombs) holding the wingman position, are diving to the attack on a small airfield.  Rising from the background mountains is a ghost image of the New York World Trade Center, frozen in that moment of time just seconds after the impact of the second airliner as the explosion begins to blossom out.  If you wondered before what the motivation of the attack was, that image removes all doubt.
Offered as a limited edition print on the finest quality 100-pound stock with each print signed and numbered by Tony Weddel, it carries a very reasonable price of $55.00 ($58.00 for foreign orders).  Just how reasonable is evident when you consider that the price includes shipping and handling.  Finally, 10% of all profits earned from the prints will be donated to the Salvation Army to benefit survivors of the Attack victims.
This month's column seems to be full of items deserving of superlatives.  Doubt me?  Then consider a new book from SPECIALTY PRESS.  Magnesium Overcast: The Story of The Convair B-36 by Dennis Jenkins is one of the best, if not the best books ever to come along on the B-36. 
Published in rather unusual 10" x 10" format, 264 pages are protected by a very sturdy hard cover binding w/dust jacket.  Those 264 pages are crammed to the gills with some 505 b&w photos and 53 color photos, along with many thousands of words of text.  Photo quality is exquisite.  Even though the majority of them were taken some 50 years ago or longer, they're so bright and crisp that you'd think they were taken yesterday.  If you have an obsession, fascination or even passing interest in this humongous bomber that kept the peace for ten years of the cold war, this book is an absolute must. 
So what do you get for $34.95?  Far more than I can possibly describe in this column and have room to talk about anything else.  But I'll try.
Want to know what Boeing and North American came up with to compete with the B-36?  Small 3-views show you.  More 3-views show the first Model 35 concept, the Model 36 that you can probably consider the original B-36 design (complete with B-24 style twin tails).  More photos, cutaways and text trace how the design eventually morphed into the B-36 that we're all familiar with.  You'll find photos of the original 110" main wheels and a near-unbelievable tracked landing gear that was tested at a later date.
The Northrop XB-35 Flying Wing is briefly discussed because the B-49 was going to be produced at Convair in Ft. Worth, alongside the B-36 production line.  That, by the way, was not the only connection the flying wing design had to Convair.  They did their own in-house study and wound up running into the same longitudinal control problems that Jack Northrop did.  Still, the book contains two pages on the Convair design, including a fascinating artist's concept and a cutaway of the center section.
There's a chapter on the XC-99, which includes the slightly smaller (fuselage) Model 36 Transport that would have carried 144 commercial passengers.  And if you're looking for a derivative of the XC-99 that'll really get your attention, check out the drawings of the Model 37 flying boat design that was studied for Pan American.  Picture a shoulder-mounted B-36 wing mated to a hybrid XC-99/flying boat hull fuselage, along with six  engines driving counter-rotating tractor props instead of the familiar pushers and you have an idea what it looked like.  Apparently practical, about the only reason it wasn't built was the fact that the flying boat era was in decline.
 What I've already discussed is virtually a book in itself…and I'm only up to page 36!
Next up is Initial Production.  From there we go to the Very Heavy Bombers (addition of jet pods), recon versions, magnificent color (including three of the NB-36 and four of the YB-60) and superb b&w interior shots and on and on.  There's a chapter on the tornado that went smack through the middle of Carswell Air Force Base, tossing B-36's like matchsticks.  Photos of the damage leave the impression that none of the damaged aircraft would ever fly again.  Only one didn't.
Separate chapters cover the YB-60 and the NB-36.  Seven different appendices cover everything from serial numbers to survivors (there are four), atomic bomb test participation, paint & markings and more.  The survivor chapter also includes, on page 241, a very nice mention of a CD-ROM E-book published by PROWEB FORT WORTH (http://www.prowebfortworth.com).  B-36:Saving The Last Peacemaker by Ed Calvert, Don Pyeatt and Richard Marmo focuses on the trials and tribulations of the last B-36 ever built.
I haven't even come close to describing everything in this book.  In a nutshell, it's beautiful, gorgeous, magnificent, superb, etc., etc., etc.  Well, don't just sit there.  Go buy one.  You'll never forgive yourself if you don't.
Available from your local bookstore or direct from Specialty Press, 11605 Kost Dam Road, North Branch, MN 55056 or call them at 800-895-4585.  Keep in mind that there is a $4.50 shipping and handling charge per order.
Those of you who prefer 1/32nd scale and also possess a fascination for aircraft of the Japanese Empire can now indulge both preferences with a single kit…the Mitsubishi A5M4 Claude from CRAFTWORKS.
Just in case you're unfamiliar with the Claude, I've lifted a bit of background from the historical notes provide in the instructions.  It first saw combat in 1937 and holds a place in history as the world's first single seat low wing monoplane fighter to serve on an aircraft carrier. An open cockpit and fixed, faired gear were features of the design.  Capable of outflying the vaunted Zero, it missed Pearl Harbor but fought at the Philippines and the Battle of the Coral Sea.  Ultimately, it wound up as a trainer and Kamikaze mount.
The kit is a typical CRAFTWORKS effort from the standpoint of detail and design.  You get a basically one-piece fuselage with the underside of the fuselage removed and combined with the one-piece wing.  Cockpit interior installs from underneath and is then followed by the wing.  Incidentally, you'll notice a rather interesting twist in the mating surface of the wing/fuselage section that mounts to the bottom of the fuselage.  Don't worry about it.  Despite making you wonder if there's something wrong with your particular kit and is it going to fit, relax.  There isn't and it does.  That's just one of the peculiarities of resin kits and depends on how a master pattern is broken down.  From my point of view, as long as it fits, who cares?
Besides the wing and fuselage, you get eight bags of parts.  Most are resin, but you'll find cast metal parts as well, particularly the prop that is made up of a hub and separate blades.  Another bag contains a fret of photoetch details, along with photo-negative instruments.  And one contains a 1/32nd scale casting of a standing Japanese pilot. Build him up and display him beside your finished Claude. Quality on all the resin parts is quite good, though you have a fair amount of very light flash to deal with.  That, however, isn't a problem.  Most of the light flash will disappear in the process of handling the parts and/or removing them from their casting sprue.  The heavier flash, what there is of it, is easily taken care of with a knife or piece of sandpaper.
Probably the heaviest flash you'll find is the bottom centerline of the aft fuselage and the leading edge of the wing.  Not surprising, since that's where the molds separate.  These and also the two largest parts in the kit.
Rather than hand you a bunch of resin cylinders to assemble into an engine, CRAFTWORKS has included an injected styrene engine kit from Williams Bros.  Granted, it's a P&W "Wasp" instead of the Kotobuki engine that the Claude used.  BUT, it's a radial engine and has the correct number of cylinders. Spend a little time detailing it and I doubt that anyone this side of an A&P mechanic would ever know the difference. 
Instructions take the form of an 8-page booklet and are nicely done.  They're not perfect (have you ever seen a set of instructions that were?), but they're improving.  Bottom line?  You shouldn't have any problem building this Claude by the instructions.  There's also a two-page parts list and another page that provides a two-view for decal locations.  When it comes to selecting a squadron, the flip side of that same page provides four side views.  Three depict marking for three different aircraft carriers while the fourth is devoted to the group that operated in China during 1940.
A single 6" x 9" sheet of decals give you everything you need to duplicate any of the four aircraft described.  There's also enough white numbers to replicate any aircraft within each of the four groups.  Incidentally, it's the decal sheet that makes me wonder if I have a bone to pick…or not.
CRAFTWORKS provides the Hinomaru markings…but they're not in the dark blood red color that we all know is correct for WW-II.  Instead, they're much brighter/lighter with a lot more Vermillion to them.  When I asked CRAFTWORKS about it, I was told that the color was correct for the earlier time period.  Despite going thru the Japanese reference material I have on hand, I can't say one way or the other.  I simply don't know.  If any of you do, I'd like to hear from you.
All in all, this is an excellent kit of an aircraft type that's never been available in 1/32nd before.  Serious modelers and super-detailers can go nuts on this kit and create a National Contest masterpiece.  On the other hand, relative beginners (meaning you've built one or two simple resin kits) can tackle this kit with reasonable expectation of success.  Price is their usual $125.00.

Finally, a bit of shameless self-promotion.  I have recently written and produced a CD-ROM E-book that should be of interest to the science fiction enthusiast, particularly those who lean towards prop replicas of various movies and TV series.
With a title of How To Build:Wilco!Models' Prop Replicas, step-by-step photos describe construction of the Stun Gun and Commlock from Space:1999 and the Sandman Pistol from the movie Logan's Run.  Available through SCALE PUBLICATIONS (http://scalepublications.freeyellow.com).   I could go on but a full review is available elsewhere in this issue of Internet Modeler. 
That's it for now.  'Bye.