SCALEWORLD

By Richard Marmo
Modelbuilders seem to run to two extremes.  On one hand are the serious modelers …some would say fanatics…who not only want that kit of their chosen subject to look like the real thing, they want it to be an accurate representation.  At the other end of the scale are those who are perfectly satisfied as long as the finished model simply looks like the subject and never mind the finer points of accuracy.  In fact, there's a school of thought holding to the notion that the great majority of those who build models neither knows what the real thing looks like…nor cares.
The truth is probably somewhere in between.  Few of us will ever be -or want to be- IPMS National Contest 'rivet counters' who spend several years building a single model.  And it's probably true that a fair number of us are perfectly happy if a model of the object of our desire looks like the real thing at twenty feet.  But most of us?  Give us a kit that's accurate in all the basic areas with a reasonable level of detail and quality decals and we're happy.
Opinion?
Between it's sheer size, six pusher props and four jets (the classic 'six turning and four burning' description), the Consolidated B-36 has fascinated modelers for years.  Kitwise, there haven't been many.  There was the old Aurora mini-kit that was somewhere around 1/370 scale and Revell's 1/192 effort.  Moving upscale, Sutcliffe produced a 1/72 vacuform B-36 that was both big and to a standard scale.  To say that it was a challenge to build was an understatement. It was also substantially inaccurate to boot.  Then along came Monogram with their 1/72 injected styrene kit which was a quantum improvement.  Totally accurate it wasn't, mainly because of a flaw at the wing/fuselage centerline intersection that was virtually uncorrectable.  But it qualified as a good B-36 model.  There was one major sticking point where it's size was concerned.  At 39 inches in wingspan, finding display space for the finished model was a major problem.  If only someone would make a B-36 to a smaller standard scale.  Well, someone has.
HOBBYCRAFT CANADA has released a series of three 1/144 scale B-36 kits.  The B-36B and B-36D kits reviewed here, along with a GRB-36 Ficon that I haven't seen.  Price of each is $29.95.
Each kit comes packed in a very sturdy end flap box with what appears to be a photo that's been artistically enhanced on the top and profiles of the fuselage and wing on the bottom as an aid to color scheme and markings.  You'll also find a photo of the cover of Dennis Jenkins' book "Magnesium Overcast".  I would definitely recommend acquiring a copy of his book before tackling these kits.  It's available from better bookstores or direct from SPECIALTY PRESS (http://specialtypress.com).  You might also find the CD-ROM "B-36: Saving The Last Peacemaker by Ed Calvert, Don Pyeatt and Richard Marmo" to be useful as well.  You can order it direct from SCALE PUBLICATIONS (http://scalepublications.freeyellow.com).
As for the kits themselves, all parts are crisply molded in light gray except for the clear which are equally well done.  Primary dimensions are dead on, being within 1/10 of an inch.  Parts gates are generally small.  Surface detail is very nice indeed, with all scribing being delicate and recessed.  Though I only spent a limited amount of time dry-fitting various components, everything seems to fit well with no apparent gaps or other problems.
 One thing I particularly liked was the fact that the B-36B kit includes complete upper gun turret bays with doors that can be posed open.  In the case of the B-36D kit, there are no gun bays so you simply install the doors in their closed position.
The decal sheet is very nice with all designs crisp, clean and in register.  One peculiarity lies in the fact the locations for the observation bubbles are flashed over.  Black discs are provided on the decal sheet to place on those locations, the clear bubbles then being cemented on top.  Personally, I'd ream out the flash and install the bubbles over the opening, dispensing with the black discs. 
Landing gear looks to be accurate.  Props are correct for each version, meaning round tips for the B-36B and square tips on the B-36D.  You'll also find the various canoes and domes necessary to create an RB-36D, which is one reason you'll need the references mentioned. Also keep in mind the fact that the oblique camera canoes located behind the main radome were only fitted if the aircraft was fitted with a single set of bay doors.  Finally, if you want to build an RB-36D, you'll need the B-36B kit for the canoes.  They weren't included in the B-36D kit. The instructions make no mention of where the domes and canoes are located.  Beyond that, their location varied on the real aircraft.
Instructions are the now-common all-graphics international style, a necessary concession to marketing in the European Union.  Despite that, there's room for improvement because they tend to be confusing in areas.  For example, there's no parts map.  Since there are parts in each kit that are not used, it would have been nice to have an illustration with the unneeded parts grayed out.  As just mentioned above, there's no indication at all as to where the various domes are located or that they even exist.  The instructions will get the model built, but a little more clarity would've been helpful.
If some of you are thinking that there's a '…but' hiding somewhere, you're right.  The kits are very well done, attractive and appealing.  BUT there's a fly in the ointment… and depending on where you fall in my opening commentary, it's a big fly.
To put the size of the real B-36 in perspective, consider that it was designed in such a way that a crew member could "crawl" into the wing to do maintenance or repairs on the engines while in flight.  He actually didn't do a lot of crawling because he could stand erect inside the wing root.  With a wing that thick at the root, the result was a rather hefty taper from the wing root to the wingtip.  The top surface of the wing was level, all the way to the wingtip, while the bottom of the wing tapered from the bottom of the wing root up til just before the wingtip when it merged into a more sharply slanted flared wingtip.  HOBBYCRAFT reversed the taper so that the bottom of the wing is level and the top of the wing tapers from root to tip.  There is also no hint of a flared wingtip.  What caused this will probably never be known and really doesn't matter.  The wing has additional problems, including a small hump at the intersection of the wing/fuselage centerline (which should be completely level) and inaccurate air intakes.  The air intake errors, in turn, throw the nacelle configuration off.  That incorrect hump is also reproduced on the profile drawings on the back of the boxes.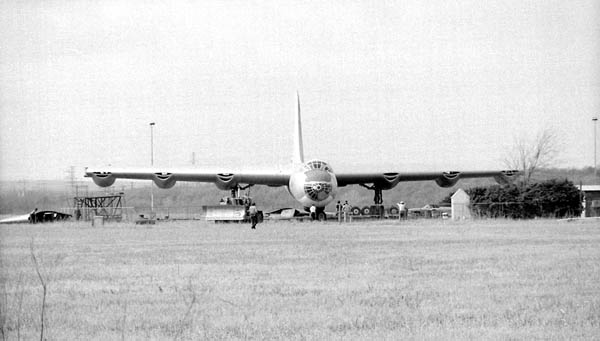 I've included a photo of the last B-36 being moved at the old Greater Southwest Airport in Ft. Worth, Texas during the 1970s.  Even though the outer wing panels have been removed, the correct wing taper can be plainly seen.
Even with the reversed wing taper, incorrect air intakes and related trickle down problems, it still will build into a nice model and will look like a B-36 from most angles.  Just don't sight down the fuselage from a head-on position because that's when the errors really show up.
The bottom line is this:  These kits are well done, detailed and have a good fit.  They also have a problem.  How much of a problem will depend strictly on you and what you demand of a manufacturer.  Experienced modelers can perform surgery and eliminate or minimize the reverse taper.  That will still leave all the related problems to deal with. Others may not consider it to be that big a deal.  It's your choice.
If you're trying to build up a reference library on Soviet aircraft, here's a couple of more volumes to add to your must have list.  Both are AEROFAX books, authored by Yefim Gordon, published by MIDLAND PUBLISHING and distributed in North America by SPECIALTY PRESS (http://www.specialtypress.com).  Keep in mind that if you order from Specialty Press, there's a $4.95 shipping and handling fee per order.
First up is titled Mikoyan-Gurevich MiG-17, which carries a price tag of $29.95.  Utilizing an 8 1/2" x 11" vertical format, the semi-stiff covers enclose 144 pages of glossy paper, 172 b&w photos, 32 color photos, 10 pages of color profiles and 12 pages of drawings.
The book starts logically with a brief genealogical history that culminates in the MiG-17.  Chapter 2 gives a description of every version in the MiG-17 family…and you'd be amazed at how many there are.  Then there's foreign production and stories of the MiG-17 at war in such places as Viet Nam, the Middle East, Uganda and more.  Another chapter details every country to operate the 17, including serial number, version and remarks wherever appropriate.
Color photos show the MiG in a variety of markings, ranging all the way from Russia to the Congo.  A couple of Pakistani birds in flight are included, as are shots of Russian and Chinese aerobatic team mounts.  As for the color profiles, a wide variety of national markings are displayed.  Most of the aircraft are relatively bland, meaning about 8 out of 10 are overall bare metal.  However, there are enough camouflage schemes and unusual markings to keep things interesting.  For example, a North Vietnamese MiG in tan-and-green mottled camoflage, a bare metal MiG-17F in U.S. Air Force markings, two-toned Bulgarian scheme and even more camouflage schemes on Angolan, Egyptian, Syrian and Polish aircraft.  The book ends up with 12 pages of b&w profiles drawings covering the different variants of the MiG-17 family.
Yefim Gordon's second offering covers a series of Soviet aircraft that I supect many people have never heard of…or have forgotten about.  The series of tactical twin jet aircraft known as the Yakolev Yak-25/-26/-27/-28.  This series of designs was intended for missions ranging all the way from patrol interceptor to supersonic tactical bomber, supersonic interceptor and high altitude reconnaissance.  One variation, known as the Mandrake, utilized a greatly stretched wingspan in an attempt to respond to the U-2.
Using the same 8 1/2" x 11" vertical format, you're given 128 pages, 202 b&w photos and 41 color photos for a price of $27.95.  Besides the in-depth information that's presented in much the same manner as the MiG-17, appendices detail performance, individual aircraft details and specifications.  There's also 20 pages of b&w drawings…mostly profiles… 12 pages of color photos and 4 pages of color profiles.  All in all, excellent coverage of an important family of Soviet aircraft that has been overshadowed to some extent by the better known and (some might say) more glamorous MiG name.
And that, people, is it for this month.  See you in 30 days.