SCALEWORLD

By Richard Marmo
Look at any modeler's collection of finished models and what do you see? Generally, shelf after shelf of thoroughly conventional production variants. Granted, the color schemes and markings make for a fascinating display, but are there any really different models -particularly aircraft- there? So many times, the answer is no. Part of that is due to manufacturers not offering anything but the conventional versions. Another is our own reluctance to spend the time on a time-consuming or difficult conversion. Scratchbuilding? Most of us can't -or won't- walk that path. What's the bottom line? For the most part, we wind up wishing and waiting for one of the manufacturers to take a chance and offer a truly different or unique variation of a familiar aircraft. In far too many instances, we wait…and wait…and wait…and wait…and………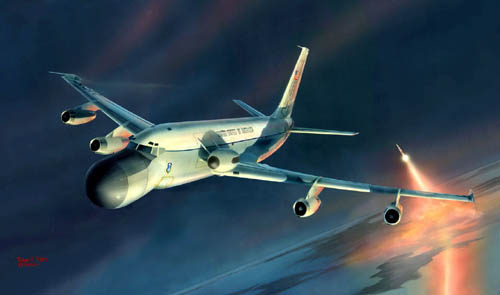 But once in a great while, the Gods smile on us. Our friends at AMtech (http://www.amtechmodels.com) have blessed us with a 1/72 limited edition kit of the Boeing EC-135E/N ARIA/ALOTS. If nothing else, this thing is big and weird looking. Actually created by AMT/Ertl as a follow-on to their original 1/72 KC-135, this version was never released…until AMtech reached an agreement for a limited run of these kits.
The EC-135E/N is essentially an electronics bird with it's most noticable feature being a massive droop nose radome that houses a steerable radar. Depending on whether you choose an E or N variant, there's also a SATCOM "doghouse" on top of the fuselage. Also, one version uses J-57 turbojets while the other is re-engined to TF-33 turbofans.
So what about the kit? For starters, it's big. The fuselage is 23" in length, so you're going to need a large empty shelf in your display case to hold it. All of the light gray styrene moldings are crisp with minimal flash. Surface detail utilizes both raised and delicately recessed lines as needed. If you've ever seen the original AMT/Ertl C-135 kit, you'll be familiar with the very nice interior. Not just the cockpit, but the cargo area as well. Matter of fact, the interior is complete to the point of a crew toilet, APU and a rack of oxygen tanks.
AMtech discovered that the kit was slightly inaccurate in a couple of areas, so they went to the trouble of creating some very nice resin parts, including a fuselage plug, that will correct the error. The TACSAT (or SATCOM if you prefer) "doghouse" is a resin part as well.
Primary insructions are basically the original AMT/Ertl C-135 instructions, slightly modified as needed. In any event, you'll find very clear drawings that are complete with text identifying the part number, part name and correct color. Instructions for the TACSAT, fuel dump and ALOTS pod utilize a photographic approach that I love and wish more manufacturers would emulate. This kind of approach to instructions ain't rocket science, folks, but AMtech is out there in the lead doing what should be obvious to others.
We're not finished with the instructions yet. You'll find another page of photo style instructions that were written by Chuck Davenport describing, in detail, exactly how to fix the "dreaded KC-135 wing droop". Never heard of the "KC-135 wing droop"? The following excerpt straight from the AMtech instruction sheet should bring you up to speed: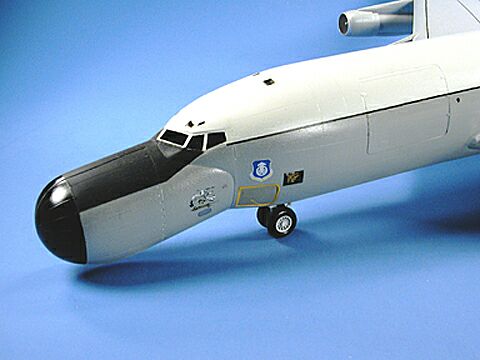 "When AMT/Ertl designed their KC-135 Stratotanker kit series (the EC-135 kit is a previously unreleased version of this series), they wanted to get the thinnest possible plastic parts. This was their first effort in designing and tooling a model aircraft kit from the ground up. As a result, the wing and fuselage parts are marvelously thin. It was also the largest kit ever tooled by the company in Korea that did the work, so was something of a learning curve for all parties.
This presented a couple of potential problems. One of them is that, over time, the thickness of the plastic on the upper wing, and thus its rigidity, is not sufficient to support the weight of the lower outer wing panel and engine. As a result, over time the outer wing panel will droop, giving the aircraft an odd and inaccurate appearance. In addition, there is a potential mismatch between the levels of the lower outer wing panel and the center section.
Chuck Davenport - Major, USAF (Ret), excellent model builder, and long-time friend - has provided AMtech with the following illustrated instructions on how to fix both the drop and level problem. It is involved, but not difficult. AMtech would like to thank Chuck for his help here, and also with his contribution to the Mission Profiles."
Besides being part of the EC-135E/N instructions, the same article is posted on the AMtech website for the benefit of those who have yet to build the original C-135 kit or it's variants. Talk about a class act from a manufacturer!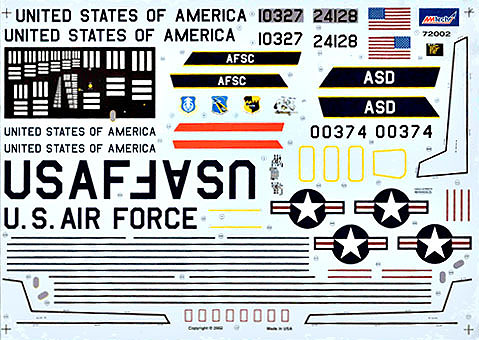 Decals are all AMtech and are excellent quality. You get markings for four different aircraft (Actually three. One aircraft is shown twice, fourteen years apart.). By the way, the aircraft shown twice was powered by J-57s in 1977 and TF-33s in 1991.
Color schemes and decal locations are described on three very busy pages. You wind up with eight side views (both sides of each aircraft), along with a top and bottom view that's common to all four ships.
All in all, it's an excellent kit of an aircraft variant that can only be described one way… different. Had things turned out differently for AMT/Ertl, we would've had it a long time ago. Now, thanks to AMtech, it's here. But only briefly. As I mentioned earlier, this is a limited edition kit. Only 5,000 are being produced and…unlike limited edition announcements from other manufacturers…won't be back.. To paraphrase a line from the traditional marriage vows, buy one now or forever wish you had. Either that or be prepared to spend five times it's reasonable $44.98 price tag if you have to resort to bidding on ebay.

And that is it for this month. If you've been reading my column for the last couple or three months, you know why. Before too much longer, I'll have dug myself out of the hole I'm in (I know, that phrase is an oxymoron.) and you'll learn the specifics of what's been taking all my time.
See y'all!