Octopus
1/72nd Scale Grumman (Columbia) J2F-5/6 Duck

History
The history of the Grumman J2F Duck design can be directly traced back to the experience gained by Roy Grumman when he was an associate to Grover Loening. Loening of course had been a long time provider of utility and scout aircraft to both the Army and Navy. It was Loening that had established the very recognizable series of amphibians with their unified pontoon fuselage design. But it was Grumman that took it to the next level for the military, including the addition of landing gear the completely retracted into the pontoon.
The prototype of this sturdy amphibious scout/utility biplane first flew in May of 1933. Initial production deliveries of the J2F-1 and -2, to the US Navy and Coast Guard respectively, began in 1936. Upgrades and additional orders continued to the end of 1930s, with the J2F-5, which was the last Duck to be built Grumman, completing its delivery run of 144 aircraft prior to the beginning of WWII. However, an additional 330 Ducks were order after December 1941; as such it was decided to transfer production to another manufacturer, thus allowing Grumman to concentrate on combat aircraft.
The J2F-6 was the final model of the Duck to be manufactured. Sporting a 900 hp Wright R-1820-54 radial engine the J2F-6 was a built under license by the Columbia Aircraft Corporation of Valley Stream, Long Island NY. However, and unlike other Grumman designs that were given new manufactures designation, (e.g. the GM produced FM-2 Wildcat and TBM Avenger) the Columbia JL-1 Duck designation was ignored.
The Kit: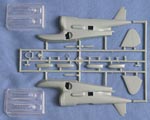 The Octopus J2F-5/6 is a multimedia kit consisting of and injection molded airframe, resin details and vac-u-formed canopies. The main assembly, fuselage, wings, pontoons, rudder, horizontal stabilizers, etc. come on two separate sprue trees and are cast in dark gray styrene. Airframe details such as panel lines, and various access hatches are nicely engraved. Likewise the ribbing detail on the wings, elevators and rudder are well defined but not excessive. This attention to detail is continued throughout the rest of the injected parts.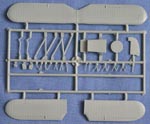 I especially noticed this when it came to the pontoon and outer wing struts as well as the landing gear assemblies, which again, are all nicely done but not overly heavy.
As stated above this a multimedia kits. Typically all interior details, the cockpit, the engine, cowlings, (for either a J2F-5 or -6) along with a number of other small parts including the center wing struts are done in resin. At this point I should note, that because of the number of very fine resin parts requiring assembly, I would only recommend this kit for the more experienced builder.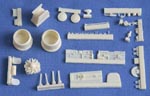 The last of the multimedia parts are of course the canopies and side windows which are vac-u-formed. Two styles of canopy (the earlier multi framed and later clear vision) are provided. Choice of which style to use is dependent on which version or color scheme you chose to build. Finally the assembly instructions and marking guides are well illustrated and looked to be easy to follow.
Markings: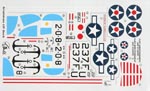 The kit contains markings for five different aircraft. Included are a prewar US Navy J2F-5, a WWII US Coast Guard J2F-6, a postwar US Navy J2F-6, a postwar USAAF OA-12 (J2F-6) and an Argentine Navy J2F-5. Because of this variety of markings a number of different color schemes can also be done. The Prewar Navy J2F-5 is Neutrality gray; the WWII USCG -6 is in the standard Navy three tone blue, while the other three aircraft are all natural metal. Probably one of the more colorful schemes, illustrated on the box art, is for a US Army Air force Air-Sea Rescue Duck that operated out of Ladd AFB Alaska in 1947.
Conclusion:
This 1/72nd scale Octopus J2F-5/6 Duck looks to be nicely done. It certainly is an improvement over the very dated Airfix kit. The shape looks to be correct, but of course being a first look there is no way to really evaluated overall appearance or fit. Construction includes a number of small and fragile parts, mostly resin, and as such I would only recommend this kit to the more experienced modeler. Choice of markings is both extensive and very interesting.