Internet Modeler : Features : Armor
RSS News Feed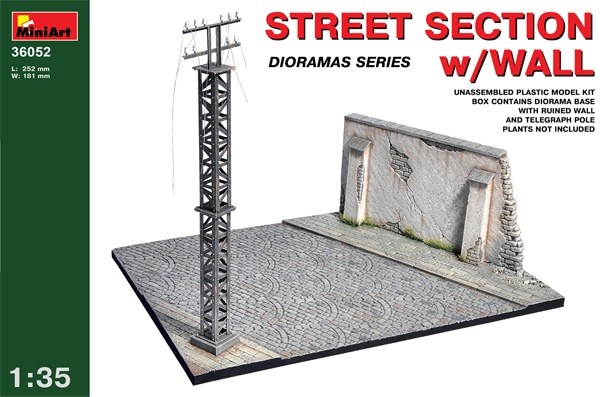 MiniArt 1/35 Street Section with Wall
Kit# 36025
MSRP:  $27.00 USD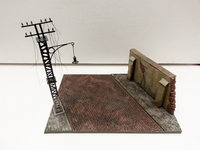 This kit consists of a vacuum-formed street section, a 2-piece vacuum formed wall section, 2 wall column pieces, top caps for columns and wall, and injection molded parts to build a replica steel lattice-work power/ light pole, with base and streetlamp.  Due to the vacuum forming process, there are dozens of little "pimples" caused by the air vents necessary to form the parts.  Removing them can result in small holes, which will need to be filled.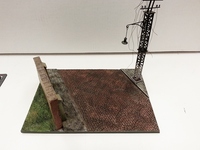 Assembly begins by removing the parts from the waste portion of the vacuum formed sheets.  Use a stout blade, like a box cutter, or a heavy blade in an X-Acto #2 handle.  The scrap strips can be used to reinforce the joints in the wall section.  I left the power pole off the base until after painting, washes, and rigging with wires.  Colors are suggested, but really it is the builder's choice.  Static grass, weeds, litter, etc. can be added as desired.  Damage can be added to the street or wall, if the back side is built up first.  Painting was started with a heavy dark ink wash, followed by various oil colors added and blended as desired, and was quickly accomplished.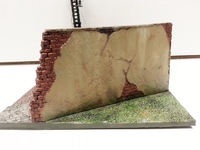 These street scenes and buildings from MiniArt are very handy for quick small diorama backdrops, or as parts of much larger scenes, and as such are highly recommended by this reviewer.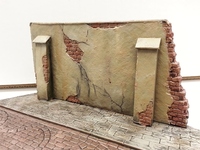 My sincere thanks go to Stevens International for providing this review sample.  Explore the possibilities and let your imagination have free rein.  Build on, my brothers and sisters.