Internet Modeler : Features : Automotive
RSS News Feed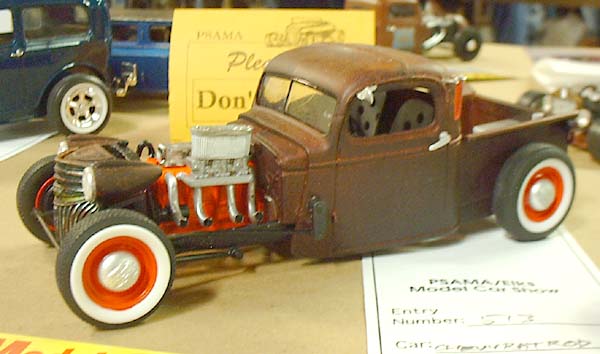 PSAMA Show Image Gallery
The Puget Sound Auto Modelers Association (PSAMA) show was held on Sunday, May 2nd, 2010 at the Elks Lodge in Puyallup, Washington. There were 300 entries in the various Automotive, Truck, and Motorcycle categories.
The quality of the models was uniformly high, and there were many bargains to be found from the numerous vendors in attendance, notably Emil Minerich of Skyway Model Shop.
The only negative comment I have about the choice of the Elks Club venue is that the lighting was terrible. I understand that portable lighting has been used in the past; evidently it collapsed onto the display tables, destroying a number of models. Perhaps PSAMA might consider renting some higher quality lighting equipment from someone else, because the darkness of the room not only makes model photography difficult (I had to use Photoshop on ALL of my images, and NOT to merely resize them), but the room also feels rather somber-certainly a quality to be avoided!
Thanks again to Carl Kietzke of PSAMA for providing the category counts. My apologies for the random quality of the images in this Gallery: I left the tripod at home, and drank too much coffee again!