Internet Modeler : Features : Aviation
RSS News Feed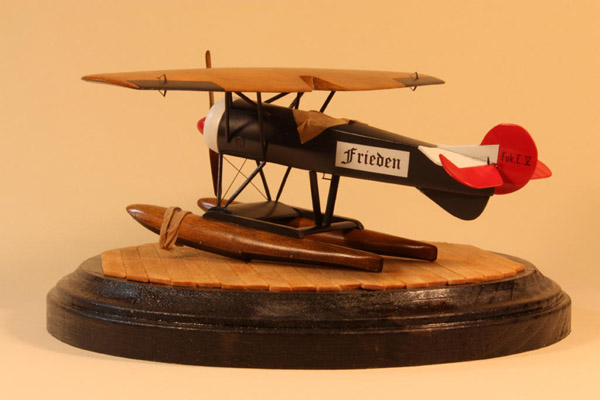 A 1/48 1918 Fokker E.V Racer "Frieden"
History
In August, 1918, a small group of German anti-war activists boldly stole a new Fokker E.V (later named D.VIII) monoplane from the airfield at Bernes, France. They recruited a sympathizing Jasta 6 pilot named Johan Model to fly the aircraft to a small farm near Berchtesgaden, Bavaria. There, the conspirators hid it in a barn for modification. The group proceeded to transform the fighter into a racing seaplane for a hoped-for postwar resumption of the famous Schneider Trophy race. Although marked in then-German national colors, with a heavy dose of black for mourning, the airplane was christened "Frieden" ("Peace") with the hope of inspiring and unifying a postwar Europe.
The pacifists' work was nearly completed when they were discovered and arrested for desertion. They were shot at 10:59 on the morning of 11 November, 1918, but they were able to keep details of their project secret. "Frieden" remained hidden in the Bavarian barn until discovered by elements of General Patton's U.S. Third Army in May, 1945. What became of it after its rediscovery is unfortunately not known.
As far as is known, the airplane never flew in its modified form.
The Model
No photos of "Frieden" are known to exist, so the model is based on contemporary descriptions – see References. The model was built for the 2007 IPMS-Seattle "Jasta Schweinhimmel" group build project, and won the prestigious Louis Bleriot Award for Best Undocumented Design.
The model is based on a 1/48 Eduard Fokker D.VIII modified to accept Aeroclub vacuform floats. Struts and ventral fin were scratchbuilt, and the side-of-body "Frieden" decals were custom made using white Supercal stock. The "wood effect" on the wing is simulated with thinned raw umber artist's oil over a yellow base, worked with a brush to achieve the desired effect.
References
Lesser Known Schneider Cup Racer Designs of the Post Great War Period, 1932, by Fulya Wunce
Schneider Trophy Racer Conversion Projects in Southeast Germany, 1914-1918, Vol. 4, 1937, by Wir Glauben
A Compendium of German Racing Seaplanes (abridged), 1962, by Notta Chanz
"An Assessment of Foreign Racer Technology Threats", NACA Technical Paper, 1919, by Nell Sunntim