Internet Modeler : Features : Aviation
RSS News Feed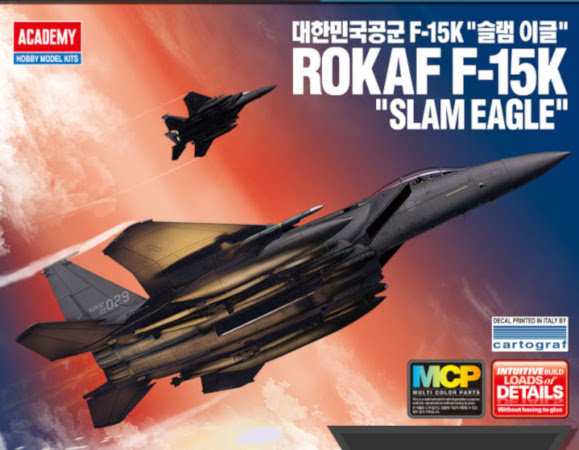 Academy 1/72 ROKAF F-15K "Slam Eagle"
The F-15K Slam Eagle is a variant of the F-15E Strike Eagle Boeing manufactured for the Republic of Korea Air Force (ROKAF). This is Academy's re boxed 1/72nd scale F-15 snap kit, in MCP (Multi Color Plastic) "Slam Eagle" guise with Korean Air Force markings.
The kit consists of 128 parts on 8 sprues. The parts are molded in white, gray, black, silver, light blue (RLM 76?!) and clear plastic. When I think of snap kits, I remember Matchbox kits of the 1970s with their garish, brightly colored plastic and trench-like panel lines.
The Academy kit is a pleasant surprise. The parts are well molded with very small sprue attachment points and no flash. Surface detail consists of very fine, recessed panel lines, rivets and raised lines and panels where appropriate. The main fuselage, minus the radome and cockpit, is divided into upper and lower halves. Both of these are large, detailed pieces of plastic that faithfully capture the fuselage's complex shape. The upper fuselage also incorporates the lower outer wings. The fuselage air brake can be posed in the open position, and the prominent air intakes and afterburners for the Pratt & Whitney F100 229 turbofan jet engines are well depicted and highly detailed.
| | |
| --- | --- |
| | |
The clear parts are also well done, but the canopy is unfortunately marred by a visible mold seam. The seam will be difficult to remove, but it can be done. The cockpit parts are molded in black plastic. The detail is adequate for the scale, but unless you use aftermarket pilot figures or ejection seats I would leave the canopy closed because the kit ejection seats are mediocre at best.
The landing gear, landing gear bays, doors and wheels are well executed. These areas will pop with a careful oil wash and brake lines, etc. There are some VERY small ejector pin marks on the main gear doors, but these should be hidden by the gear and wheels.
Under wing stores are detailed and comprehensive. The F-15K Slam Eagle has hard points attached to the non-jettison able CFTs (Conformal Fuel Tanks) for additional drop tanks and a host of armament options. The kit includes the following: 2 600 gallon drop tanks, AN/AAQ-33 Sniper XR with Tiger Eye and AN/AAQ-13 Lantirn targeting pods, 2 each AIM-9 Sidewinder and AIM-120 AMRAAM air-to-air missiles, and 6 GBU-38 JDAM/MK-82 bombs.
| | |
| --- | --- |
| | |
Academy caters to the snap kit origins of the Slam Eagle by providing you with your choice of either traditional water slide decals or self-adhesive stickers. Given the kit's complexity and quality, the best use of the stickers is to hand them to your kid to put on another snap kit, but not this one. The water slide decal sheet, printed by Cartograph of Italy, is nothing short of spectacular. The printing is crisp and the decals are clear and legible with excellent color and registration. Academy thoughtfully provides 2 pages in their instructions for a guide to decal application.
The decal sheet provides marking options for 4 different aircraft, all of which are painted overall Gunship Gray:
ROKAF F-15K 001
ROKAF F-15K 029
ROKAF F-15K 047, RED FLAG-Alaska, Eielson AFB, October 11, 2016
ROKAF F-15K 061
Academy's instructions are up to their customary standards, with a clear, logical build sequence and excellent illustrations. The instructions are divided into 2 sections. Manual 1 includes a parts map and build steps 1 through 10. Manual 2 includes build steps 11 through 16, decal application guides, color profiles of all four decal options, and color call outs for Humbrol, GSI Creos (Gunze) Aqueous and Mr. Color, Lifecolor, Testors/Modelmaster acrylics and enamels, Revell acrylics and enamels, and Vallejo Model Color and Model Air paints. This is a first class presentation.
Conclusion
I am a fan of Academy's F-15K Slam Eagle kit. It is accurate and well detailed, despite its snap kit origins. You could hand it to one of your children and they would be content with the "pre-painted' colored plastic and stickers, or you can build it yourself and use that great decal sheet. I recommend this kit and I would like to thank Model Rectifier Corporation for the review sample.
References
https://www.airforce-technology.com/projects/f-15k-slam-eagle/
https://military.wikia.org/wiki/Boeing_F-15K_Slam_Eagle