Internet Modeler : Features : Aviation
RSS News Feed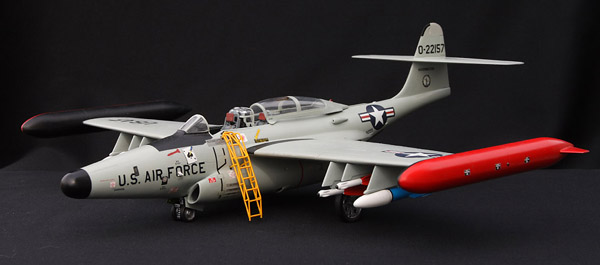 Revell 1/48 Northrop F-89 D/J Scorpion
History
The Northrop F-89 Scorpion was initially conceived as a being a jet age replacement for their P-61 Black Widow all weather fighter. Design and development of the F-89 began immediately after WWII with its first flight occurring on August 16, 1948 at Edwards AFB. Powered by two Allison J-35 engines and of conventional straight wing design with twin seats it was a very imposing aircraft in that it had a wingspan of over 60 feet and a length of almost 54 feet. Considering its size and it very large wings it is not surprising that it was the most heavily armed fighter of it time. As a side note, the F-89 has the distinction of being the only USAF fighter aircraft to launch a live-fire MB-1 Genie nuclear tipped rocket.
The Scorpion served for over 10 years from the mid 1950s to the mid 1960s with three distinct versions produced in quantity. The first was the all gun F-89As, Bs and Cs, which carried six M-24 20mm cannons in its nose section. The last two variants were the missile only birds the F-89- Ds and Js. The "D" model had the huge "Mighty Mouse" rocket pods mounted on the wing tips where as the "J" carried both the Genie and falcon air-to-air missiles using the more conventional under wing pylons. As noted above the Scorpion was in service for over ten years during which time it went from defender of the northern boarders to weekend warrior as part of Air National Guard units.

The Kit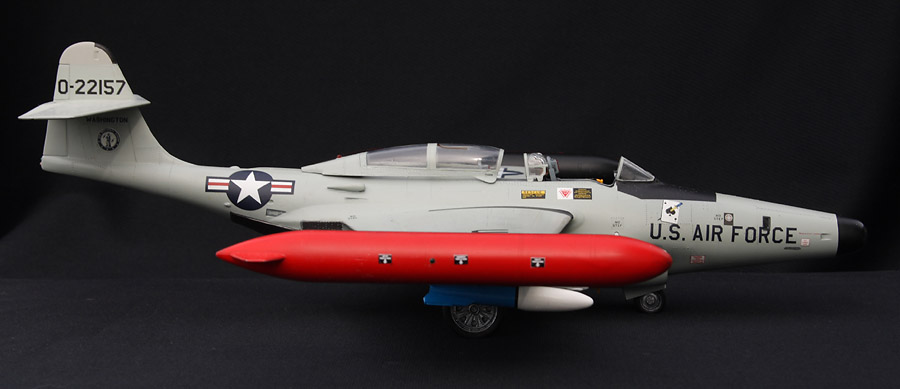 The Revell 1/48th scale F-89 Scorpion kit is now over 18 years old. Initially released in 1990 this kit, just as the real aircraft, comes in three versions including the gun nosed "C" and the two missile only variants the "D" and "J". I should note here that the "D" and "J" versions come as a combined kit with the option of building one or the other.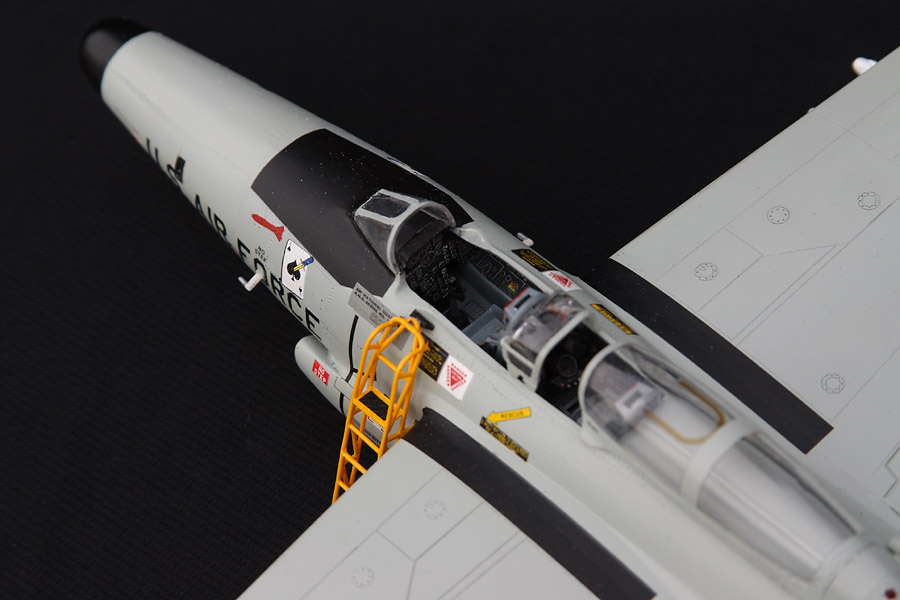 Although suffering a little from age, namely raised panel lines, overall, this kit is well done and as far as I am concerned, there is no need at all for any after market parts such as a cockpit, ejection seats or wheel wells. Do not get wrong like all kits one can find a few things that need improving, but then again I am not sure that any kit is perfect.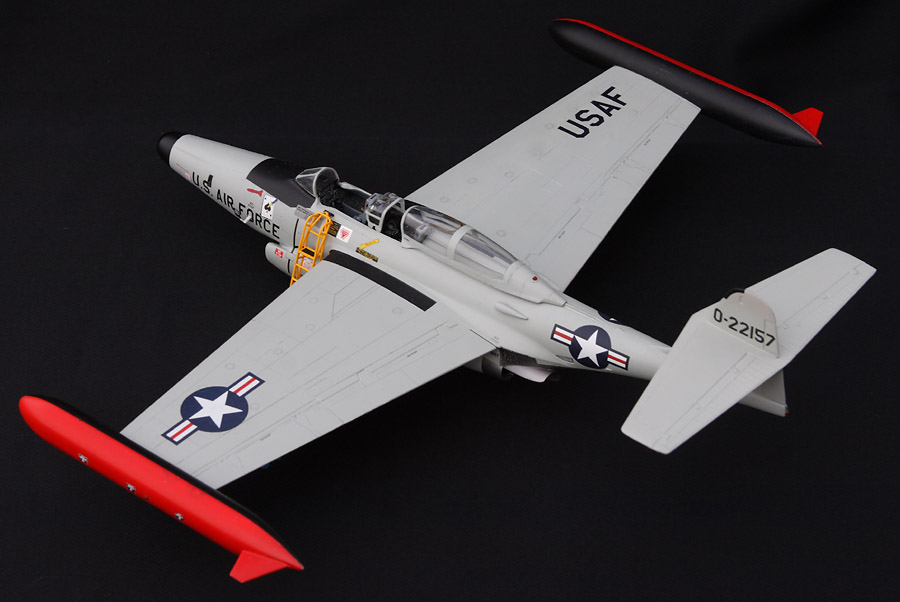 Assembly of the kit is very straightforward, almost simple. Fit is good, not great but good, and as such some fill, is required here and there. However, I should note that having picked a scheme that used ACD or aircraft gray (FS16473) I was not concerned at having to apply a little filler. If you are doing, a natural metal bird more care needs to be taken especially if re-scribing panel line, such as I did on the upper wings and horizontal tail surfaces. Also, do not forget to add weight to the nose early on considering step one is the assembly of the fuselage halves.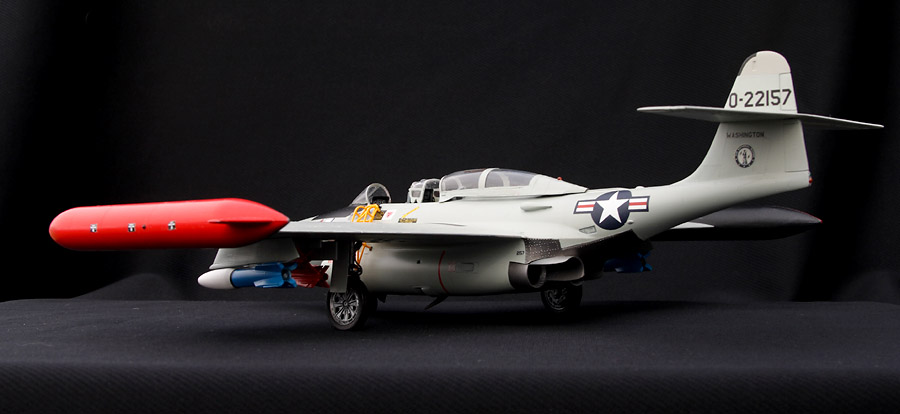 As for extras such as the navigation lights and the boarding ladder, as noted above I weighted the nose and did not need the little clear stand provided for that purpose, however it was perfect for use as the navigation lights. The boarding ladder was scratch built from Evergreen Styrene .035 rod.
Markings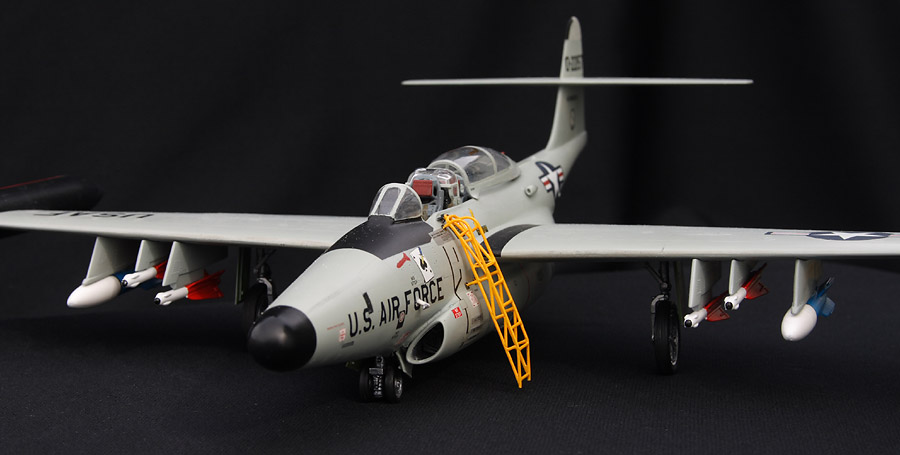 Although the kit provides a choice of two different schemes, I chose to do one of my own that represented an F-89J flown by the Washington Air National guard. As such, I used what kit markings I could and some from my decal spares box as well as those that I made on my ink jet printer. The only exception was the squadron badges that I had custom made on a friend's Alps printer
Conclusion
This is an older be easy kit to build that looks good and has excellent detail.