Internet Modeler : Features : Aviation
RSS News Feed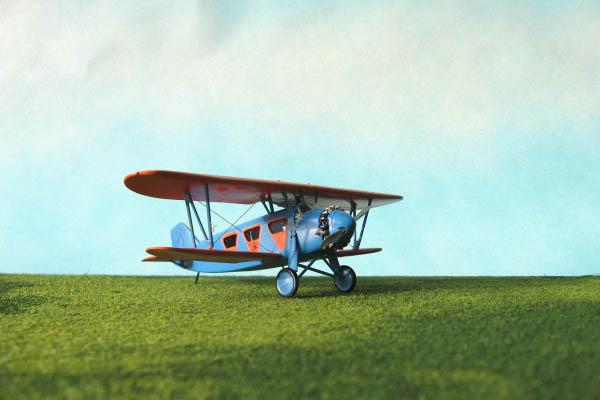 Scratchbuilt 1/72 1928 Knoll KN-1 Biplane
How could anyone resist the temptation of modeling a 1928 small blue and orange cabin biplane that has three doors and Felix the Cat painted on it?
Where there was –a rare case with these odd balls- enough documentation to build a model.
You will find that there were three versions:
Knoll KN-1: three doors on the left hand-side, matching painted surfaces on the right hand-side.
Knoll KN-1 modified with only two doors and inline power plant (Hispano-Suiza) (Reg. 8861)
Knoll KN-3 with open cockpit on the upper aft fuselage and two doors. Louvers on the engine cowling.
And I don't need to repeat here what you can read there if you like to explore further.
My Hate-Love affair Mattel vacuforming device provided the fuselage shells made upon a Sculpey master previously fabricated. A reasonable interior was also scratched and the flying surfaces were built using the time-honored method of suffering. Some wire and metal "Strutz" were also used, wheels came from an over-the-sea supplier and decals were house made.
Once everything was done and pristinely primed I realized that without an engine the plane would perhaps look incomplete. I searched frantically in my parts' drawers without success, so I sent a "rescue me" email to a friend and fellow modeler that lives in Phoenix, Arizona. He is a hermit that lives mostly in his garage, and, as the proverbial bird that gives name to his hometown, he burns down and evaporates in summer, only to resurrect in autumn to keep building models.
So Estib the Arizonio came to the rescue and promptly sent the required Wright engine. When I got it (Thanks, Steve Kallan!) I started to chop down the nose of the model to create the space for the engine, making –and correcting- many boo-boos in the process. I temporarily sandwiched the engine between two thin layers of Milliput –which apparently is a material made of platinum in Mars, or so one can assume given its price, although it's worth every pound- and pressed all the involved parts together to represent the neatly faired cylinder openings of the original. Any squeezed-out material was then removed and the parts later smoothed out. What can I say…: "-Kids, don't try this at home".
A note for the younger among us: Felix the Cat, the cartoon character represented on the plane and model, is not the brother of "Hello Kitty", nor is he Barbie's pet. And since you are so savvy with the computer you can google him to learn who he was.
I made the drawing of Felix myself, which was a pleasure and an honor given the immense amount of joy I had as a kid watching his cartoons.
Accompanying images will give an idea of the building process as usual, although bloody pictures and violent scenes that portrayed what occurred during the building process have been removed for the benefit of the impressionable audience.
After all photos were taken fellow modeler Alain Bourret made me notice that the wheels seemed aluminum color, which were therefore painted over with that color. Tail regs were also added, because they were not any good still on the decal sheet, were they? I made those of a goldenish color, and you can see those additions in the very last photo.
And which do you think was Mr. Knoll's first name?
See you in the sky.