Internet Modeler : Columns : Industry News
RSS News Feed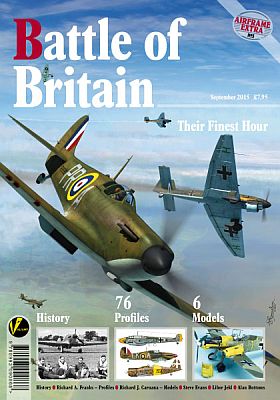 Latest News from Valiant Wings Publications
Airframe Extra No 3-The Battle Of Britain-Their Finest Hour
Valiant Wings Publishing continue to add more value for the avid aviation enthusiast and scale modeller with the third title in the Airframe Extra series,  'The Battle Of Britain - Their Finest Hour'
Many active scale modellers like to build subjects based on a theme or historical event. This series looks at specific areas and events in the history of aerial warfare. Each title covers the history and timelines, detail of the protagonists, period photographs and superb colour artwork from Richard J Caruana. Specific kit builds in all three major scales (1/72nd, 1/48th and 1/32nd) from Dani Zamarbide, Steve A. Evans and Libor Jekl commemorate each event that that we cover.
Each title is A4 in size, a minimum of 84 pages with gloss laminated covers and retails at £7.95 per copy. Available direct from Valiant Wings Publishing (www.valiant-wings.co.uk) or from all good specialist bookshops.
Airframe Extra No 3 - 'The Battle Of Britain-Their Finest Hour'
Publication late September
At least 88 pages
ISBN 978-0-9930908-6-8
Cover price £7.95
Covers the air conflict over Britain from June to October 1940
Historical narrative by Richard A Franks
Numerous period images
Over 70 Full colour profiles by Richard J Caruana
Specially commissioned kit builds
1/32nd Trumpeter Messerschmitt Bf 109E-3, Special Hobby Fiat G.50 and Revell Supermarine Spitfire Mk II by Steve Evans
1/48th Eduard Messerschmitt Bf 110C by Steve Evans
1/72nd Airfix Hawker Hurricane Mk 1 and Airfix Boulton-Paul Defiant by Libor Jekl
Orders can be placed via our website www.valiant-wings.co.uk or by calling +44 (0) 1234 273434 or by writing to:
Valiant Wings Publishing
8 West Grove
Bedford
MK40 4BT
Coming soon:
The Battle of Taranto – Judgement Day.
A revised and expanded Airframe & Miniature No 2-The Hawker Typhoon
Airframe Constructor No 3-Building The 1/24 Airfix Hawker Typhoon
An eighth Airframe & Miniature title