Internet Modeler : Columns : Industry News
RSS News Feed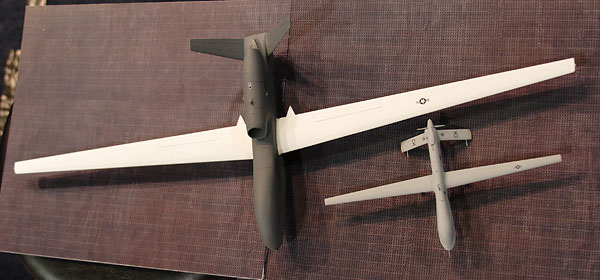 iHobby Expo 2009 Day Two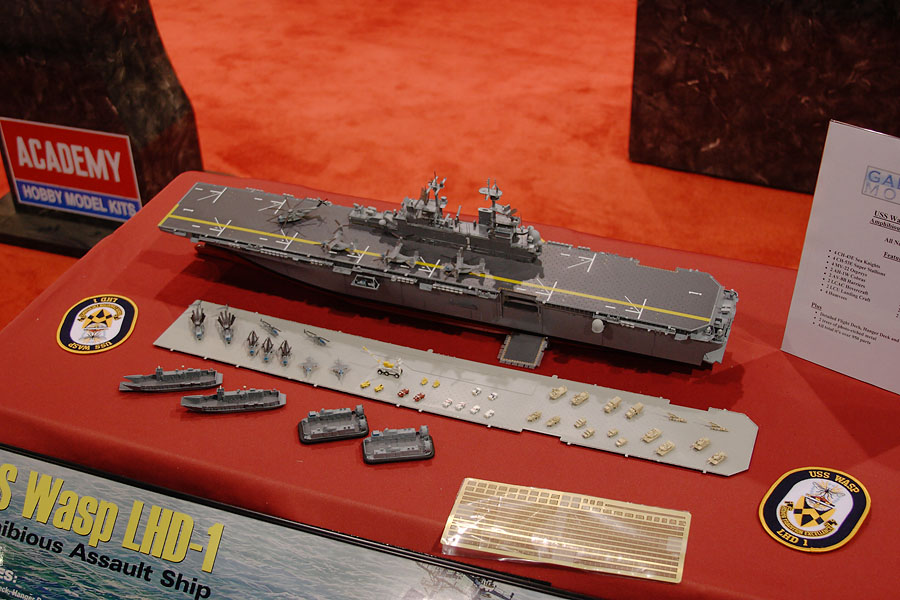 Picking up from yesterday, the MRC/Academy/Italeri booth had some very interesting new releases. The most impressive is the 1/350 LHD-1 USS Wasp amphibious assault ship. This large model includes three detailed levels, from the flight deck through the hangar deck to the well deck. For filling out this big vessel, the accessories are numerous, including 4 CH-46, 4 CH-53, 4 MV-22, 2 AH-1W, 2 AV-8B, 2 LCAC, 2 LCU, 4 Humvee, 2 AAV Amtrac, 10 Flight Deck Tractors, 2 Flight Deck Cranes, 2 M60, 2 M1A1, 2 Heavy Trucks, 2 M198 Cannon, and 2 LAV-25. Just building these accessories will be a job in and of itself, but these will really make this model stand out. As a naval subject many have wanted for a long time, this is a very welcome release.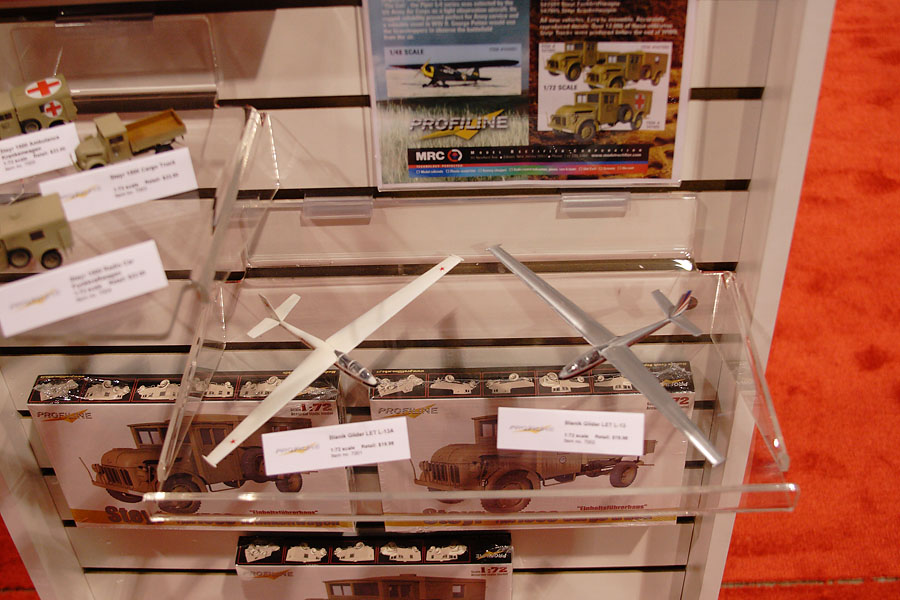 New to the MRC lineup is the Profiline kit series. The initial releases include the 1/72 Blanik glider, a popular glider for many years. Other releases coming include a 1/48 RQ-1 Predator and Piper L-4 Grasshopper, and 1/72 MD500 helicopter and three different Steyr trucks. All of these are great subjects, and I am sure that the L-4 and MD500 will prove quite popular.
Academy had quite a few new releases, some of which were just marking changes, such as the 1/48 F-15K ROKAF SLAM Eagle. The Academy F-15 kit is a good one, so it is nice to see it out again. Shown in their catalog is a new tool 1/48 F-5E that should be coming out soon, another much needed kit.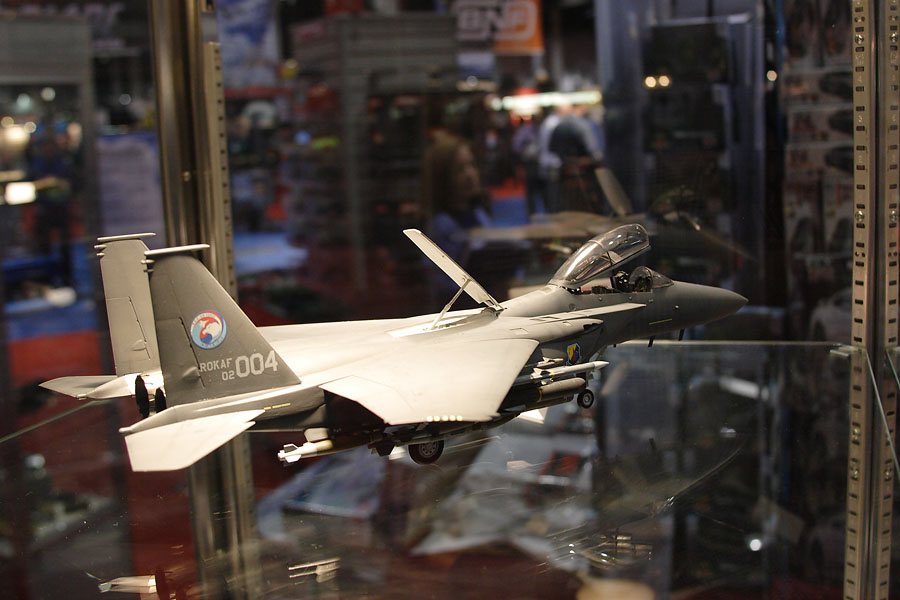 The final 1/48 new release is the MH-53E Sea Dragon with the large sponsons. Based on their earlier CH-53E kit, modelers will know what to expect with this one. In 1/72, the Academy F-18 molds get a great workout, with the single seater showing up as an Australian/Canadian/Spanish Hornet and the two seater coming out with new US Marines markings. If you haven't picked one of these up yet, here's another chance. Not out on the show floor, but in the catalog is the 1/72 F-16I that many modelers have been very excited about. Unfortunately, no date other than 'coming soon'.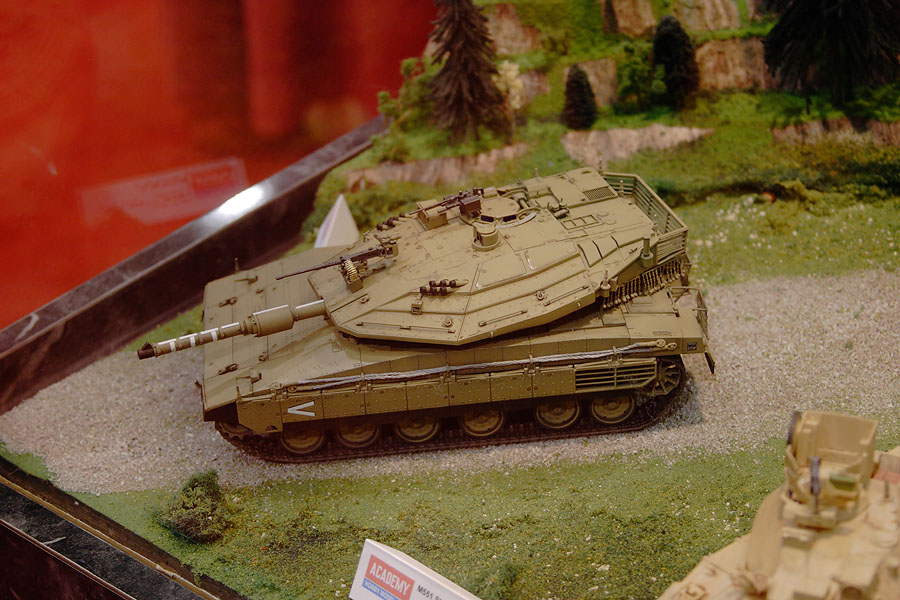 For armor modelers, be ready for a bunch of good stuff here. A new-tool 1/35 Merkava and ROK Army K1A1 are coming out, and the M4 Easy 8 Sherman was on display as well. The catalog also has the 1/35 Swedish Army CV9040 and the M50 Ontos announced as new toolings. For 1/72 armor, the MAN 8x8 cargo truck and M977 8x8 cargo truck should get those small scale armor guys excited.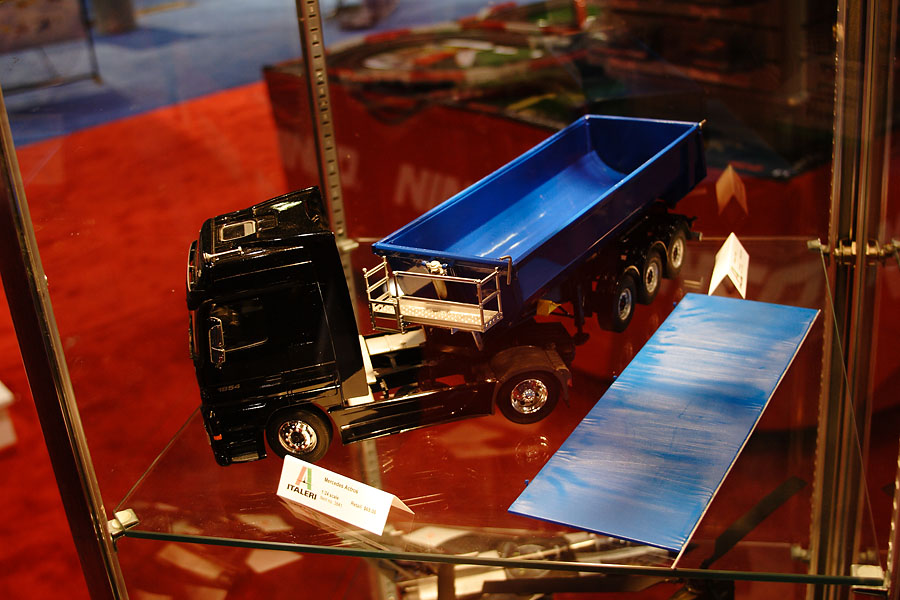 For ship modelers, there's a few new releases here that will be welcome, the first of which is the 1/350 FFG-7 USS Oliver Hazard Perry. This full hull model looks pretty good on the sprues. Also in 1/350 is the Admiral Graf Spee pocket battleship. Look for a full inbox review on this kit in the very near future.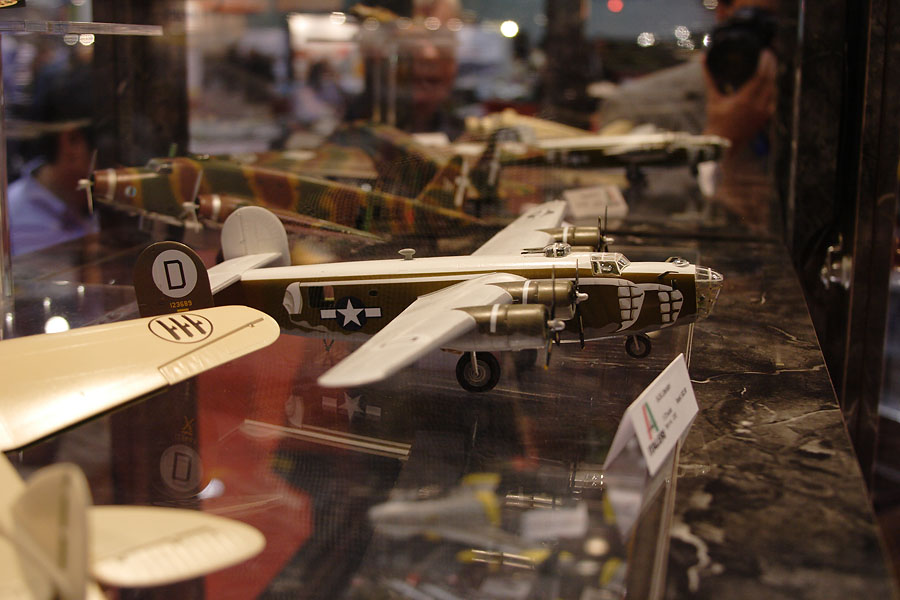 On Italeri's side, nothing new was announced at this show, but some of the latest releases were on display. These included the 1/72 B-24 with an impressive decal scheme. This is the Academy plastic with new decals. Also showing up from the Academy molds is the PV-1 Ventura. A limited edition A-6E is also new this year, and there continues to be a great flow of Italian subjects, including the Re 2000 (new tool), SM.81, and SM.82. For more modern flavor, the C-27J Spartan should make its appearance soon. In 1/48, the Chinook gets another variant upgrade, this time to the CH-47D. An HH-60H is also announced. Another cooperation release is the 1/32 F-86F, originally released by Kinetic.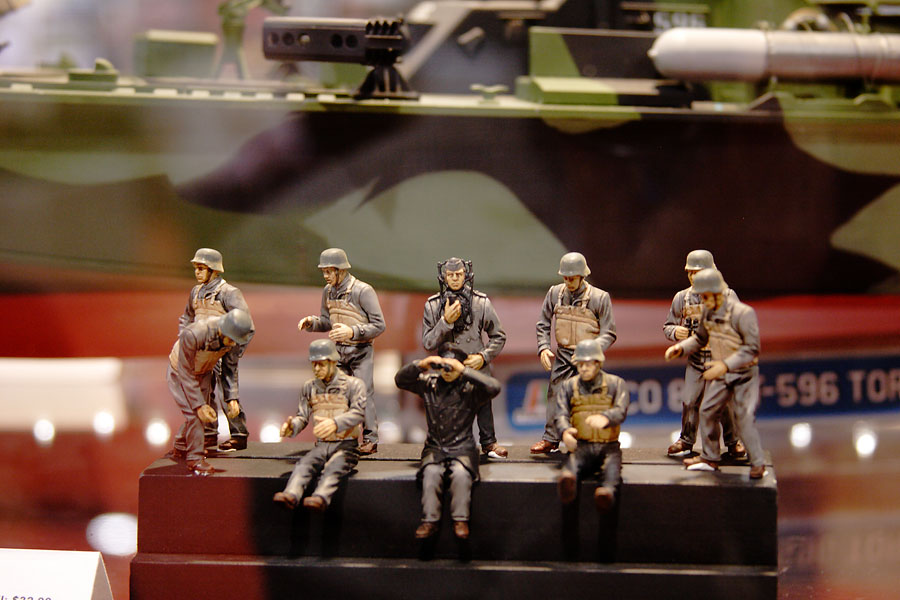 Armor has quite a few new releases, and it was tough to keep them all straight. In 1/72, 1/48, and 1/35 we will see several new items. This includes 1/72 Autoblinda AB 43 and SdKfz 138 Marder III Ausf. H, 1/48 KZ 385 Tankwagen and PzKpfw VI Tiger I Ausf. E, and 1/35 WC54 Ambulance and Staghound Mk. III. Ships are less active, but there is a new 1/35 motor torpedo boat and submarine, as well as the deck crew for the previous 1/35 Schnellboot release. Automotive releases include a new dumper trailer in 1/24, designed to work with Italeri's existing line of semi truck cabs.
A couple new things that Italeri is doing will be of interest to modelers. The first is the Historic Upgrade Series, where older molds are cleaned up and improved. The first two in this series are the 1/72 Ju 88A-4 and Do 217M-1. New superdetail sets add resin and photoetch accessories to Italeri's product line. The first few releases in this line cover WWII German weapons, A-10 details, CH-47 details, and Carro Armato P40 details.  They are also releasing another dual kit set, this time combining the 1/48 Hs 129 with the 1/48 Opel truck.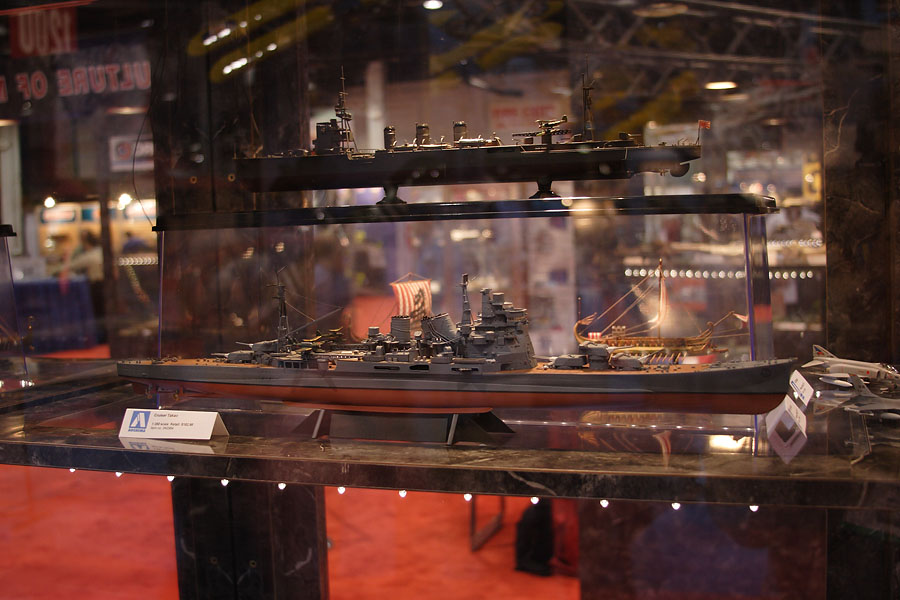 Rounding out the MRC booth was Aoshima, which had built examples of their 1/350 IJN Takao and 1/700 waterline Japanese carrier (which I forgot to note the name, unfortunately). Automotive releases from Aoshima include some nicely detailed Mercedes (both hardtop and convertible) as well as a couple rally cars (again, I forgot to note these, but I think one was an EVO Lancer).
All in all, lots of interesting releases all around at the MRC booth.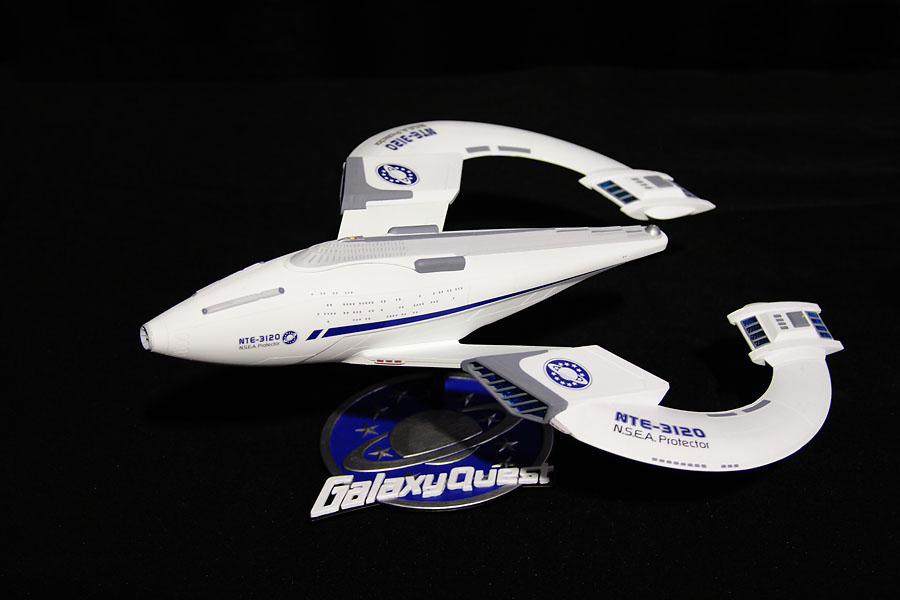 Moving to the Pegasus Hobbies booth, here we have some great new scifi releases. The most interesting, at least for me, was the Galaxy Quest models. These include the NSEA Protector ship (with removable command module) and full-size Ion Nebulizer and VOX Communicator. These will be great fun for both casual and dedicated scifi modelers. Also in that genre are several new War of the Worlds announcements, including upcoming models of the Tripod and alien from the 2005 movie.
New in their aviation lineup is the 1/48 Zero, which looked pretty good built up. Coming soon will be the P-40B and Bf 109E-4. For figures, in 1/72 they will have French infantry, both World War One and World War Two sets.
Moebius Models had some very exciting news at their booth. While they are continuing with their fascinating scifi and monster figure subjects, they are branching out into a new arena, automotive models. And boy, did they pick some real winners to start with: the Hudson Hornet and the 1955 Chrysler 300. No estimated release date, but the research they're putting into these kits is superb and they should really make quite a splash in the automotive modeling world.
The Testor Booth was a popular one this year, with a good display of their newest products. They continue to expand on their entry level products, with four new Quick Build Models: a Saleen Mustang and Corvette for the car modelers, and a Spitfire and Bf 109 for the aviation modelers. These kits include everything needed, from the model to paint and decals. These are great to get young modelers into the hobby, as they can put these together quick and without having to worry about buying all the extras.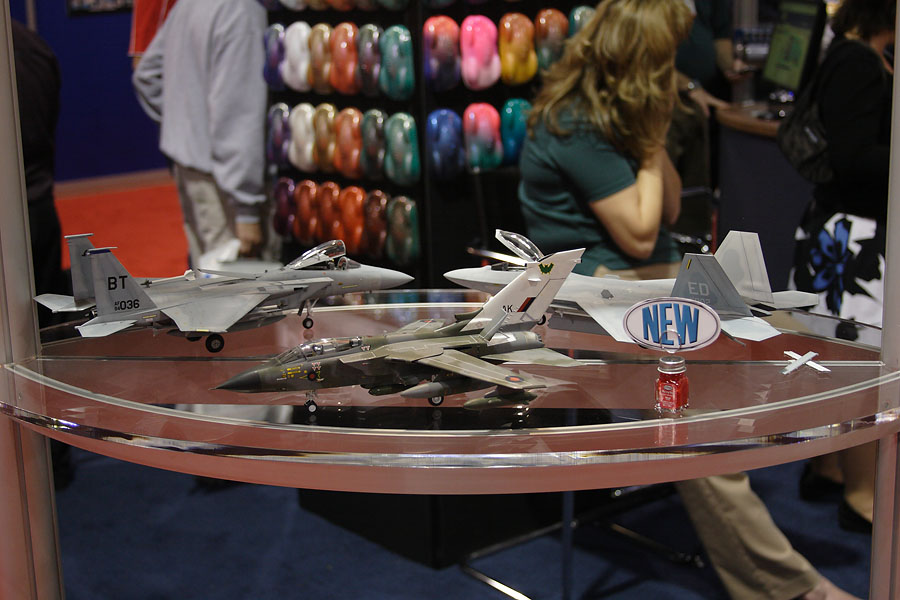 To celebrate 80 years of Testors, four 1/48 aircraft kits are being released as a special Collector Series. These include the Tornado IDS, F-15A/C, F-22 Raptor, and F-117 Nighthawk. These kits include limited edition decals, a certificate of authenticity, and are restricted to 2500 kits. Get yours before they're gone.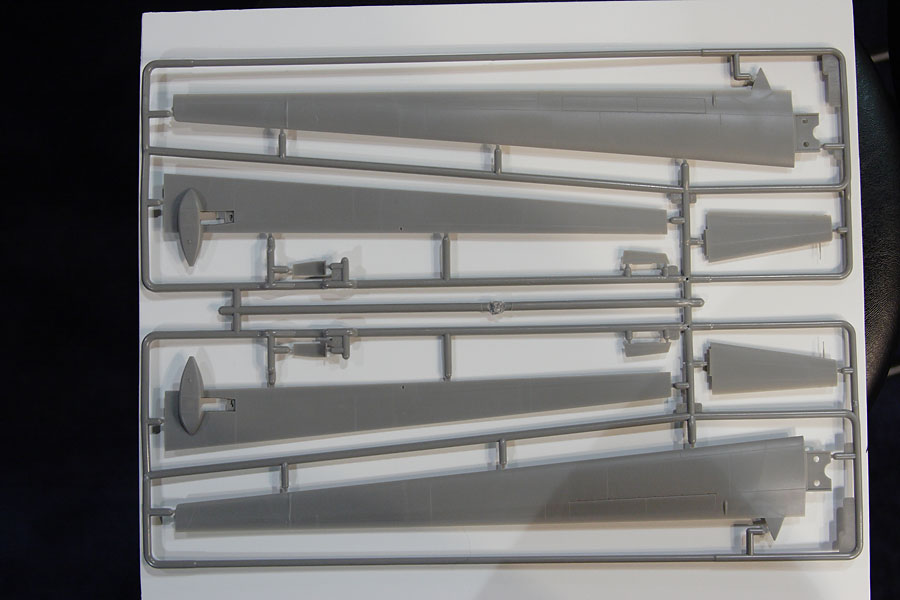 Accurate Miniatures had some BIG news. With a span roughly the same of a 1/48 B-17, on display was a build up of their 1/72 Global Hawk. Built up by David Lee from Winston-Salem, this was one impressive model. The detail throughout is high, and a future release will have open panels for even more detail. When set next to the Accurate Miniatures 1/72 Predator, you can really get a feel for the size. Out now are their 1/72 F-4J Phantom and 1/48 P-51C Mustang Racer. Stay tuned for more detailed reviews of both of those kits in the near future.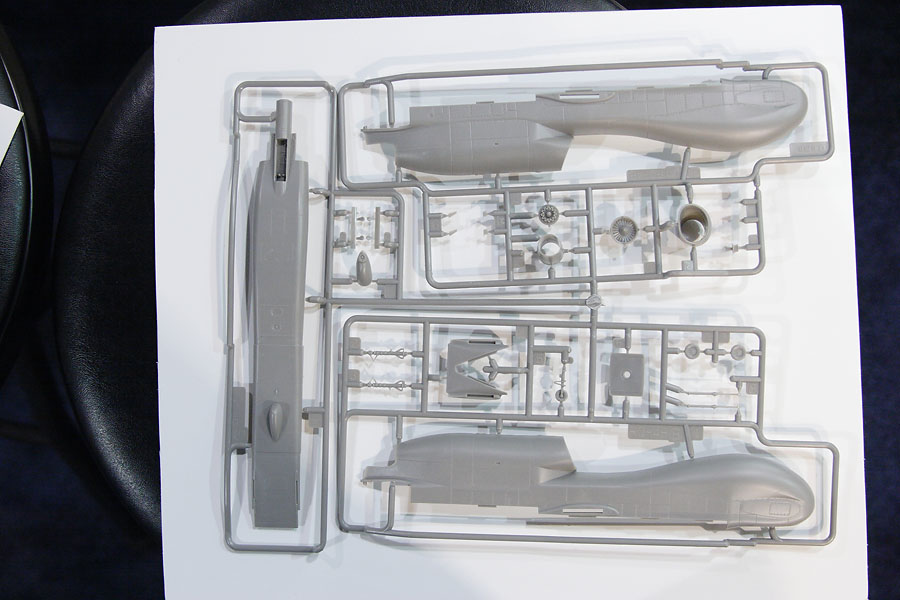 Eduard was present with test shots of their 1/48 Fw 190D, which looks to be every bit as good as their Fw 190A series. They also had examples of their new Brassin series, a combination of resin and photoetch accessories that result in a very detailed accessory set. The seat examples were quite impressive, and this will definitely be a great line to keep an eye on.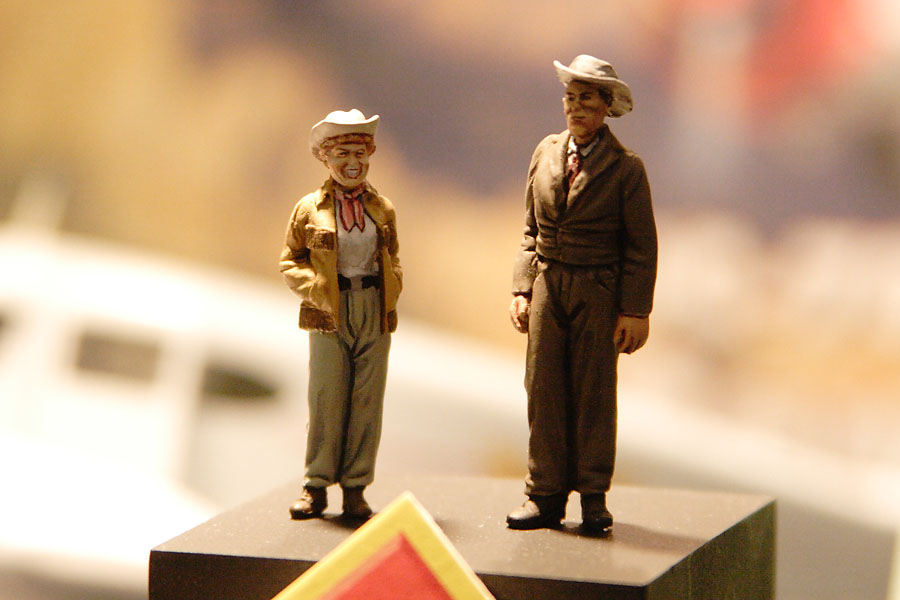 Squadron had quite a bit of interesting new stuff on scene. The anticipated 1/32 T-33 was illustrated in boxart form. While out of my normal size range, that one will be very difficult to resist. While on the subject of 1/32 scale, World War One modelers will continue to get some great Encore releases, with a combination of Roden plastic and new resin details. On display was the upcoming Fokker Triplane, which looks very impressive. While on the subject of aviation, two new figures aimed at the recent release of the Czech Model Cessna T-50 will soon be available. These are Penny and Sky King, really an essential accessory for anyone building a model of Songbird.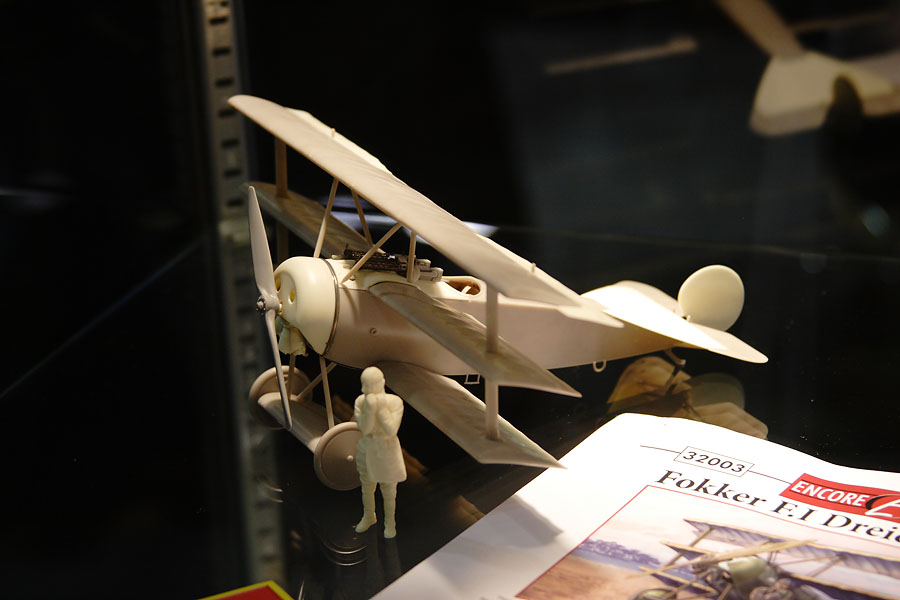 Books and decals continue to be a major part of Squadron, and a big selection of both were on display. New books include a Walkaround on the F-89 Scorpion, while decals cover the B-57 and B-26 in 1/48. Of course, there were more than just those on display, but those were the ones that caught my eye.
Overall, this year's iHobby Expo showed that our hobby is continuing to grow, with many companies diversifying their product lines. New kits continue to push the envelope of technology, with high levels of detail even in the smallest of kits, while the aftermarket companies follow suit with new product lines like the Italeri Superdetail Sets and Eduard's Brassin line. So clean off that hobby chair, get comfortable, and enjoy building these latest releases.