Internet Modeler : Columns : Now and Then
RSS News Feed
Decalcomaniac Revelation
Modeling Now and Then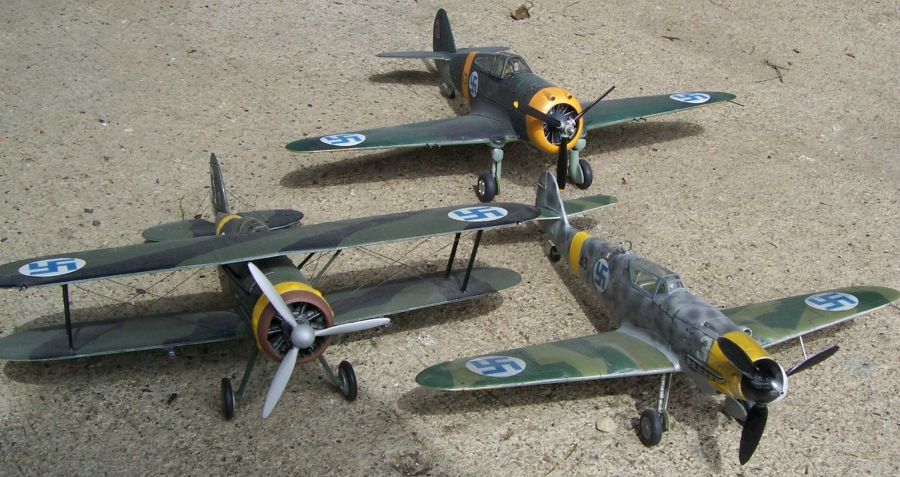 Decalcomaniac Revelation
Once upon a time, I had never heard the word "aftermarket"…
Way back Then, if you had watched me building, and said "You could put on other decals than those in the kit", your remark would have made no sense. For one thing, all the markings on the decal sheet were deeply engraved into the plastic kit parts. Another thing: WHAT other decals?
I'm not certain when I first encountered a kit without engraved markings. My recollection is that all the early builds, from Lindbergh, Hawk, Comet, and Aurora, had such. Who first decided that little boys (all modelers back Then) were so incompetent and foolish that they couldn't put decals on properly if the locations weren't deeply embossed into the kit parts? Worse: how and why did all the other manufacturers feel obligated to follow suit? If any of you readers know this story, I wish you'd share it with the rest of us…
Anyway, I must at some point have gotten a Revell Authentic Kit without such embossing, and I certainly remember that the 1/48th scale Douglas SPD Dauntless from Monogram was 'clean'. That was one of many features that made it by far the best kit I'd ever seen… I'm glad that a few years ago in the Now, I built one again. Of course it's inadequate in many ways, by the high standards we have Now, but back Then, it was very high-quality.
Eventually the day came when I started in on the Airfix/72 line, which I think of as the beginning of my 'serious' modeling. There was no embossing. There was also no pretense of molding in color to approximate the airplane's real appearance. I know how silly it sounds now to admit that I'd never painted a whole model before. Just a little paint around the engine, pilot, landing gear, and ordnance…maybe some trim color at the wing and tail feather tips. Otherwise, my builds were the color of the molded plastic. But the Airfix line was all in plain silver gray: they expected the builder to paint the whole plane!
A big change, to be sure, both to my modeling techniques and to my basic thinking. But just about Then, further information came available, to supplement the minimal instructions boxed in kits. Near the toy section of Thunderbird Drugstore was the newsstand. It had been quite some time since this had been favorite haunt, where I eagerly sought the latest Superman D.C. National comics, particularly Flash and Justice League. Now, along about late 1965, a magazine appeared on the stand: the first model-related I'd seen except for Model Airplane News, which I started reading in fifth grade in the school library.
The new magazine was Scale Modeler, and was crammed with pictures of exquisitely-done models, every part carefully painted, no flash or seam lines visible, detail picked out, and even enhanced…and wonder of wonders! Markings that did not come standard kits.
In the ads in the back, further help was promised. Some company called 'HisAirDec' offered, for a quarter, a free issue of some publication, a list of available decals, and even a sample sheet. Both Ken Murphy and I sent in quarters, and the ad's promise was fulfilled.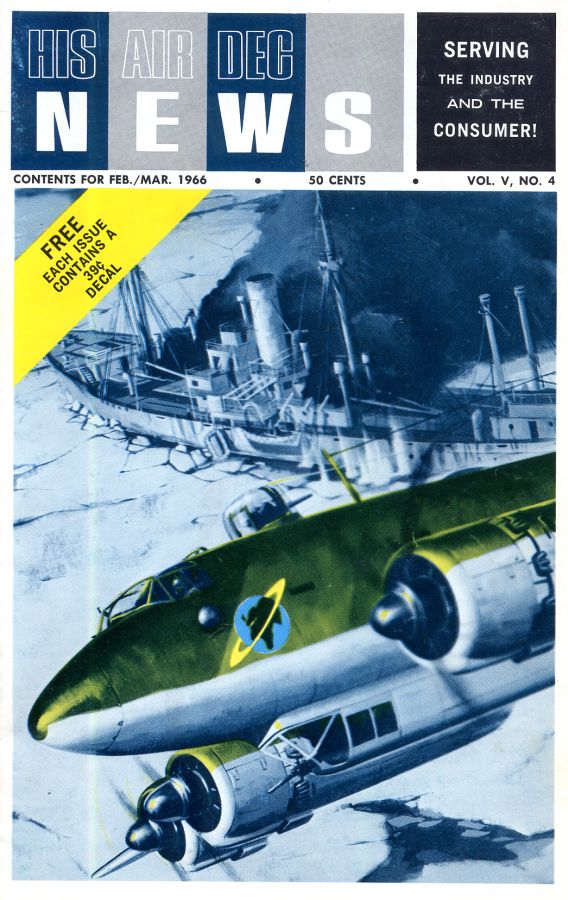 The publication came from Historical Aircraft Decals, Inc. of Minneapolis. I quote from the bottom of the first inner page: "HISAIRDEC News is published bimonthly (August to July) for modelers and aerophiles everywhere. Member: American Aviation Historical Society, Aviation Historical Society of New Zealand, Germany Aviation Historical Society, Aviation Historical Society of Australia, and International Plastic Modelers Society."
That last-named organization would someday…say, around the turn of the century… become quite important in my life!
Notice I still have my copy of this publication. It's too bad I never subscribed to it, and have not seen another issue besides this one, from February/March 1966. But it was a revelation in modeling possibilities. The first large article was "New Information on Japanese Camouflage", with color samples and an explanation of how the different units numbered and labeled their aircraft. Someday much later, I would start building all the Japanese warplanes.  The second article was "Finnish Camouflage and Aircraft", and listed systematically some of the remarkable variety of foreign aircraft Finland made do with during the Second World War. Again someday, I would start building these to make a 'Collections' IPMS entry…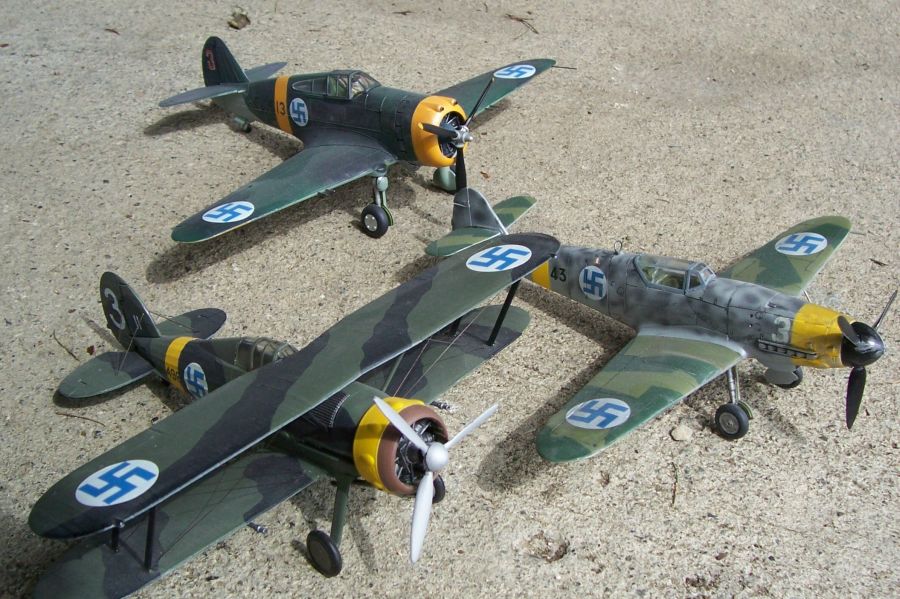 There was a detailed illustration of the P-51D Mustang in service with the Royal Air Force, with accurately drawn camouflage patterns and national insignia placement, all carefully coded with color descriptions, both by name and by the "AN Standards as per ANA Bulletin No. 157". The latter was beyond my comprehension, but sounded very official, and the drawings were clear enough that I decided to make an early Airfix purchase, the P-51, into a Royal Air Force plane.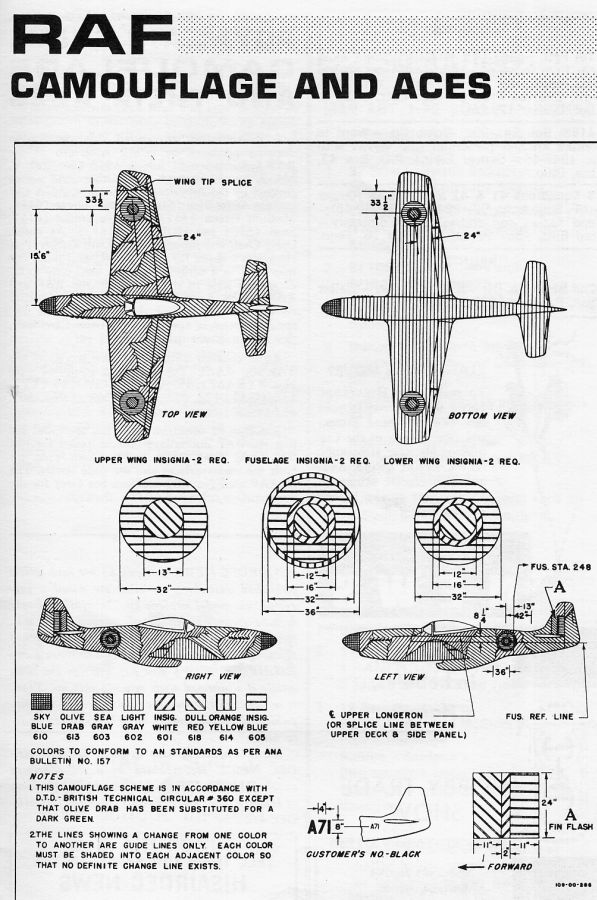 Which I had decals to do, because by then I was inspired to send HisAirDec more money. Their promised sample decal sheet was stapled inside the little magazine, and consisted of Spanish Civil War markings for the Messerschmitt 109 in 1/48th scale, plus New Zealand insignia for the Douglas Dauntless in 1/72nd . Incredible: you really didn't have to just use the kit decals any more!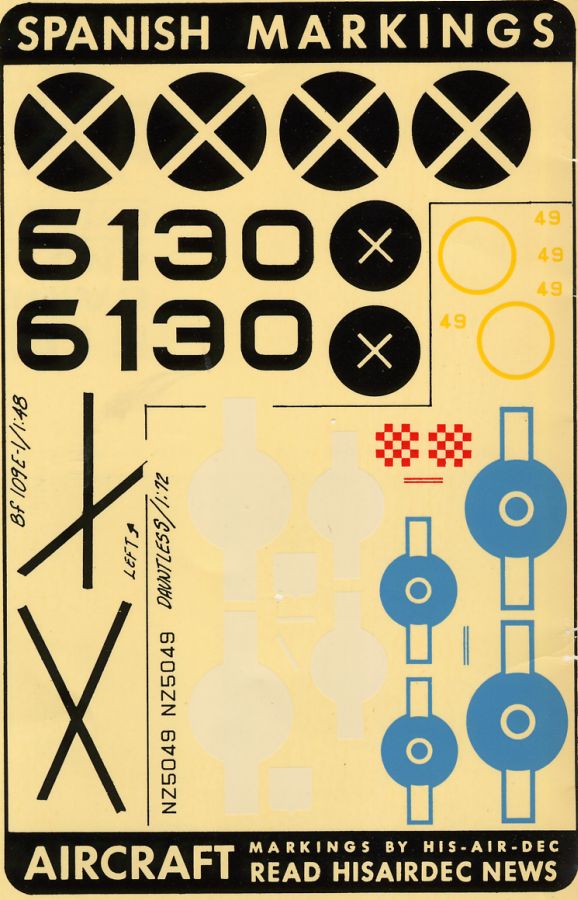 For modest fees, I got German markings with crisp, perfectly-registered black-and-white Balkan crosses and swastikas. And British markings: HisAirDec pointed out that theirs were in authentic subdued blue and red, quite unlike the bright toylike shades of all the kit decals I'd seen.
At this point, Ken Murphy was way ahead of me: he clipped out the sample sheet and used the Spanish markings on a new Airfix build, impressing us both with a model that couldn't be bought over the counter!
It took awhile, but my modeling began to improve. Most of all, I was broken now of the habit, real and mental, of merely putting on the kit decals that made my build look just like everybody else's. The possibility now existed that my models could be unique. This would some day lead to "operational" Grumman F5F and Dornier 335 fighters… a 'Stealth Fighter' marked as a WWII Hurricane… international racers from Ireland, Finland, and Possum Lodge for the Schneider Cup seaplane races that "resumed" in 1949 (!) … and even a Ghidrah-killing stratospheric interceptor derived from a failed Mach 2 experimental plane.
I often wonder how novelists do it: compose a story with sufficient and correct threads to weave a plausible plot. I don't do that, but I do have more threads to weave as this column continues. We'll have cereal box promotions, paper routes run from a Sears 3-speed and a Honda Trail 90 motorcycle, graphic artistry, and what was beyond anyone's comprehension back Then: personal computers and printers. Watch this space for developments. In the meantime:
Build what you want, the way you want to, and above all have fun!