Internet Modeler : Columns : Now and Then
RSS News Feed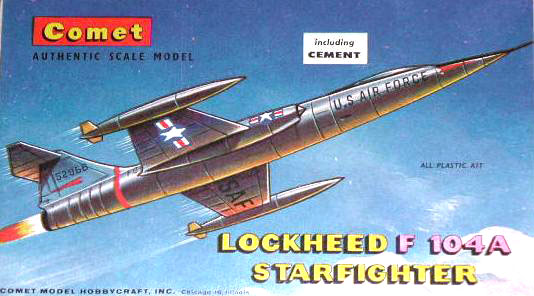 Modeling Now and Then: Cool Jets
No doubt most of you readers will relate to my motivations in getting into airplane modeling, so long ago. It was the first, central component of a concentrated lifetime study of the intricacies of the physics of flight, the challenges of aeronautical engineering, and the impact of aviation on the history of the 20
th
Century, plus—of course—a sensible and necessary first step towards my eventual lucrative career in Aerospace technology.
All right ... after reminding myself that Santa's likely started his "Naughty" list for next year: I got into modeling airplanes because they're so COOL!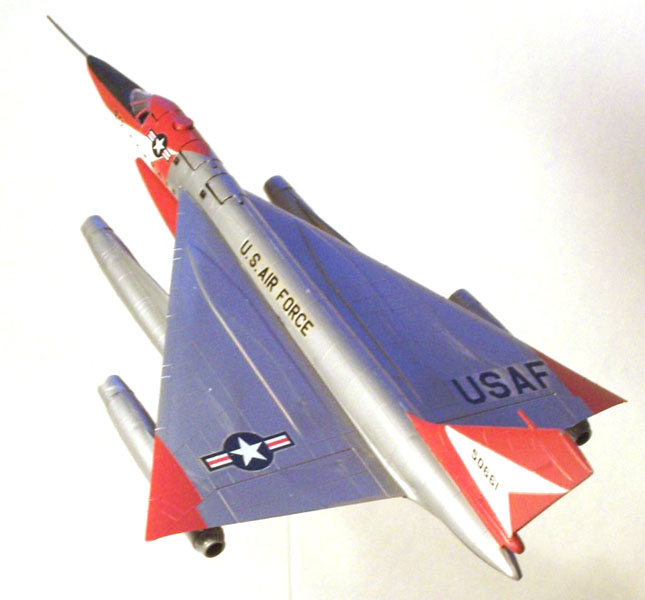 My two brothers cared about construction equipment, like bulldozers and road graders, spending large portions of their childhood making miniature towns with their Matchbox collection. My next-door neighbors Michael and Robert Matekonis were devoted to cars, primarily hot rods, which they frequently modeled. And another childhood friend really liked ships. I never had the slightest interest in any of these.
In fact, I can't cudgel my memory cells back to a time before I got interested in airplanes. I do have a fairly clear memory, that I know predates kindergarten, in which I was given—by some relative—a pair of large molded vinyl airplanes. I'm next-to-certain these were a Grumman Tiger and a Lockheed Starfighter (the coolest jetfighter that EVER was). I remember carrying around one or both, like Linus and his blanket.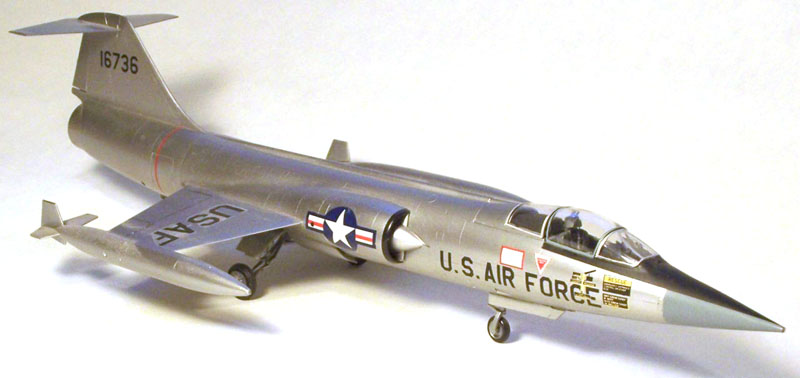 What other kids thought about while they rode their bikes or swing sets, I've no clue. But I remember what I thought about: flying a jet fighter into combat at ever-greater speeds and altitudes. I swung for hours on my swing sets in the backyard, and later, at Custer Elementary, often stayed after classes because the dizzying heights their playground swings could reach needed more than just recess time to fully appreciate.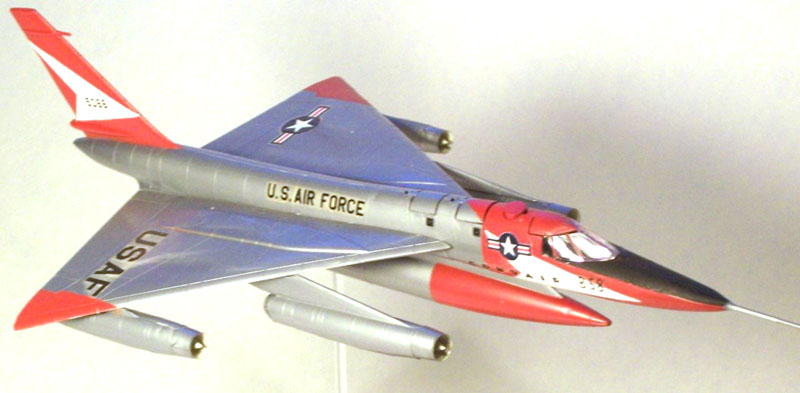 From age 8, I often rode a swing in my nifty khaki Air Force coveralls with the Starfighter printed above its left pocket. Real aerial combat may take only a few minutes, but my missions were much longer. I never worried about running out of fuel or ammunition, and it took time to shoot down those hordes of imaginary adversaries. I was always victorious, although often eventually overwhelmed by sheer weight of numbers. When my mount finally disintegrated under volleys of Commie gunfire and rockets, I'd bail out. This incredibly dangerous action I carried off with astounding heroism for one so young. Nowadays, at my age, were I to jump off even a modest yard swing, I'd probably break something. The thought of jumping from the Custer playground swing at apogee Now is as dreadful as it is preposterous. Back Then, there was a lot less mass to my body, and that was almost exclusively muscle and cartilage (if not much brain). I don't recall so much as a sprain…and the few bruises and scrapes were a fair price to pay for the glory of having survived combat in which dozens of America's Red enemies had been shot down in flaming smithereens!
So the Monogram model of the B-58 Hustler from my 11th birthday party started my lifelong avocation of building model airplanes. What with the real airplane's sharp lines and the model's Authentic Weapons Pod Release, the B-58 was the coolest jet bomber that EVER was!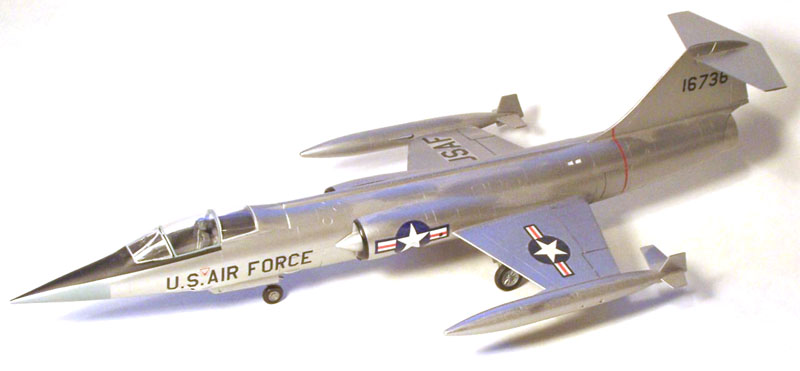 Between David Cooke's book of jet fighters, and my growing collection of jet models, I worked out a highly scientific ranking of warplanes. Here's the formula:
Coolness = Maximum Speed
Follow how this works. I read that the B-52 Stratotofortress could fly 600 m.p.h., whereas the B-58 Hustler could go 1,200. That makes the B-58 twice as cool as the B-52. I ranked all the jets I read about the same way, and this is the basis for my belief that the F-104 Starfighter was coolest jet fighter that EVER was. It follows inevitably from the information on the instruction sheet packed with the old Comet kit, which said the Starfighter might be able to fly as fast as 2,000 miles per hour!
So when I read that the North American F-100 Super Sabre and McDonnell F-101 Voodoo and Convair F-102 Delta Dart (the plane based near me at McChord AFB) could go 1,000 miles per hour, it was obvious: they're only half as cool as the F-104! The Republic F-105 Thunderchief, at 1,100, and even the English Electric Lightning, at maybe 1,200, were still way behind…
I know Now these figures have no claim to accuracy; they're the numbers that stuck in my head from way back Then. Nor had I the slightest concept that maximum speed isn't the only determinant of combat effectiveness. Then, if somehow the speeds of the jet planes of Now could've been known, I would have been totally contemptuous of them. It would be many years before I'd read detailed accounts of the F-104 Starfighter's real qualities…and its place in the aeronautical, economic, and political scene.

Nevertheless, that silly 2,000 miles-per-hour figure, combined with the Starfighter's undeniably sharp sleekness, still persists in my brain. I couldn't help but build it first among jet fighters, after my Dark Ages return to plastic modeling.
I promise to explain my 'Starfighter Reality Education Trauma' later. In fact, that's part of a lifetime study of the intricacies of the physics of flight, the challenges of aeronautical engineering, and the impact of aviation on the history of the 20th Century, which I found myself slipping into as an almost inevitable consequence of modeling. What never did happen was a lucrative career in Aerospace technology; Boeing's needs and my job skills never seemed to match up, although they did for several of my now-numerous modeling buddies.
Still, it's all been worth it. I've had a fine time modeling this past year, and done a bit of 'stretching', as fellow modeler Stephen Tontoni says we should all do, with each new modeling project. This past year I've sampled paper modeling, and learned to make my own decals.
Now, 2009 rushes in, and I must prepare for its first meeting of the NorthWest Scale Modelers. They'll be at "our" Museum of Flight on New Year's Day. I have to get back to the workbench if I'm to have any contribution to Show-and-Tell. I hope you had a good modeling year, too, and are getting at least as much fun out of modeling Now as you once did back in your own-remembered Then. So on with our philosophy in the New Year, namely
Build What You Want, the Way You Want To, and Above All, Have Fun!