Internet Modeler : First Look : Armor
RSS News Feed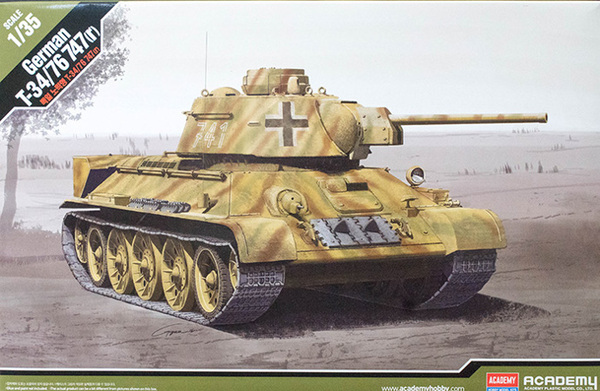 Academy 1/35 German T-34/76 747(r)
The Tank
During World War II The German Army had a very practical policy for vehicles they captured: they were pressed into service whenever possible. They seized numerous T-34/76 tanks after they invaded Russia, and renamed them the Panzerkampfwagen T-34/76 747(r). Germany captured the majority of its T-34s between 1941 and 1943, and used them until the end of the War. They entered service with the 1st, 8th and 11th Panzer Divisions in the summer of 1941. German use of T-34s was not without risk: their gunners had a tendency to aim at enemy targets on the basis of their silhouette rather than markings. German tank crews quickly learned to paint conspicuous crosses or even swastikas on captured T-34s and often on the turret top, lest they be bombed by their own air force, the Luftwaffe....
| | |
| --- | --- |
| | |
The Germans made numerous modifications to captured T-34s. These modifications included a different commander's cupola on the turret and German radio equipment. Spare parts were never an issue and the German Army kept approximately 300 T-34s in service on a long term basis.
The T-34 was a rude awakening when it was first encountered on the Eastern Front. It had the powerful L-11 76.2mm gun, sloping armor, a low profile, and for a tank, it was also fast. The German Army had nothing quite like the T-34. Although their tank building philosophy was quite different than that of the Russians, the Panther tank was clearly influenced by it.
The Kit
Academy's T-34/76 747(r) kit consists of 350 plastic parts on 27 sprues, a photo etched fret with 8 parts, a decal sheet, and a short length of string. 23 parts are not used for this variant and are destined for your spares box. My initial impressions of the kit are positive. The box is stout with a nice illustration of a captured T-34/76 on the box top. All of the parts are bagged, and the duplicate sprues (road wheels, grab handles and hull miscellaneous parts) are bagged separately. The parts are well molded, they are flash free and the sprue attachment points are positioned so that it's easy to remove the parts without damage.
The Turret
The turret is well done. There are 2 different commander's cupolas to choose from. The turret's cast texture is a bit exaggerated, but it will be less noticeable after painting and weathering. If this texture bothers you, you might go over the turret and its base with some 3M Scotchbrite sanding pads or sandpaper to reduce the texture a bit. On the other hand, the weld seams around the base of the gun mount and the underside of the turret base are well executed. The L-11 76.2mm gun is nicely molded and it will be easy to both clean up and to deepen the barrel end with a drill bit in a pin vise. The turret grab handles are a bit too uniform so you might want to make your own out of wire.
The Hull
The upper hull is a single, well executed piece. The glacis plate has a subtle texture. The ventilation grills on the rear deck are adequate and they will look pretty good after an oil wash and dry brushing of the raised detail. Photo etched grills would be an improvement so replace them if you are so inclined. You have your choice of 2 different engine hatches, with and without photo etched mesh. I would opt for the latter, as the photo etched parts look much better and they should also be easy to work with, too.
| | |
| --- | --- |
| | |
The driver's visor can be modeled open or closed. The hull machine gun is perfectly usable. There are 4 fuel tanks that mount on either side of the upper hull. The exhausts on the upper rear hull have drilled out ends which is a nice touch, but these should be drilled deeper for greater realism. You use the included 13mm piece of thread to fashion a tow cable. You can replace this thread with picture wire or an aftermarket tow cable, but if you're an OOB (Out Of the Box) modeler, I would advise you to dip the thread in white glue to prevent it from fraying. There are 2 storage boxes, mounted on the rear of the upper hull, on either side of the exhausts. They are okay, but in they're too uniform in appearance.
The Running Gear/Lower Hull
The T-34 used a variant of American engineer Walter Christie's sprung suspension, but without the removable tracks and high speed road wheels of the earlier BT fast tanks. There were 4 springs per side, each mounted in a rectangular box along the hull sides. This must have resulted in a claustrophobic interior, given the already narrow confines of the T-34 hull.
Apropos of the interior, the kit doesn't provide one. I scratched my head when I noticed that Academy went to the trouble of providing each spring, the box surrounding it plus a hull divider. There's no engine, transmission, or any interior fitments to speak of, so why bother? Even the attachment points for each suspension bell crank could have been molded as part of the lower hull. This would allow you to dispense with the superfluous suspension parts.
| | |
| --- | --- |
| | |
The tracks are the "link-and-length" type that I normally associate with 1/72nd scale kits. They're adequate for the task at hand, and they possess a modest amount of sag. They split the difference between primitive and unconvincing "rubber band" tracks, and the expensive and time-consuming individual link sets. There are aftermarket options if you're not happy with the kit tracks. The kit also includes 2 types of rubber tired wheels and 1 type of steel wheel, and they're very well detailed indeed. Consult the instructions to determine which wheels are appropriate for your intended modeling subject.
The instructions are up to Academy's usual high standards. They include a parts map and high quality illustrations with a logical, easy to understand build sequence. A nice touch is color callouts for Humbrol, GSI Creos (Gunze), Lifecolor, Testors/Modelmaster, Revell and Vallejo paints. You also get a painting/decal placement sheet for the decal options in the kit:
11 Pz.Rgt. 6Pz. Div, operation Zitadelle, July 1943. This T-34/76 was overall Dark Yellow with airbrushed Dark Green and Red Brown stripes. The white outlined turret numbers are for tanks 741 or 742.
Unidentified Unit, East Front, Karellia 1942/43. This tank was overall Russian Green, and had rear stowage boxes.
Unidentified Unit, East Front, Karellia 1942/43. This tank was also overall Russian Green, but lacked the stowage boxes. These 2 tanks further differ from each other in their unique combinations of steel and rubber tired wheels.
(Pz.) Kp./schw.Ski.Btl. 1 1 Ski. Jag. Div, Pripyat area, Ukraine Spring 1944. This tank was overall Russian Green, and had a turret storage bin and external fuel tanks.
Conclusions
This is a sound kit. It has good detail and it is reasonably accurate. It's a great platform for experimentation with aftermarket parts (turned brass barrel, link-and-length tracks, photo-etch, etc.) and various weathering techniques. There are more detailed kits on the market, but I think that many modelers will be quite pleased with what they can produce with Academy's new T-34/76 kit. I recommend this kit and I would like to thank Model Rectifier Corporation for the review sample.
References
http://www.achtungpanzer.com/panzerkampfwagen-t-34r-soviet-t-34-in-german-service.htm
https://en.wikipedia.org/wiki/T-34_variants
http://www.historyofwar.org/articles/weapons_t-34_develop_combat.html