Internet Modeler : First Look : Armor
RSS News Feed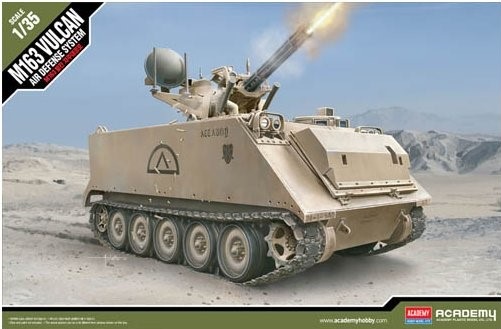 Academy 1/35 M163 ADS
Highlights
10 (tan) injection-molded plastic styrene sprues
Main hull packaged separately
2 choices of track: plastic vinyl and individual link
2 black vinyl ammunition belts
1 sprue of vinyl polycaps
1 small photo-etch sheet containing engine intakes and optional detail
4 multi-part figures, and assorted backpacks and deck equipment
2 types of optional side-skirts
1 medium decal sheet, printed in Korea
Background
The M163 Vulcan Air Defense System (ADS) is a self-propelled anti-aircraft gun (SPAAG) that was used by the United States Army and the United States Marine Corps. The main armament is a variant of the General Dynamics 20mm M61 Vulcan rotary cannon, the standard cannon in most U.S. combat aircraft since the 1960s, mounted on either an armored vehicle or a trailer, in this case a modified M113 armored personal carrier. The system was designed to complement the M48 Chaparral missile system. The M163 uses a small range-only radar, the AN/VPS-2, and an M61 optical lead-calculating sight. The system is suitable for night operations with the use of AN/PVS series night vision sights that can be mounted to the right side of the primary sight.
The gun fires at 3,000 rounds per minute in short bursts of 10, 30, 60, or 100 rounds, or it can fire in continuous fire mode at a rate of 1,000 rounds per minute. A linkless feed system is used.
Purchased by the Israeli Air Defense (IDF) Command, the M163 ADS (designated "Hovet") scored 3 kills, including the first jet warplane (a Syrian MiG-21 fighter jet) during Operation Peace for Galilee in 1982. The IDF also used the M163 Hovet for fire support during urban warfare in Operation Peace for Galilee (1982) and Operation Defensive Shield (2002).
The Kit
The Academy M-163 is the second update to the original 1995 boxing, containing new parts, a photo-etch sheet, and updated sprues and instructions. The box includes a variety of extras, including four figures, personal weapons, backpacks, ammunition, fuel cans, etc. etc., in typical Academy style: always more than you expect!
The tan styrene plastic is flash-free and highly detailed. The kit includes several build options, two types of side skirts, main gun-positioning, front and rear-hatch treatment, and two sets of track, one-piece 'rubber-band' style, as well as individual track links.
Instructions
One eight-page black and white instruction fold-up is included twelve with ssembly steps. A four-page parts map and 'Parts Not Used' list is provided, as well as paint call-outs for Humbrol, GSI Creos, Lifecolor, Testors MM, Revell, and Vallejo Paints. In addition, three finishing schemes are provided:
24th Infantry Division, 1st Brigade, 5th Air Defense Artillery, Fort Irwin, November 1988
3rd Armored Division, 3rd Battalion, 5th Air Defense Artillery, Germany, November 1987
Unknown Unit, Fort Irwin, March 1988
Assembly
Main assembly starts at the rear of the vehicle where you have several options for stowage. The main rear door, as well as the crew 'door within the door', can be modeled open or closed, although there is no interior detail provided if either is left open.
The running gear and individual axle arms are added next to the single-piece main hull. Academy provides poly caps for each wheel to assist modelers who choose to paint and weather the wheels separately before pushing them back on their axles.
Curiously, after attaching the track, Academy has you assemble the highly detailed front-end hatch and panel before setting it aside to focus on the main turret and weapon (the front end is then attached at the very end of the build, in Step 12). The front hatch and panel sport some photo-etch parts (unusual for Academy), including two very nice mesh screens. The main door can be posed open or closed, as can the armored panel that protects the door. That said, there is nothing to see inside if things are opened up.
Following the assembly of the turret and main gun (see below), the rest of the vehicle quickly comes together. Academy provides an abundance of 'deck accoutrements', including a lot of extras not mentioned in the instructions. Make sure to carefully look over what you get to decide how you want to dress up your APC.
The final step adds the turret up top, the front panels and doors as well as two types of optional side skirts, which, when combined with the option to leave them off entirely, results in three different 'looks' you can give your M163.
General Dynamics 20mm M61 Vulcan rotary cannon
The turret and main weapon system up top on the ubiquitous M113 APC chassis is clearly the star of the kit, and where all eyes will be focused. Academy has done a decent job with the assembly; the walls of the turret seem a little thick to me, but may very well be accurate since this is an armored enclosure. The barrels of the rotary cannon are molded in three, two-shafted parts, and are solid plastic with ends that can be hollowed out by the modeler. The radar dome and support structure are nicely detailed and mount externally on the turret, and the gun itself can be positioned at angles that represent the weapon deployed or stowed. The remaining parts that make up the gun are few, but detailed, and augmented by two black (paintable) vinyl ammunition belts. Four additional ammunition belts are provided, but those appear to be pointed at a variety of other weapons provided in the kit, including 50cal and 30cal machine guns.
Track
The individual track links, once clipped from the sprues and cleaned, push together and appear highly detailed. Each link contains a small 'dimple' on the rubber pad that I believe is meant to represent wear and tear, although some modelers may wish to fill the indentations, as they look somewhat like sink marks.
If you choose to go with the single-length rubber-band track, each run is very well detailed and is attached using a heat source to melt small tabs on each end. This approach usually means that they are not meant to take glue.
Conclusion
Academy scores with me for several important reasons: Their kits are highly detailed, they always contain more than what is promised in the instructions and box-top, and they do so at a very competitive and affordable price. Beginners will appreciate the low parts count of their models, and, in the hands of a reasonably experienced modeler, finished kits will be hard to distinguish from much more expensive competitors, with vastly higher part counts. All this translates into a more enjoyable modeling experience that keeps me coming back for more.
I recommend this kit to all modelers, especially those who fancy modern armor. The Vulcan cannon lends an undeniable 'coolness' to the ubiquitous M113 chassis, and will turn heads on the contest tables, or back home in your modeling case.
I would like to thank Model Rectifier Corporation for providing this kit for review, and to Internet Modeler for giving me the opportunity to build it.