Internet Modeler : First Look : Armor
RSS News Feed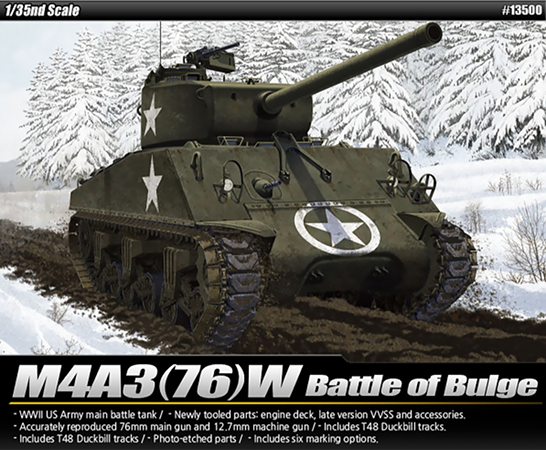 Academy 1/35 M4A3(76)W "Battle of the Bulge"
The M4 Sherman series of tanks is arguably the most important Allied tank of the Second World War. It certainly was the most ubiquitous, as it appeared on every battle field of the War: the Western and Eastern European fronts, the Pacific Island Theater, Burma, China etc.
The Sherman was produced in five original models, almost identical to each other apart from their engines: M4, M4A1, M4A2, M4A3, M4A4. The M4A1 was different from the others as well, with a cast main upper hull, vs the other tank's welded hulls.
It became obvious that the Sherman would need a series of upgrades in an attempt to keep up with advances in German tank engineering, especially armor protection, as the Second World War progressed.
The early Sherman models also had an issue with internal fires (when the hull was penetrated by enemy shell fire) that could set off catastrophic ammunition explosions. So, the Sherman received a longer caliber gun, and better protection for the hull ammunition stores late in the War. Thus was born the M4A1(76)W, M4A2(76)W, M4A3(76)W.
The "76" referred to the new 76mm longer caliber gun, and the "W" for "wet stowage", meaning the hull shell storage containers were now surrounded by glycol as a fire suppressant feature. A new larger Sherman turret was designed, the T23 turret, in order to house the large caliber gun.
Over the years, Academy has released a number of Sherman tank kits as well as kits of Sherman based armored vehicles: the M4A3 Sherman Calliope, M4A2(76)W Sherman, M4A3(105mm) Sherman, USMC M4A2(75mm) Sherman, M10 GMC, and the M36. So Academy has a fair amount of "experience" with this particular line of military vehicles.
What's in the Academy Box
10 sprues of injection molded dark green plastic parts
1 set of "rubber band" type tracks (T48 rubber chevron with duckbill end connectors)
1 sheet of water slide decals with 6 marking options
1 small photo etched brass fret
A two-part instruction manual, with 12 pages of black and white assembly instructions covering 18 assembly steps, plus a two-page set of color and marking instructions, plus a sprue layout diagram.
First Look
The quality of the parts included in this kit is first rate. They are crisply molded, devoid of sink marks or flash, and for the most part appear to be minus visible ejection pin marks, once the model is completed. The exception here are the single length flexible tracks.
These are very well detailed for the type of material used, but on the exterior rubber chevrons, there is a clear ejection pin mark on every 9th chevron. Interestingly, the inner surface of these tracks where they come into contact with the road wheels are flawlessly molded.
The parts which on the real Sherman M4A3(76)W are cast steel, such as the turret shell, transmission housing, etc., have on the kit parts delicately textured surface detail simulating the casting effect. Perhaps it is a little too even, and might productively be enhanced with a little Mr Surfacer 500 primer and a stiff brush?
Many of the parts also have very nicely produced casting numbers/letters, such as on the turret roof, the bogie housings and the transmission housing. And while on the subject of the suspension, Academy gives the modeler two options for the bogie track return roller arms: straight or upwardly angled types.
Turning to the main upper hull part: on the real Sherman, the welds for the main plates should be raised. Unfortunately, as with many of Dragon Models earlier Sherman kits, and Tamiya's, Academy have provided the vast majority of the welds as trench-like grooves. You can either live with these as is, or carefully take some acrylic modeling putty, such as Deluxe Material's Perfect Plastic Putty, and fill in the trenches. Then take a Q tip dampened with water, and remove the excess. Once everything is dry, apply some raised welding marks, such as those produced by Archer Fine Transfers.
Academy's plastic parts of the vehicle headlight, horn and brake light guards are for me marginal, when it comes to being overly thick. If you are a fan of plastic guards, then use them as is, or thin them down carefully with sandpaper and files. This said, Academy does provide a very nicely done photo etched brass fret that includes these guards. Well done, Academy!
Academy provides two types of road wheels, two types of drive sprockets and two types of idler wheels. The instructions call for only one option for the road wheels and drive sprockets, but allow for both types of idler wheels. Check your references, as they say, to confirm what types of road wheels, for example, later model Shermans utilized. Also, Academy's instructions show the use of only the straight arm return roller brackets, but I would have said later war Shermans such as the M4A3(76)W would have used the angled arms? Repeat after me: check reference photos! The same goes for the 76mm main gun barrel. The Academy instructions advise the use of parts I-22 and I-23, together with I-11. This gives one an M1 gun barrel without a muzzle brake. However, there are parts to make a 76mm gun WITH a muzzle brake (M1A1C), should you wish to utilize these parts (I-18 & I-19).
| | |
| --- | --- |
| | |
Academy provides the modeler with one of the best .50 caliber machine guns available in injection plastic for the turret roof. There is also a nice sprue of parts, Sprue H, that includes three very nice jerry cans, various multi-part ammo boxes, together with various bolts, nuts, rivets and casting marks which can be sliced off the sprue, and used where appropriate.
And finally, there are the decals. These appear to be printed on decal film of an average thickness. They are well printed, in register, and based on my previous experiences should prove user friendly. As mentioned at the introduction, there are six schemes listed:
Version 1: 761st Tank Battalion, France, November 1944 overall Olive Drab
Version 2: 69th Tank Battalion, "1944", overall Olive Drab
Version 3: 709th Tank Battalion, Colmar, France. January 1945 overall Olive Drab with white camouflage
Version 4: 752nd Tank Battalion, Bologna, Italy. April 1945 overall Olive Drab
Version 5: 752nd Tank Battalion, Bologna, Italy. April 1945 overall Olive Drab
Version 6: German Beutepanzer, Bologna, Italy. April 1945
In conclusion, this is a nicely detailed late war Sherman kit, with various options that will produce a nice model out of the box. As with any kit, there is always room for improvement and the modeler may wish to work on upgrading the hull weld detail, and care will be needed to position the tracks so as to hide the ejection pin marks present. My thanks to Model Rectifier Corporation for allowing Internet Modeler the opportunity to review this kit.