Internet Modeler : First Look : Armor
RSS News Feed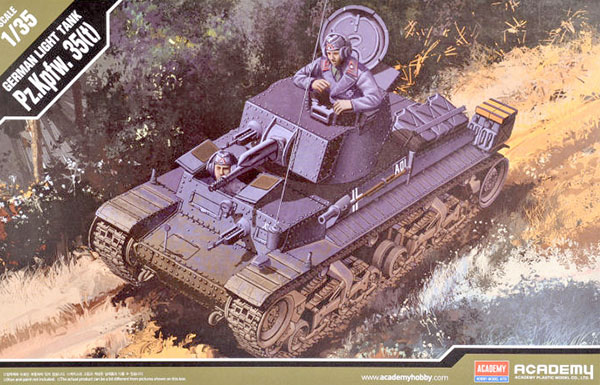 Academy 1/35 PzKpfw 35(t)
Overview
When Germany took over Czechoslovakia in 1938- 39, the entire Czech arms industry fell into their hands. Two new tank designs proved to be superior to both PzKpfw I and II plus the availability of the Czech vehicles also meant that panzer divisions could be brought up to strength very quickly. One of these tanks was the LT Vz 35 which the Germans re-designated PzKpfw 35(t). It was a very reliable, easy to drive vehicle. It was armed with a 3.7 cm main gun and 2- 7.92mm machine guns. More than 200 were taken into service by Germany and were used in Poland, France and the eastern front.
The Kit
Academy's release of this kit comes in a top opening box with nicely done box art and photos of a finished model on the side. Upon opening the kit, one will find seven sprues molded in dark gray plastic in five bags. The decal sheet has markings for two subjects. One is for a vehicle of the 6th Panzer Division, France, 1940. The other is also of the 6th P.D. in Russia, 1941.
There is a length of white synthetic thread for fashioning of tow cables. For stowage, there are twelve jerry cans with racks to hold them along with the usual pick, shovel, and jack. The tracks are molded in" link and length" method and look great. A nice touch is the molded in sag to the top run. I could see no ejector pin or sink marks on any of the tracks or any place else visible on the pieces.
The instructions are an eleven-step affair doing the usual transition from hull assembly, to bogies then the track install. Following that, we are on to upper hull and fenders along with stowage, MGs, and hatches. The turret assembly goes in thereabouts also. Speaking of which, the commanders cupola is a fine looking, eleven-piece unit that can be made opened or closed. The drivers hatch is open or closed also. The only interior is the gun breach, though.
In my opinion, the instruction sheet is quite clear. It should be no problem to any semi- literate modeler.
I did a side-by-side comparison of this kit with the old CMK offering. The Academy PzKpfw. 35(t) is a much better item. For what it may be worth to you rivet counters out there, (they look good also) according to the references I have, the overall length and width look pretty close.
Conclusion
I can whole-heartedly recommend this kit to anyone who, like me, is happy to see a more obscure yet interesting subject so splendidly produced.
Good work Academy! My thanks to MRC for the review sample.