Internet Modeler : First Look : Armor
RSS News Feed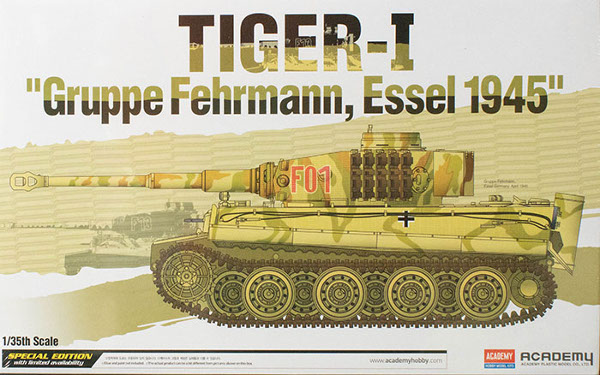 Academy 1/35 Tiger I "Gruppe Fehrmann, Essel 1945"
The Tank
The Tiger I is probably the most famous and feared tank of the Second World War. It was designed as a "breakthrough" weapon with thick armor and an 88mm cannon. For over 2 years there wasn't a single Allied tank able to match it on the battlefield. Its dimensions were impressive: it was over 27 feet long, more than 12 feet wide, and it weighed over 50 tons.
The hull and superstructure armor were 100mm thick, the hull sides were 60mm thick and the superstructure sides and rear plate were 80mm thick. The Tiger I tank used interleaved road wheels on an overlapping torsion bar suspension, in order to achieve the proper ground pressure. A five man crew operated each Tiger I.
Henschel und Sohn of Kassel built 1,354 Tiger I tanks during its two year production run from July 1942 to August 1944. Maybach provided the 650 hp HL 210 P45 V-12 gasoline engine. The more powerful 700 hp HL 230 P45 replaced the HL 210 at the end of the 1943.
The Tiger I was subject to continuous running changes to components such as its turret, mantlet, commander's cupola, crew hatches, etc. which led to variant designations such as "Early," "Mid" and "Late." It's very important to have access to photographs of the tank you wish to model, if available, in order to confirm the detail differences from one tank to another.
The Kit
The kit depicts a Tiger I with both Zimmerit (anti-magnetic mine paste applied to the superstructure and turret) and steel wheels. It consists of 365 parts. 279 of these are injection molded plastic on 11 sprues. You also get 2 "rubber band" style tracks, 24 poly caps, a photo-etch fret containing approximately 25 parts, plus a 34 piece Zimmerit "decal" sheet and a regular decal sheet. 64 of the plastic parts are surplus to this particular Tiger boxing and are destined for your spares box.
My initial impressions of the kit are positive. The contents of the box are impressive. I really like the fact that Academy now provides you a single piece gun barrel; otherwise I would have recommended an aftermarket turned metal one.
The hull is well molded and detailed. There are pins molded on the hull, in front of each torsion arm mount, that locate each suspension arm in a fixed position. These pins correspond to holes on the inside of each suspension arm, which provide for a level suspension. If you bypass the pins you can articulate the suspension to depict your Tiger advancing over uneven ground. This is a nice feature and I appreciate Academy's thoughtful approach. The interleaved road wheels, drive sprockets and idlers are also well executed.
The tracks are the old, one-piece vinyl tracks that many manufacturers have abandoned for more accurate, individual link tracks. When I say more accurate, I mean that individual link tracks not only have greater detail, but they also "sag" over wheels and sprockets in a more convincing manner.
The vinyl tracks are well detailed, and they are certainly adequate for those who are intimidated at the prospect of building individual link tracks, one link at a time. I personally haven't assembled a set of these tracks, but I have seen my friend, the excellent armor modeler Andrew Birkbeck, build a pair. It was a long, focused task and he simply got on with it.
There are a fair number of parts to add to the hull. Some of these (rear fenders, exhaust shields) are complex photo-etch parts that will require careful assembly with your preferred PE folding tools. Take your time with these critical parts. The rear end of the Tiger was covered with lots of fascinating bits and Academy provides the items to accurately depict this area.
The hull upper structure is nicely detailed. The rear upper hull is very well rendered and in conjunction with the PE ventilation screens, it looks very accurate. Virtually every item attached to the upper hull superstructure, with the notable exception of the towing cables, is an individual item to be attached to it, one by one. I associate molded-on "detail bits" with smaller scale armor (1/72nd and the like) and I think this is a positive development.
The turret is well molded and it includes spare track links and stowage bins. The bins are not applicable to all of the decal options. Apropos of decals, this kit includes Zimmerit decals, which are made for Academy by Def Models. They are waterslide decals made from very thin epoxy resin. The kit instructions don't provide much information on using the zimmerit decals, apart from stating "useful" information such as "Zimmerit decal 5." I visited the Def Models website to learn more and it seems that one doe indeed apply them like any other decal, with the use of your preferred decal setting solution. I think this is a fascinating idea, given the choice between applying decals, making zimmerit with epoxy putty, or cutting zimmerit into the kit plastic with the aid of a pyrogravure...
The markings decal sheet is small, crisply printed, legible and in-register. It includes markings for 4 different tanks:
"F01," Gruppe Fehrmann, Essel, Germany 1945. This tank had turret stowage bins, side skirts, muffler shields, zimmerit and different camouflage patterns on the turret and hull.
"F13," Gruppe Fehrmann, Achum, Germany 1945. This tank lacked turret stowage bins, muffler shields or side skirts. It had zimmerit and different camouflage patterns on the turret and hull. Previous turret markings were over painted with German Grey.
"111," Gruppe Fehrmann, Achum, Germany 1945. No turret stowage bins, muffler shields or side skirts. It had zimmerit and the same camouflage pattern on the turret and hull.
"411," Schwere Panzer Kompanie Hummel Belgium, Ardennes December 1944-January 1945. This tank had turret stowage bins and muffler shields, but no zimmerit.
I like the variety of decal options and equipment fit. All 4 tanks are German Dark Yellow, with camouflage patterns using swaths of Red Brown and Dark Green.
Conclusion
I think this is a very nice kit. It is reasonably accurate, it certainly looks the part, and the construction promises to be free of drama. I would recommend individual link tracks, if that is your "thing." You can certainly make do with the kit tracks, and save significant time, but link tracks are simply better.
I would also replace the kit tow cables with aftermarket parts. You can also buy a turned metal gun barrel but the kit gun is pretty good.
I think the zimmerit decals are a fascinating idea, so I plan to build this kit to see how they work out. The markings options are also very interesting and the kit's packaging, presentation and completeness are first class. I feel that one can produce a nice Tiger I right from the box, and an absolutely stunning one with a little help from the aftermarket. I recommend this kit and I would like to thank Model Rectifier Corporation for the review sample.
References
Tiger In Action, Armor Number 27, by Bruce Culver, Squadron/Signal Publications, 1989
Modeling the Tiger I, Osprey Modeling #37, by Gary Edmundson, Dinesh Ned, David Parker, Darren Thompson and Steve van Beveren, Osprey Publishing, 2007
Def Zimmerit decals: http://defmodel.com/catalog/htm/dd35004.html