Internet Modeler : First Look : Armor
RSS News Feed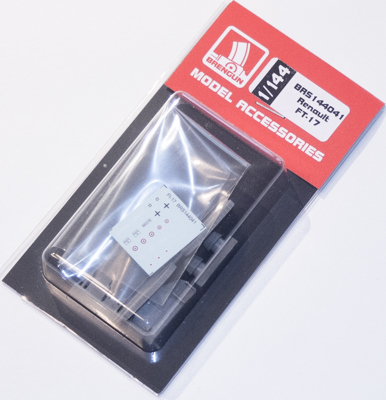 Brengun 1/144 FT-17
The Brengun 1/144 FT-17 consists of eleven of pieces of gray resin: one-piece hull; one-piece turret (but two of them, "welded" and "casted"); three separate pieces for the rear glacis; a separate exhaust; and two one-piece running gear affairs (consisting of all wheels and tracks on a single piece of resin). There are also decals included, for a U.S. FT-17; two French tanks; and two German, captured examples. Decals appear okay but it does look like it's a single piece of decal so each image will need to be cut as close to the design as possible.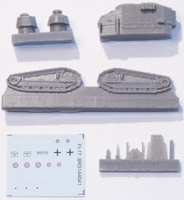 Once the parts are removed from their pour blocks construction will be simple. The first thing you'll need to decide is which FT-17 version you want to build, using either the "welded" or "casted" turret. Once that is decided then glue the rear glacis and its supports to the back of the hull; leave off the exhaust until after painting (this will make it easier to paint both); glue the correct gun to the turret used; glue the turret to the hull; then as a last step, glue the single-piece running gear to each side of the hull. Again, it might be best to paint everything separately – minus the rear glacis and supports, maybe – until after painting to help with that step.
After it's all together and painted then add the decals, if you decided to build an example from the decal sheet. There are lots of FT-17s you could finish this as and some of them did not have markings.
Conclusion
Here's another AMS buster for those stuck in a modeling rut. Once parts are removed from their pour blocks then having a finished 1/144 FT-17 on your completed shelves will take very little time. And it would look great sitting on a display base or a diorama.
Huge thanks to Brengun for allowing me to review this kit.