Internet Modeler : First Look : Armor
RSS News Feed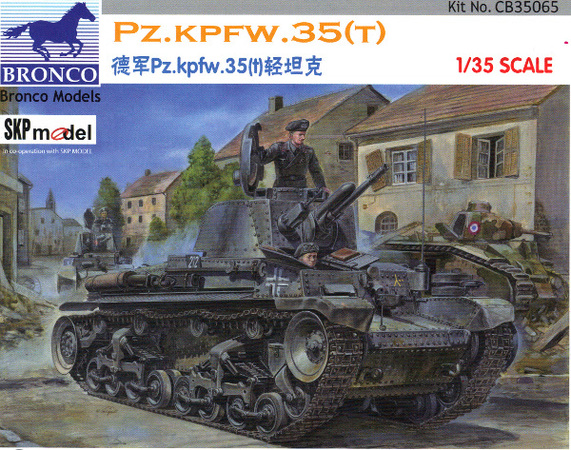 Bronco Models 1/35 Panzerkampfwagen 35(t)
OVERVIEW
Czechoslovakia had a thriving and advanced armaments industry after World War 1 and right up until its occupation by Nazi Germany in March of 1939. The firm of Skoda was one of the world's leading producers of munitions, field guns and tanks in the 1930's. One of their designs for the Czech Army was the Lt Vz 35 (Light Tank). It weighed 10.5 tonnes, and featured a 3.7 cm main gun and a 7.92mm machine gun in its turret, and another 7.92mm machine gun in the front hull.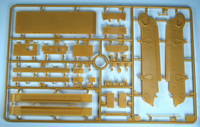 It was powered by a 4 cylinder gasoline engine that provided a top speed of 34KPH. Just under 450 Lt Vz 35's were produced, with the bulk going to the Czech Armed Forces, but a number were also exported to Romania and Bulgaria. The German Armed Forces captured and pressed into service 218 of the tanks after the 1939 invasion and renamed them Panzer 35(t), the "t" standing for Tchechisch, German for "Czech".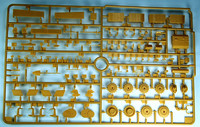 These captured tanks were part of the German armored units that participated in the invasions of Poland in September 1939, France in 1940, and later the Soviet Union in 1941. With each successive series of battles, fewer and fewer of the Pz. 35(t) were serviceable and by 1942 they were gone from front line units.
I think there have been two previous injection molded plastic kits of the Pz.35(t) issued, one many years ago from CMK, and a much more recent kit from Academy. The Academy kit was a much better build than the old CMK kit, and it looks like the new Bronco kit will supersede Academy's, at least in fidelity of detail!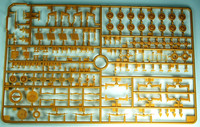 Kit Contents
10 Sprues of tan injection plastic parts
20 sprues of brown link by link tracks
1 small sprue of injection plastic clear parts
1 decal sheet by Cartograph, covering six marking schemes
1 large photo etched brass sheet
NO crew figures
The kit is a co-development between Bronco of China and SKP Model of the Czech Republic. Given the kit is "Made in China", and that it looks exactly like all the other Bronco kits I have seen (i.e. loaded down with tons of incredible detail and a high parts count!), the Czech connection must surely be in the R&D, rather than the production. The parts are extremely well molded, and very well detailed, with few ejector pin marks, and no sink marks. The instructions are well laid out, and don't appear to pose any headaches if followed carefully.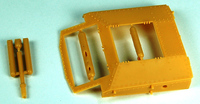 The model comes with a well detailed hull fighting compartment. The forward interior hull walls are lined with medical kits, radios, fire extinguishers and ammunition stowage racks. The driver's and radio operator/machine gun's positions are assembled from dozens of individual parts. However there are no engine components. Perhaps SKP will release a separate engine set at a future date. Neither the Academy nor the older CMK kits had any interior hull detail.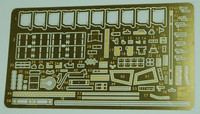 The tank had four wheeled main bogies, of which there are two on each side of the vehicle. They are extremely well detailed, and also appear to be "workable", for those interested in posing the bogies and tracks. I don't see anything overly complicated about their assembly. Bronco supplies the modeler with a series of individual tracks, which should be relatively easy to clean up as there are only three sprue attachment points to each link; a quick swipe of the hobby knife should clean these up. The tracks are "clickable", and thus workable, so getting the correct track sag on your model shouldn't pose any problems. The tracks are "handed", so don't accidently mix them up!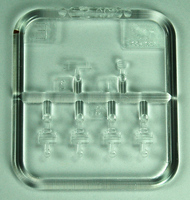 The fender detail is extremely well done, and there is detail molded both on the top side and underside. The jack is a four piece assembly, together with three 2 part PE strap units. All the OVM tools have two part PE straps as well. One of the marking options is for a Russian front vehicle, which because of the great distances travelled in that theater of operations carried extra fuel in external jerry cans. Multi part racks are provided to store these on the rear hull, and each of the 8 jerry cans has five parts each, including one in PE. The detail is thus excellent.
Let's move on to the turret. The main gun has excellent detail, both external and for the gun breach area inside the turret. The two machine guns, hull front and turret, are equally well detailed. There are some other odds and ends for the turret interior, but I am not familiar enough with the the Pz. 35(t) turret to judge the accuracy of the parts Bronco provides the modeler. All this detail might be a moot point however: Bronco does not show the turret hatch being pose-able in the open position? Nor are any figures included to have poking out of the hatches.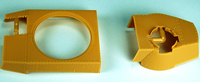 Bronco, as mentioned earlier, provides the modeler with six markings options. Options 1 and 2 are overall gray vehicles from the 6th Panzer Division, May-June 1940, Battle of France. Option 3 is from an Unknown Unit, Poland 1939, again in overall gray. Options 4 and 5 are pre-WW2 Czech Army vehicles in a three tone tan, green and red/brown scheme. The final Option, #6, is an overall Panzer Gray 6th Panzer Division vehicle from the Russian Front, 1941.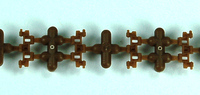 This is a highly detailed, state-of-the-art kit with loads of well detailed parts. Bronco kits need to be approached in a considered manner, but due to their very well laid out instruction booklets I have never had any problems building them. I don't think this kit would cause any modeler with a few kits under their belt any problems. A little TLC will result in a highly detailed model to grace your display case. My sincere thanks to Dragon Models USA for providing this review sample to Internet Modeler.