Internet Modeler : First Look : Armor
RSS News Feed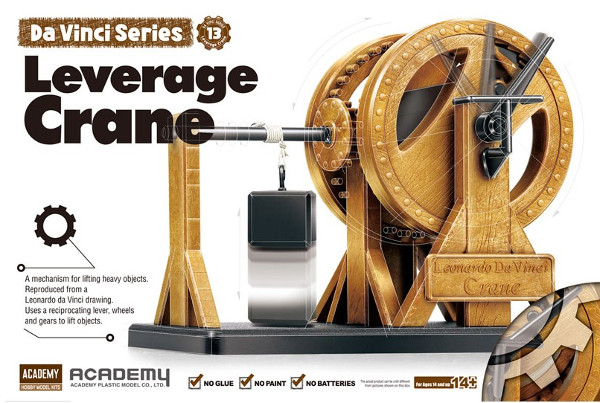 Da Vinci Leverage Crane
Academy's Leverage Crane kit takes its inspiration from one of Leonardo da Vinci's drawings. The leverage crane was a mechanism for lifting heavy objects by the use of a reciprocating lever, wheels and gears.
The kit consists of 31 parts. 29 of these are injection molded plastic, plus a piece of string and a metal ball.
The plastic parts are well molded to Academy's usual standards, with no flash to speak of and small, well located sprue attachment points.
This is a simple, snap-together kit. It will be easy to build with the aid of Academy's well illustrated instructions.
The kit's simplicity will allow the intrepid modeler to experiment with painting and weathering techniques to depict the leverage crane's wood and metal components.
This is an unusual kit. It is a departure from my own areas of modeling interest, but I am always open to trying something different. If you are too, then why not give Academy's da Vinci Leverage Crane kit a try? I would like to thank Model Rectifier Corporation for the review sample.