Internet Modeler : First Look : Armor
RSS News Feed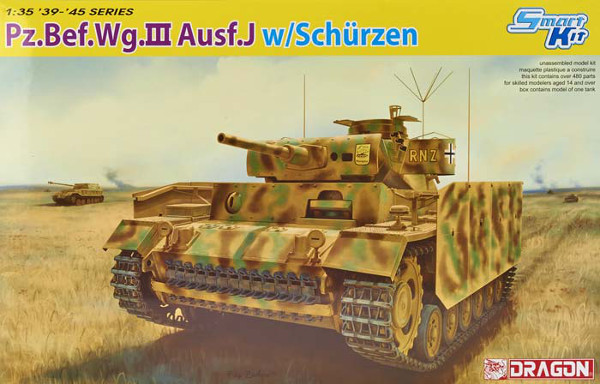 Dragon 1/35 Pz.Bef.Wg.III Ausf J with Schurzen Smart Kit
Dragon Models offers a complete 1/35th scale lineup of the Pz.Kpfw. III family tree, including several kits in this last year alone. This review is of Dragon's Pz.Bef.Wg.III Ausf.J from their 'Smart Kit' series. 'Pz.Bef.' is short for 'Panzerbefehlswagen', which identifies this vehicle as a specialized command tank, containing long range radios.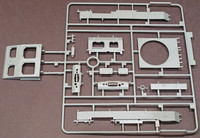 The Panzer III was a WWII medium-class tank that was designed to be the primary platform of Germany's all-conquering Panzer divisions. The role of the Panzer III became secondary to that of the Panzer IV with the advent of more heavily armored and up-gunned enemy tanks and production finally ceased in 1943. A number of specialized command tanks with long-range radios were created based on standard gun tanks, one of which was the Panzerbefehlswagen III Ausf. J. It was based on the Ausf. J chassis, as indicated by its name, and 2,616 were built from March 1941 to July 1942.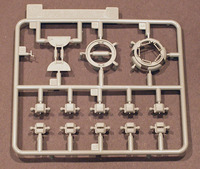 Earlier Panzer III command tanks were fitted with dummy cannons made of wood, but the Ausf. J retained its main cannon and as such it fills a gap in Dragon's Panzer III family tree. With the addition of DS track, star antenna, and the latest engineering innovations from Dragon's Smart Kit line, the Panzerbefehlswagen provides an interesting and different Panzer III kit for modelers' collections.
Opening the Box
All of Dragon's Mk III's come with enough parts to completely fill a sturdy box and then some. There are extra parts on nearly every sprue for your spares box, including pioneer tools, a submachine gun, tow ropes, smoke dischargers, road lights, etc, etc...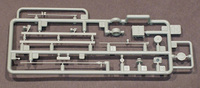 Note that Dragon has thoughtfully stamped each section of each sprue with the sprue letter (A, B, C, etc.). For example: Sprue 'A' has six separate sections, which are now all stamped with 'A'. With the way I build models this has been a tremendous help in distinguishing the many sprue sections, especially after I am well into the build and the sprues have become barely recognizable. Bravo, Dragon – great idea!
The contents of the box include the lower hull, packaged separately, 15 sprues in soft, light grey plastic, also packaged separately, 2 clear plastic sprues, 1 photo-etch sheet, that includes the star antenna, idler wheel rims and engine exhaust mesh, 2 pre-cut sheets of sturdy metal Schürtzen (skirts), separated into sections, 2 runs of yellow-tan DS track and an 18-page blue and white instruction sheet with 24 steps.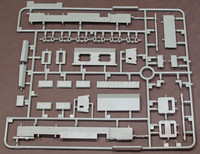 The kit comes with four color schemes represented with blue-and-white ink three-view drawings, and a small (but perfectly registered) sheet of decals from Cartograph of Italy. These units include:
s.Pz.Jg.Rgt.656, Rgt.Nachr, Saporoshje Bridgehead 1943
Two Unidentified Units, Russia 1943
Pz.Rgt.7, North Africa 1943
When compared to one of their recent PzKpfw III kits (6773), there appears to be four new sprues (images below), in addition to the new decal sheet. The star antenna is also made of PE this time around, instead of the plastic representation found in many other Dragon armor kits.

The Instructions
This is a 'fortified re-box', therefore the box includes sprues from a variety of Dragon kits. As a consequence, there might be inaccuracies in the instructions. The entire set of instructions has been reworked from previous releases of the Mark III, so perhaps Dragon has addressed some of the issues here.
I noticed that in Step 7-where the busy fenders come together-Dragon has thoughtfully provided a new overhead schematic of where everything is supposed go. Nice. But there is one awkward step. In Step 7 you assemble a rack that overlays the front of the port fender, but you don't attach it until much later, in Step 24. Why Dragon chose to stick this somewhat complex assembly here in busy Step 7, instead of in Steps 23 or 24 is a mystery. Especially since that's where the assembly of the rack for the other side of the tank is found. Hmmm.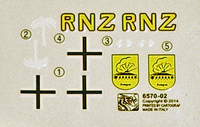 Things to Consider Before Building:
The Mark III is a pretty straight-forward tank: chassis, fenders, main deck, turret, gun, hatches – it's all there. There are relatively few options (for Dragon, that is) so there are few up-front decisions to be made. The area beneath the fenders is un-obstructed so the DS track can be attached late in the build, perhaps right before the Schurtzen, without any problems. You can build the entire vehicle before painting, with the only exceptions being the schürtzen sections themselves, which can be painted and weathered separately before hanging them on the brackets.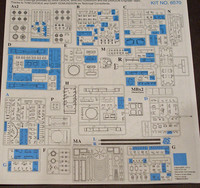 The Schürtzen ("Skirts")
I have built several Dragon 'Smart' kits with side skirts and I think that Dragon's design of the schürtzen and its supporting hardware is simply brilliant, and in my opinion, the very best available. Dragon sets the bar here. The skirts are provided as two sturdy pre-cut sheets of what looks like heavy aluminum or perhaps thin sheet steel. These are best painted and weathered on their metal sprues, and cut only when they are ready to attach to the vehicle, so you can easily figure out which part goes where. The separate pieces have pre-cut holes in them that receive male stubs running along two horizontal bars on each side of the vehicle. It looks to be a very simple process. Likewise, the parts that surround the turret fit onto beautifully molded brackets that are shaped just right to receive the thin plastic parts. My experience with this design makes me come back for more.
Star Antenna
The photo-etch star part of the antenna drops onto a mast that consists of no less than five parts: quite a production! This antenna far outclasses what has come before it as far as detail is concerned, so let's hope it's as easy as it looks to line it up right.
Hatches and Viewing Ports
All of the hatches and viewing ports can be positioned open or closed (or anything in between), as with most other Dragon kits. The viewing ports use a slightly fiddly, yet well-designed set of movable parts that you can choose to use or discard if you want the ports shut. The side hatches on the turret can be left open, and they have matched openings in the schürtzen, complete with molded on 'open' hinges.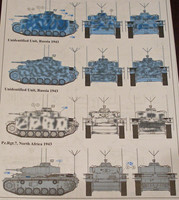 The Track
The two runs of DS track in this kit are both very thin and beautifully detailed, and their assembly will be a snap using liquid cement. The track can be painted using any type of paint, although you should first apply a coat of primer.
Conclusion
The PzKpfw III is one of the iconic tanks of World War II, and it is no wonder that Dragon has taken on this family of AFV's to produce some of the very best models on the market. If this is like their other recent kits, the parts fit and are beautifully detailed; together making these kits a lot of fun to build. The design of the some of the parts, such as the commander's cupola and opening hatch hardware is simply brilliant, and in my opinion, the very best available. As I mentioned earlier, Dragon sets the bar here.
The thin DS track has evolved into an excellent alternative to the Magic Track, which itself was and still is a wonderful product. All Dragon kits now include slide molding, which has really improved the detail and buildability of their kits. This is nowhere more apparent than with their tank barrels which are, in my opinion, a vast improvement over the ill-fitting and hard-to-paint aluminum versions. And last but not least, Dragon thoughtfully designs their models so that every hatch, door or access panel can be built in the open position, with more than enough interior detail to get you started.
I can recommend this kit to all modelers who are up to the small challenges that a kit with so many parts and options will offer. If you mark up the instructions beforehand as suggested, and go slow, you shouldn't have any problems. I would like to thank Dragon Models and Stevens International for providing this kit for review, and to Internet Modeler for giving me the opportunity to review it.