Internet Modeler : First Look : Armor
RSS News Feed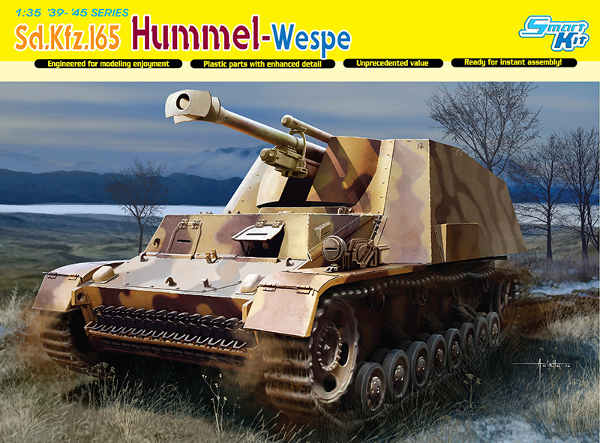 Dragon 1/35 Sd.Kfz.165 Hummel-Wespe
History
The Sd.Kfz. 165 is a slightly controversial member of the late Second World War armor world. It was conceived of as a piece of mobile artillery to support tank forces. The original version was designed in 1942 and it entered service at Kursk in the summer of 1943. It was an amalgamation of the Panzer III and IV to create the chassis and running gear. The chassis featured an open fighting compartment and a 15cm howitzer. It was only able to carry 18 rounds of ammunition, so there was a parallel development of an Munitionstrager, or ammo carrier that would accompany them into the field. 714 were made during the War and served until the end. Where it becomes controversial to some extent is that it is believed that towards the end of the War some of the Wespe chassis were fitted with available 10.5 cm guns to provide a few more vehicles for the rear guard actions. Given the state of chaos in Germany at that time, I am not going to second guess Dragon's research team on this!
| | |
| --- | --- |
| | |
Before I go into the review, I must make clear that I am an aircraft modeler, and I am not normally an armor builder. I hope this is not a problem, and perhaps even an advantage, but that does mean that I may not be as knowledgeable as some about the current "state of the art" for armor kits. However, I do know what plastic is supposed to look like and how it will look under a coat or two of paint!
The Kit
My first thought upon opening the box is that Dragon serves you armor guys just as nicely as it does us aviation folks. The molding is good, flash is there but it's minimal, and the surface detail is good. This kit is multimedia and it includes rubber treads, styrene, photo-etch, string and even a small piece of wire for one part. It is well balanced with each type of part being used appropriately, rather than overwhelming the modeler with a million things that may or may not be used. Dragon makes good use of advances in molding. Photo-etched parts and other bits have come together to make the best use of available technology, without over complicating things for the sake of doing so.
| | |
| --- | --- |
| | |
The plastic is excellent. The edges are remarkably thin, without resorting to bevels to achieve this. Dragon has also done something I noticed in their aircraft: they mold many small struts and handles thinner than other manufacturers typically do. I observed this particularly with such things as empty shell casings, screens and small fittings, etc. Usually these pieces must be thinned down to achieve scale thickness, but not in this case.
One finds open ends on parts that previously would have needed to be drilled out. Instead of indentations where holes should be in things like tie downs, there are actual holes. Smaller parts that are attached to larger parts are sometimes molded together of course, but there is a nice molded depression around them which, with a proper wash and painting, will give nice visual separation and make it seem like two or more parts.
| | |
| --- | --- |
| | |
The main cannon is particularly well done and it is basically a kit unto itself. It is highly detailed with traverse/elevation mechanism, sights, etc. In fact its construction takes up 6 of the 21 steps! The gun is properly the focal point in an open topped vehicle. The modeler is well supplied with spare bits and pieces such as 4 MP40 submachineguns, spare ammunition, racks, stowage bins, etc that add a lot of visual appeal and detail to the finished model. The surface texture is good, giving a nice cast texture where needed and there is a remarkable lack of ejector pin markings. This is a worthy successor to the long line of extremely well molded kits from Dragon.
| | |
| --- | --- |
| | |
There is a clear sprue that is actually more extensive than I would have expected in an armour kit, especially a vehicle of this vintage. Dragon molded entire parts such as the gun sight and crew view ports in clear plastic, with the idea that you mask the parts that need to be transparent and paint the rest, rather than giving you a bunch of tiny little lenses and such that are impossible to install without making a mess.
| | |
| --- | --- |
| | |
To enhance the styrene, there has been a well thought out incorporation of other materials. The tracks are in a soft brown, vinyl material. It will look the part, and like the styrene plastic there is a high degree of finesse with delicate details. Both sides of the tracks are equally well molded, so the underside will look good too. There is an air hose to be used with two molded styrene ends to make a tow cable. The photo-etch is sparingly, but very effectively used for some stowage bins and hinges. I appreciate the thinness for the stowage bins and the hinges are excellent. They add a lot of detail without excessive complication. Overall the use of materials is well thought out and is an excellent enhancement to the finished model.
| | |
| --- | --- |
| | |
This is an excellent model with superb detail and very few flaws when viewed in the box. Unless there is something negative in the fit and final assembly of the kit, it is excellent. I don't see much room for improvement unless one added a whole bunch of additional equipment such as personal items and field mods.
After a lifetime of aircraft modeling, this just might make an armor man of me! I would like to thank Dragon USA for the review sample.
Highly recommended!