Internet Modeler : First Look : Armor
RSS News Feed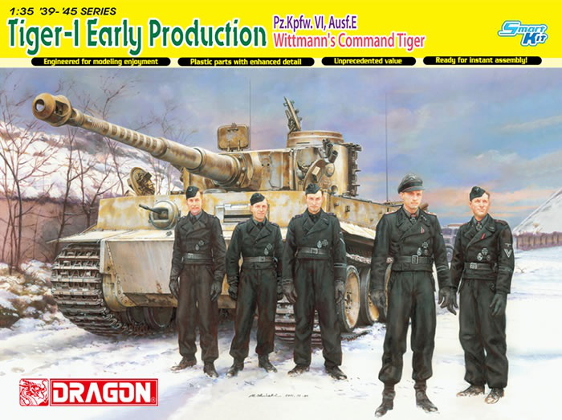 Dragon 1/35 Tiger I Early Production "Wittman"
Dragon Models offers up yet another premium Tiger I kit for German WWII armor enthusiasts; this time with a set of figures of German Tank ace Michael Wittmann and his crew. The model is Wittmann's early production Ausf E 'Command Tiger' with smoke dischargers, the prominent cupola, exhaust hoses, and other distinguishing features of the early type. Dragon packs the box with a wide array of options as well, and again includes DS tracks to help those who feel slightly track-challenged.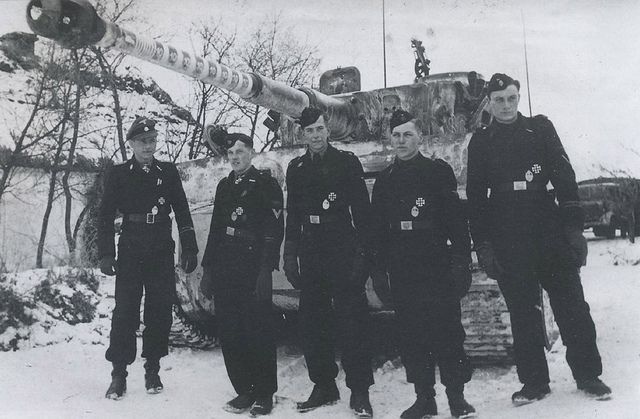 "Comes the Destroyer"
On January 13th, 1944, the Ministry of Propaganda made the following radio broadcast to the German people: "From July of 1943 to the beginning of January 1944, Michael Wittmann's tank destroyed 56 enemy armored fighting vehicles, including many T-34s and super-heavy self-propelled guns. On January 8th and 9th, he and his platoon halted and destroyed several breakthrough attempts being made by a Soviet tank brigade, and in that battle, he destroyed a further ten vehicles. On January 13th, nineteen T-34s and three super-heavy self-propelled guns were also destroyed. His total now stands at 88 tanks and self-propelled guns."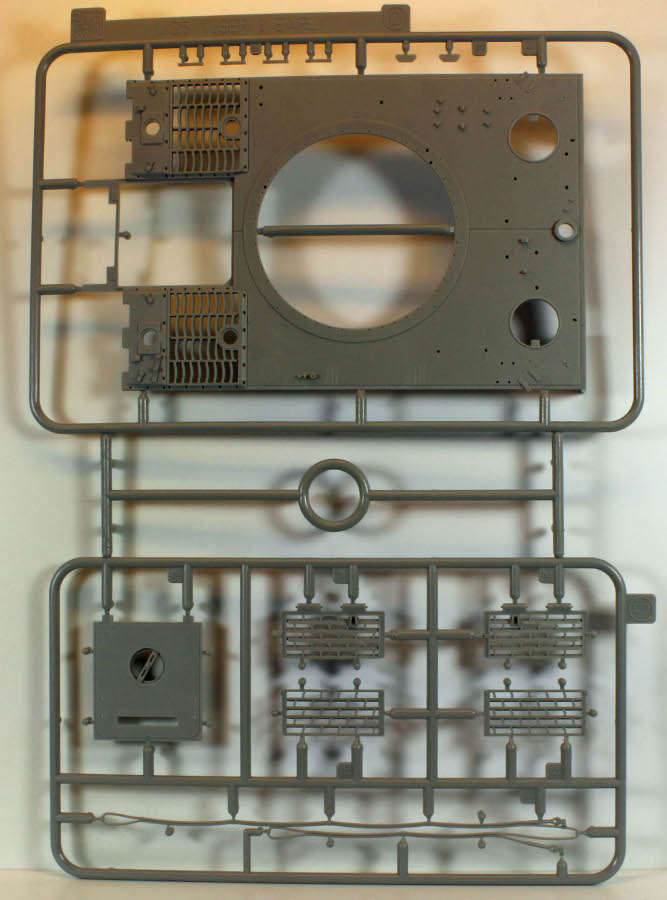 One week later, Wittmann was promoted to the rank of SS-Obersturmfuhrer. On January 30th, he received the following telegram from der Fuhrer: "In thankful appreciation of your heroic actions in the battle for the future of our people, I award you, as the 380th soldier of the German Wehrmacht, the Oak Leaves to the Knight's Cross of the Iron Cross. Adolf Hitler."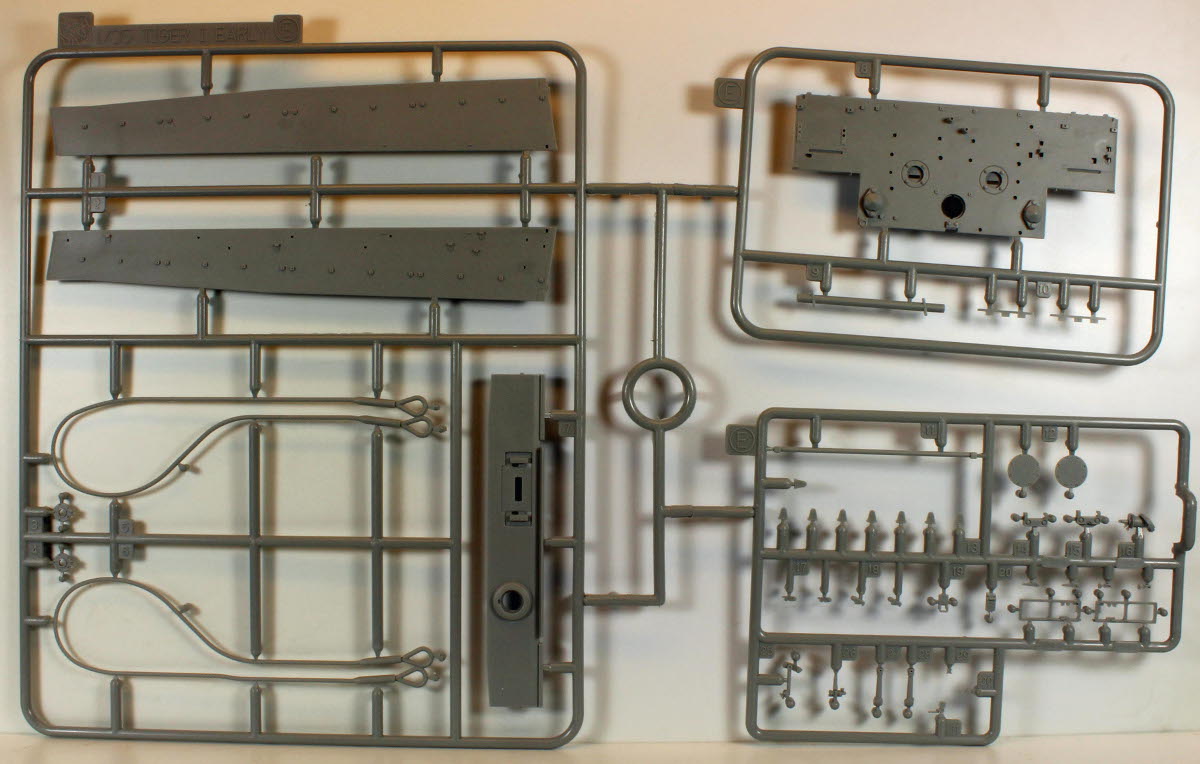 With the addition of the five figures and the latest engineering innovations from Dragon's Smart Kit line, this Pz.Kpfw.VI Ausf. E will provide plenty of modeling nirvana for every Tiger enthusiast in our community.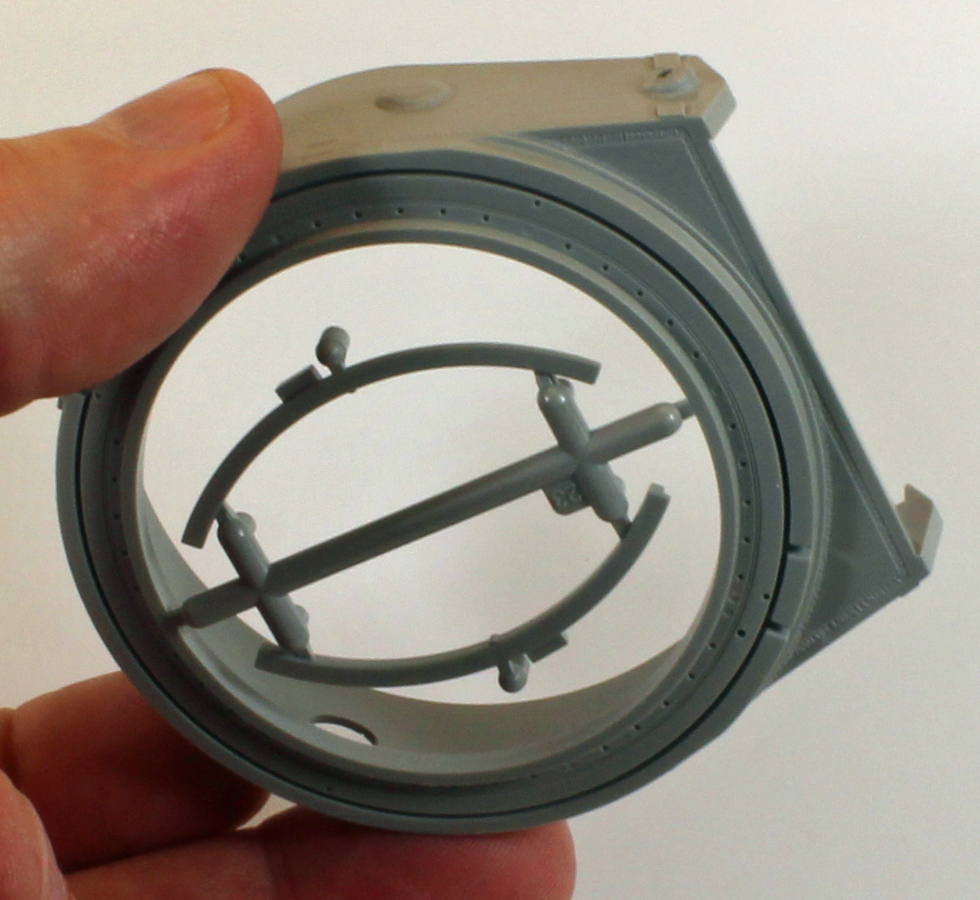 Opening the box
All of Dragon's Tigers come with enough parts to completely fill a sturdy box and then some. There are extra parts on nearly every sprue for your stash, including pioneer tools, a barrel, tow ropes, smoke dischargers, road lights, etc, etc., etc..
The contents of the box include:
Lower hull and turret packaged separately.
33 sprues in soft, light grey plastic, most packaged separately.
3 clear plastic sprues.
4 photo-etch screens (engine exhaust mesh), individually wrapped.
2 runs of yellow/tan DS track.
1 8-page blue and white instruction sheet with 19 steps.
1 single page painting and assembly guide for the five figures.
1 small instruction addendum, to replace part of Step 18.
The kit comes with two color schemes represented, using blue and white ink, three view drawings. A small, but perfectly registered, sheet of decals from Cartograph of Italy includes the following units:
s.SS.Pz.Abt. 101, 1st SS Panzer Division LAH, Zhitomir, Ukraine January 1944 - Whitewash over tricolor
s.SS.Pz.Abt. 101, 1st SS Panzer Division LAH, Reggio, Italy September 1943 - tricolor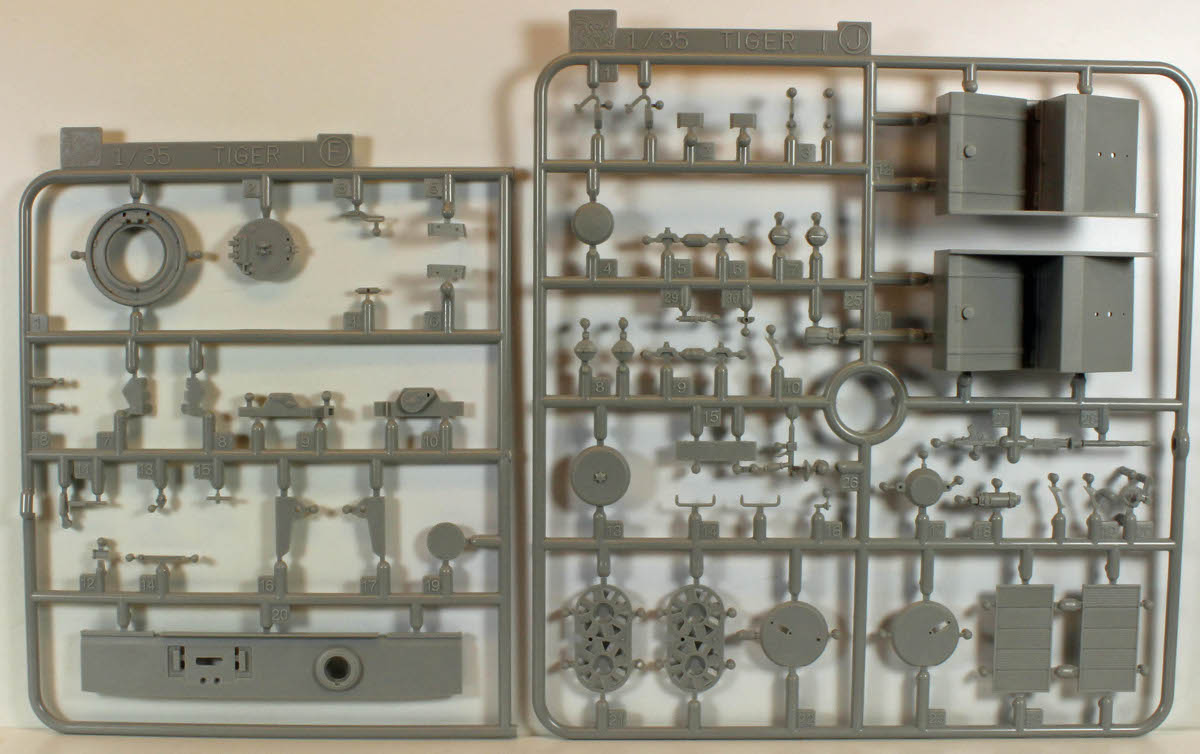 The Instructions
This is a 'fortified re-box', so there are sprues from a variety of Dragon Tiger kits included in the box. This results in a slightly confusing parts map (two sprues marked P, two V's two C's, etc.), but Dragon kit builders wouldn't feel at home otherwise(!) The duplicate sets of sprue letters are conveniently colored differently (blue and black) throughout the instructions to assist the builder in any case.

Things to consider before building:
The Tiger is a pretty straightforward tank to build. Chassis, fenders, main deck, turret, gun, hatches – it's all there. There are an abundance of options (18) even though this is a representation of a specific vehicle. As a consequence, there are some up front decisions to be made regarding mostly hatches and wheel alternatives.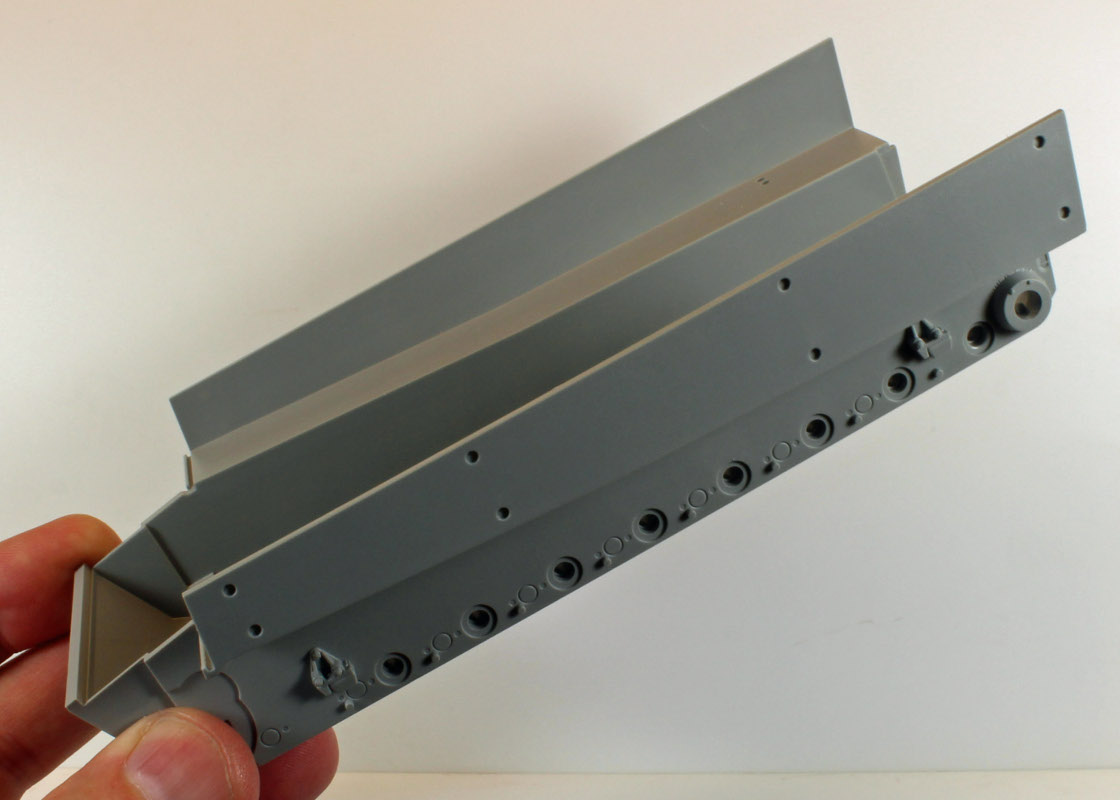 The area beneath the fenders is unobstructed, so the DS track can be attached late in the build without any problems. You can build the entire vehicle before painting, with the only exception being the interleaved wheels if you want to paint the tire portions separately.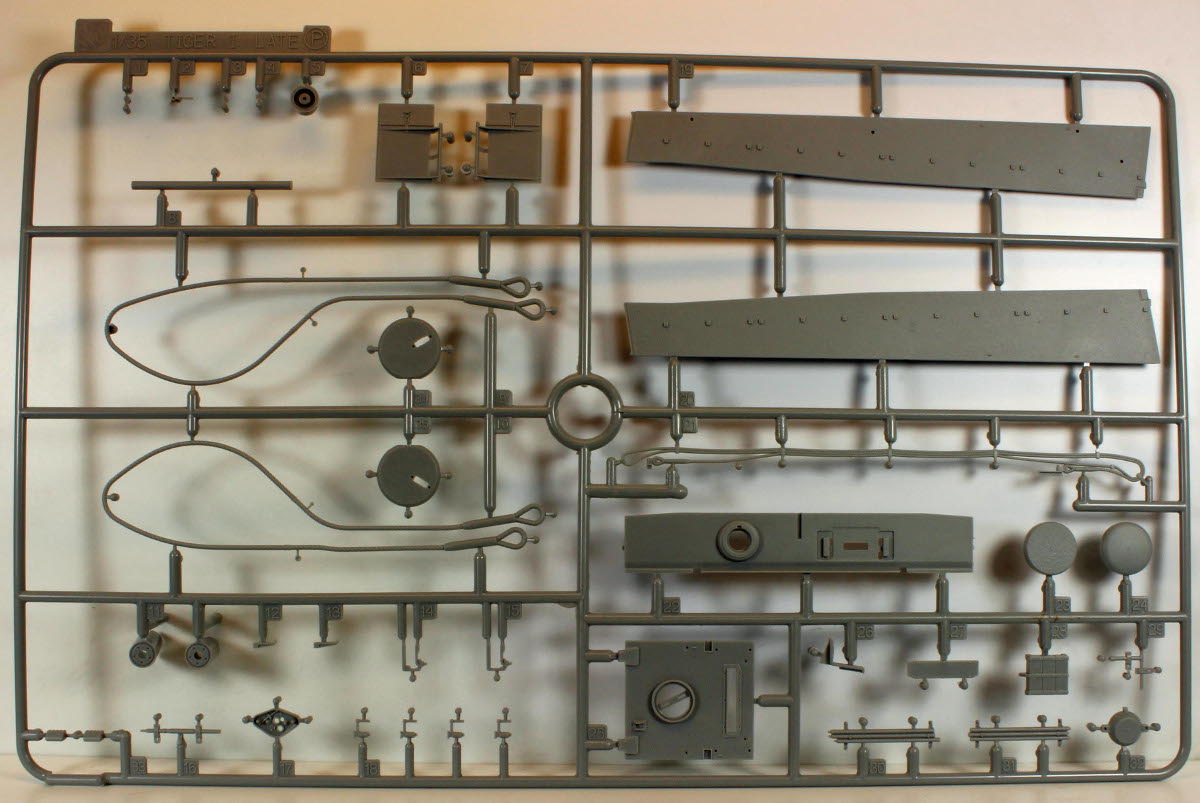 The Rear Hull and Suspension
The early Tiger sports two large exhaust stacks and Dragon has a fiddly design for the tops of those stacks (Parts G15/16). After producing 15 or so different Tiger kits I would have hoped Dragon could come up with some slicker way of designing these.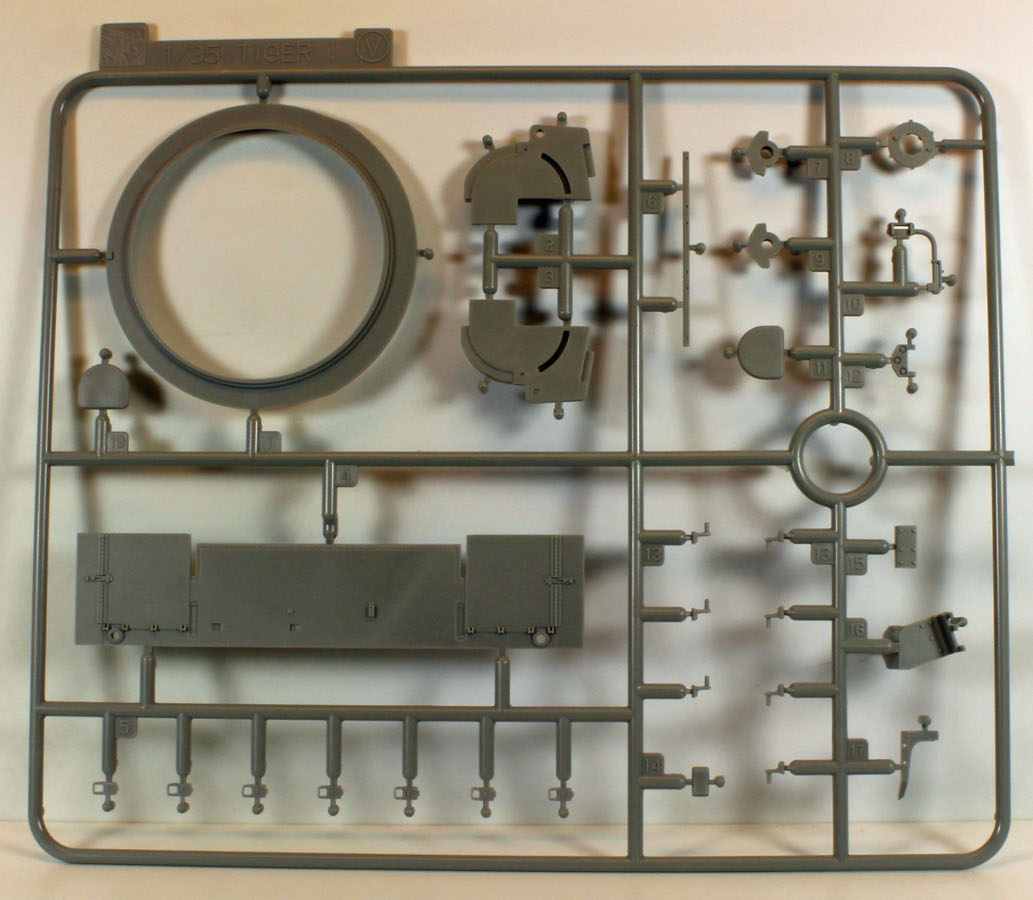 At the other end of the spectrum the design and engineering of the interleaved wheels and hull structure is brilliant. Everything fits perfectly and fits only one way. When you're done, the hull feels solid and heavy. This is a Tiger!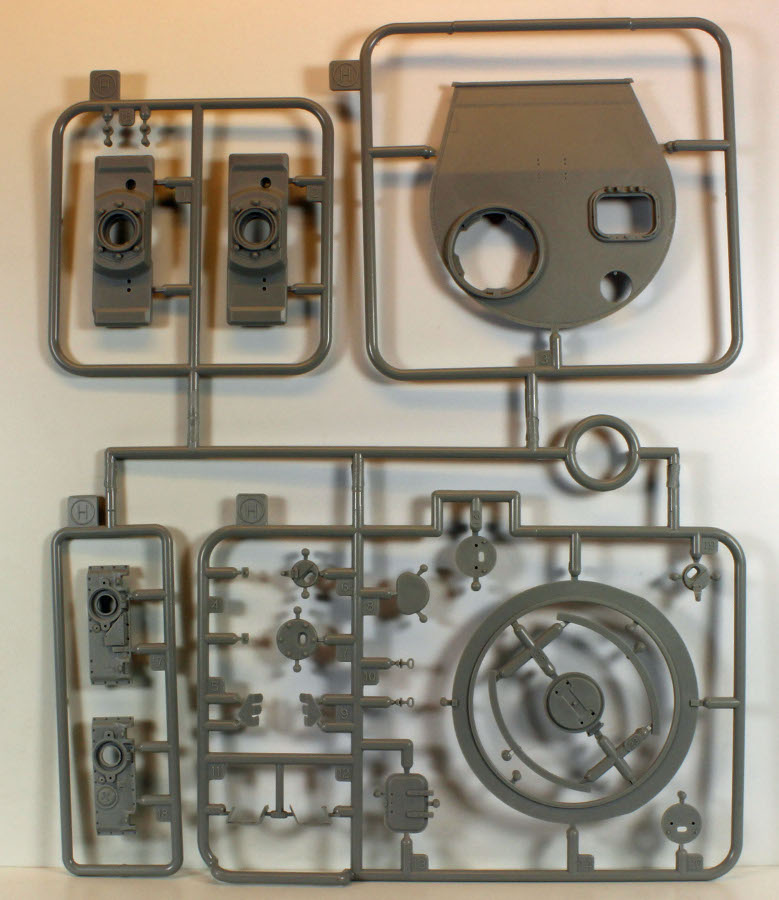 I've seen the two prominent exhaust covers offered in PE before, but those in this kit are made of reasonably thin plastic and should do fine.
The Engine Compartment
Dragon's Tigers usually offer some nice detail under the engine intake area and this kit uses those same parts, including some nice photo etch. Impressive, but it's hidden, unless you choose to pose the engine intakes open, which Dragon offers as an option.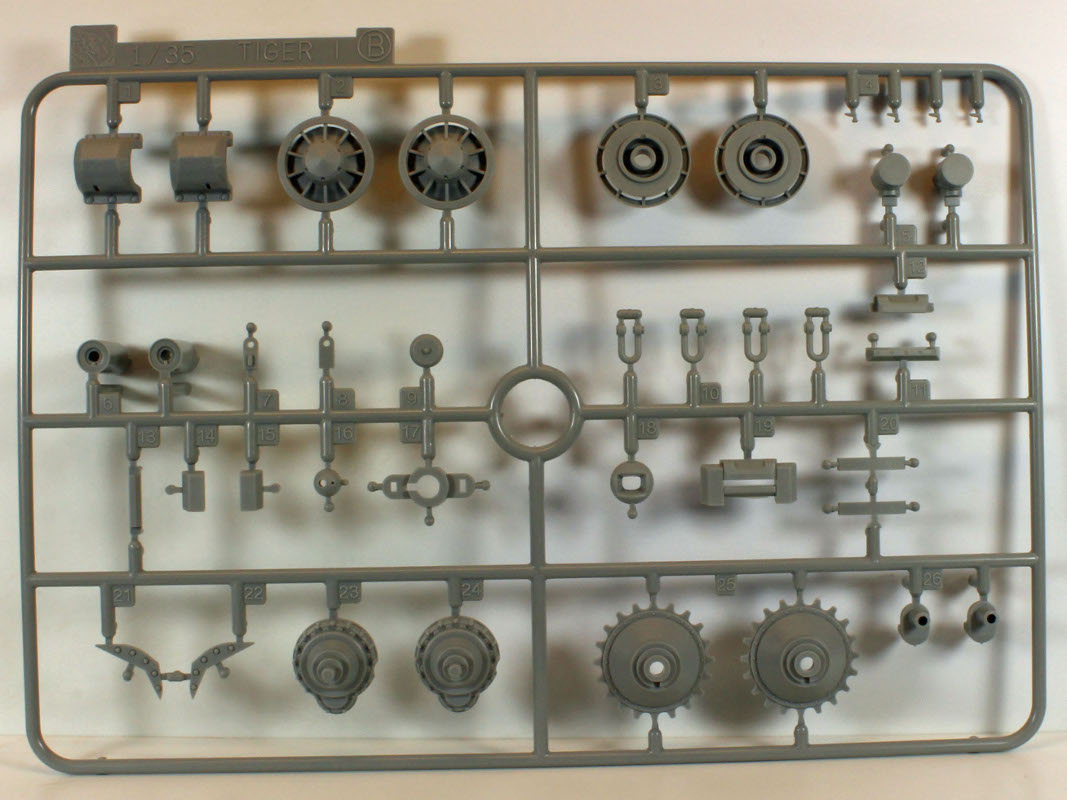 The Main Deck
Dragon includes some nice PE screens for the engine intakes and nicely molded (plastic) exhaust hoses that snake back to the rear of the vehicle. All of the typical combat accoutrement fills up the busy main deck. The two large tow cables, one on each side of the main deck, are single piece and made of plastic. They look nicely detailed and should save a lot of time and effort, if used. Interestingly, the shovel has separate small clamps made of plastic, but all the other pioneer tools have the clamps molded on. I'd actually like to see separate, plastic clamps for all the tools someday as a PE alternative.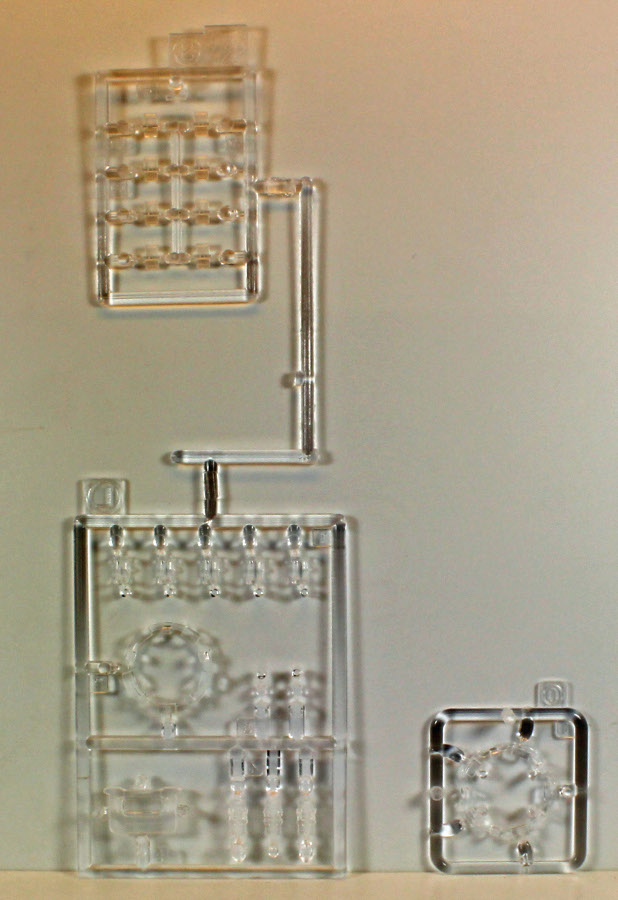 Hatches
As with most other Dragon kits, all hatches can be positioned open or closed (or anything in between). The interior of the hatches is beautifully detailed and prominent if the hatch is posed open.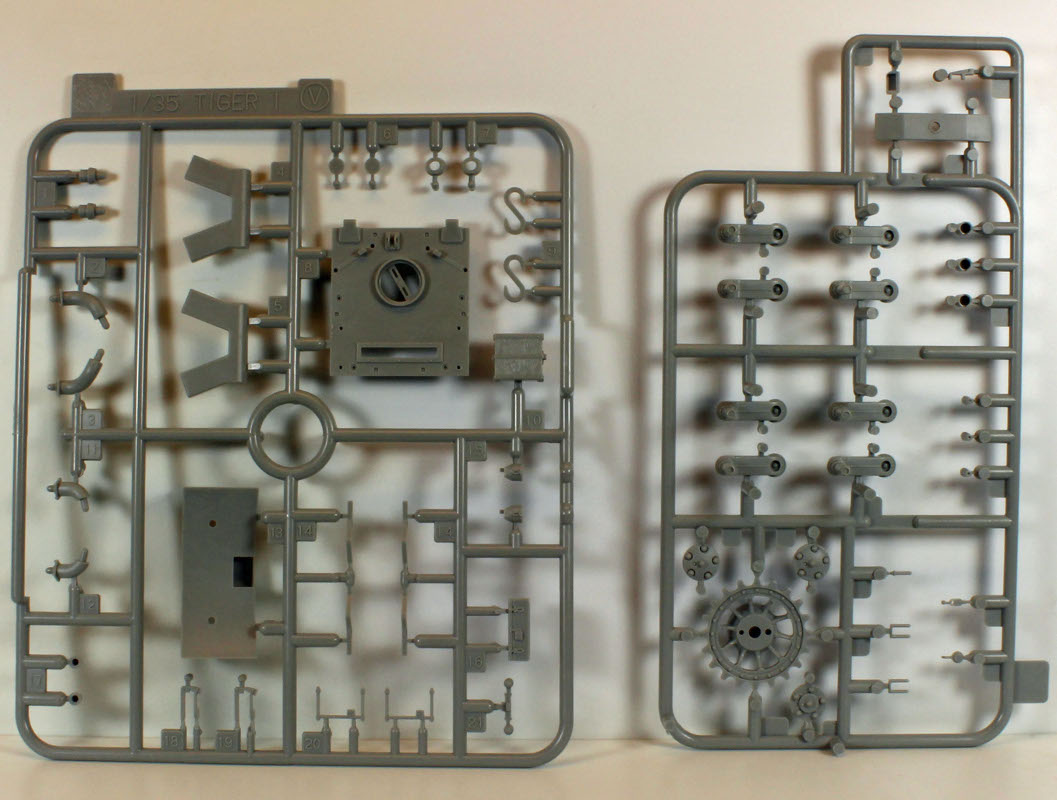 The Turret and Main Weapon
The seven part barrel is slide-molded and does not sport the gimmicky spring-recoil deal found in some of Dragon's other Tiger kits, which is fine with me. The somewhat simplified design of the breech and mantlet is also a welcome change from some of Dragon's older armor kits. Fewer parts, but the detail included is as sharp as ever. The prominent cupola on top of the turret is a circular 'sandwich' of seven parts, but if this comes together like the other Tiger kits, you won't find a problem there. In fact, the most complex part of this entire build may be the assembly and attachment of the spare track on each side of the turret in Step 18. But even that part is assisted by tiny 'go-by' marks on the rim of the turret showing the modeler exactly where to place each link. Neat.
The Tracks
The two runs of DS track in this kit are beautifully detailed. Their assembly will be a snap with liquid cement. The track can be painted using any type of paint, although it might be prudent to first put on a coat of primer. The track is attached in the last step, so it can be painted and weathered before gluing it and stretching it over the wheels.
The Figures
The surprise inclusion of five standing tankers may only last for this initial production run, if past history serves true. The soldiers are dressed for cold-weather combat, in standing position. Their uniforms are correct for tankers – no protruding gear save a high belt. The molding is good, except for some light flash around the sharp edges here and there as well as cooling lines along the torsos and backs.
The breakdown of parts is conventional, i.e. upper torso, separate right and left legs with shoes, separate arms and a separate head with separate headgear. Once figure (Wittman) is wearing a commander's brimmed hat, the others all wearing soft caps, tilted slightly to the side. The sculpting of all four figures looks good, with decent detail, but not as good as I've seen with other Dragon sets. The built-up figures look like a normal, confident German tank crew.
Conclusion
The Tiger I is one of the iconic tanks of World War II, and it is no wonder that Dragon has taken on this family of AFV's to produce some of the very best models on the market. If this is like their other recent kits, the parts fit and are beautifully detailed; which makes these kits a lot of fun to build. The design of the some of the parts such as the commander's cupola and opening hatch hardware is simply brilliant, and in my opinion, the very best available. Dragon sets the bar here. The DS track is an excellent alternative to the Magic Track, itself is a wonderful product. The slide molding, which is now included in all Dragon kits, has really improved the detail and build-ability of their kits. This is nowhere more apparent than with their tank barrels which are, in my opinion, a vast improvement over the ill fitting and hard-to-paint aluminum versions.
And last but not least, Dragon thoughtfully designs their models so that every hatch, door or access panel can be modeled in the open position, with more than enough interior detail to get you started.
I can recommend this kit to all modelers who are up to the small challenges that a kit with so many parts and options will offer. If you mark up the instructions beforehand as suggested, and go slow, you shouldn't have any problems.
I would like to thank Dragon Models and Stevens International for providing this kit for review, and to Internet Modeler for giving me the opportunity to review it.