Internet Modeler : First Look : Armor
RSS News Feed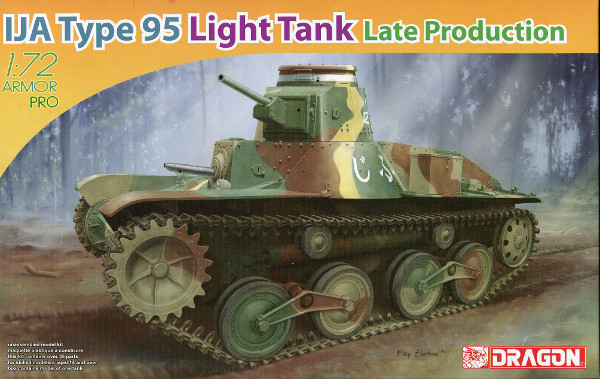 Dragon 1/72 IJA Type 95 Light Tank Late Production
The Tank
The Japanese Type 95 "Ha Go" light tank was a 7.4 ton vehicle with a 3 man crew of commander, driver, and hull machine gunner. It was fitted with a 120 hp Mitsubishi A6120VDe air-cooled diesel engine. The armament consisted of the Type 98 37 mm gun and 2 Type 97 light machine guns. One of the latter was mounted in the hull front and the other in the turret rear. Mitsubishi Heavy Industries started production in 1936. A total of approximately 2,300 were built, 853 by Mitsubishi and the rest by Sagami Arsenal, Hitachi Industries, Niigata Tekkosho, Kobe Seikosho and Kokura Arsenal. The Imperial Japanese Army used the Type 95 tank in the Second World War, against the Russian Army at Nomonhan and in the Second Sino-Japanese War. It was quite successful against infantry but it wasn't designed to fight other tanks.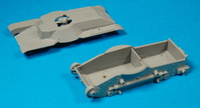 The Kit
The Type 95 (kit number 7517) is part of Dragon's 1/72nd "Armor Pro" series. It comes in a stout cardboard box with colorful artwork. It consists of 46 parts. 43 of these are injection molded plastic and two are Dragon's soft plastic DS (Dragon Styrene) tracks. There is also a photo-etched grill. The bulk of the plastic parts are on a single, bagged sprue. The upper and lower hulls are loose in the box. The tracks, photo-etch and decal sheet are also in their own bags. This certainly heightens the impression of a quality kit. Surface detail is by way of fine recessed panel lines, raised hatches and very subtle rivets. The detail on the plastic parts is excellent. They are delicately molded and free of flash and sink marks. The photo-etch is for an exhaust shield and its quality matches that of the rest of the kit.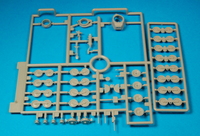 The kit has Dragon's usual, well-illustrated instructions. The build is divided into 5, well illustrated steps, and the color callouts are for Gunze Acqueous and Mr. Color acrylic and Model Master enamel paints. The small and well printed decal sheets covers 4 tank options, 1 from the 9th Tank Regiment and 3 from the 14th, all from 1944. Each is in the Japanese 4 color camouflage of wood brown, red brown, IJA Green and yellow.
Accuracy
I don't have any references on this subject, but it certainly resembles the photos of the 1:1 vehicle on the Internet.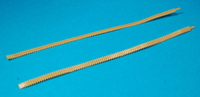 Conclusion
The Type 95 Light Tank was the most numerous Japanese tank and this is a superb kit of it. Given that it's a light tank it scales down to an exquisite, tiny model that will fit into the palm of your hand. It is also quite a colorful and funky looking piece of armor. Take your time with the small, well molded parts and I predict that you will be satisfied with your finished model. I would like to thank Dragon for providing the review sample.
References
Wikipedia: http://en.wikipedia.org/wiki/Type_95_Ha Go#History_and_development