Internet Modeler : First Look : Armor
RSS News Feed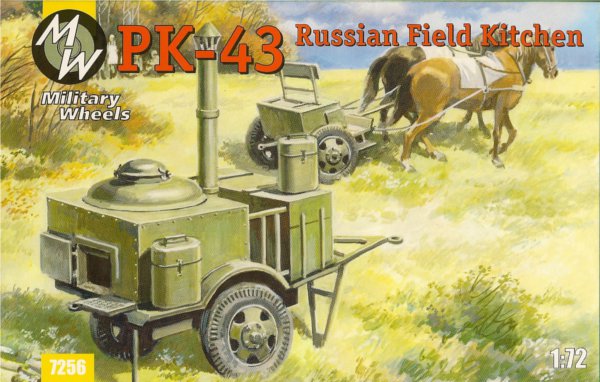 Military Wheels 1/72 PK-43 Russian Field Kitchen
Overview

Tanks, artillery, rifles.....borscht?  An aspect of warfare not often thought of is the need to feed the combat troops.  Dating back to the days of Napoleon's armies, it is believed that troop performance is bolstered when a hot meal can be served.  The Russian armies of WWII were no different, and as such, there were several types of field kitchens available, usually towed behind a vehicle such as a Gaz, or, as in this case, by horses.
The Kit
The new PK-43 Russian Field Kitchen release from Military Wheels gives the modeler an excellent opportunity to add a unique bit of detail to a small vignette or diorama in that, not only is this an unusual subject, but it also includes two horses.  It's not every day you see a horse or two in 1/72 scale!  The kit includes parts to build the kitchen, a cart the cook would ride on in transit that hooks up to the kitchen, and the two horses used to move it all around.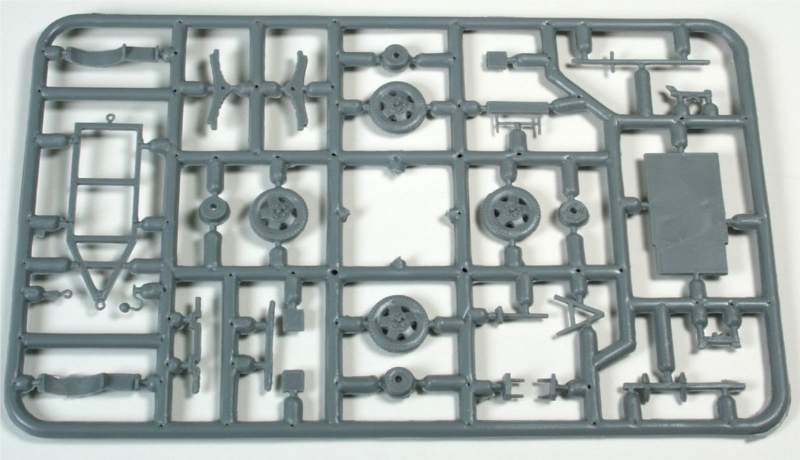 The kit box is a sturdy cardboard box with a flap type opening on either end.  Inside you will find the plastic sprues contained in a medium size resealable bag.  There are three sprues total, none of which are numbered directly, so one must use the parts "map" printed in the instructions for parts location.  The sprue containing the kitchen and horses  are molded in a light gray plastic, while the third sprue containing the bulk of the trailer parts and running gear is molded in a darker gray plastic which leads me to believe it is borrowed from some other Military Wheels kit.
Initial inspection of the parts reveals characteristics commonly found with short run 1/72 kits, which is soft detail, larger than necessary sprue gates and a fair amount of clean up required.  Detail on the darker trailer sprue does appear to be sharper on most parts than the lighter gray sprues.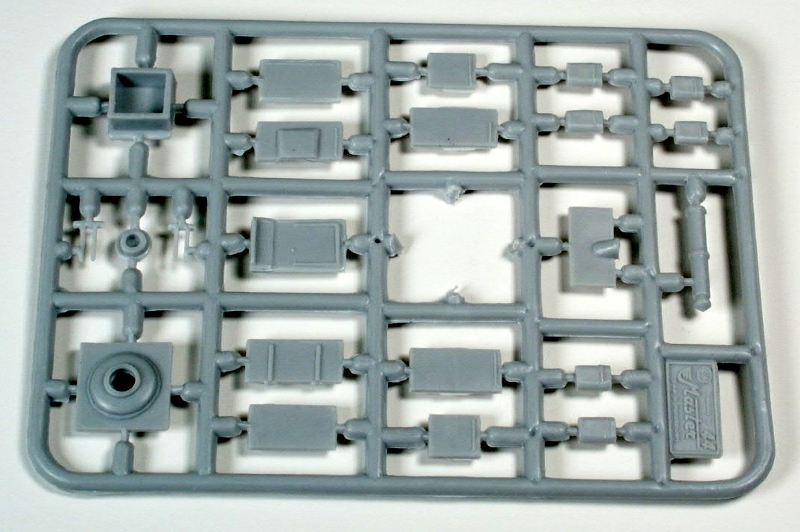 Construction of the field kitchen would appear to be fairly straight forward as it is essentially just a box on a trailer with a smoke stack coming out the top.  There are a few various food stowage containers included to attach to the side of the kitchen, though there are no other hand tools that would normally be present such as an axe to chop the wood used to fuel the fire.
Each horse is made up of two body halves, a horse head (insert Godfather movie joke here!), and tail.  The mating surfaces will need considerable clean up and adjustment to get a decent join of the body halves and head. I would also recommend attaching the tail with a piece of wire as the attachment area is very small and likely to break off if only glue is used.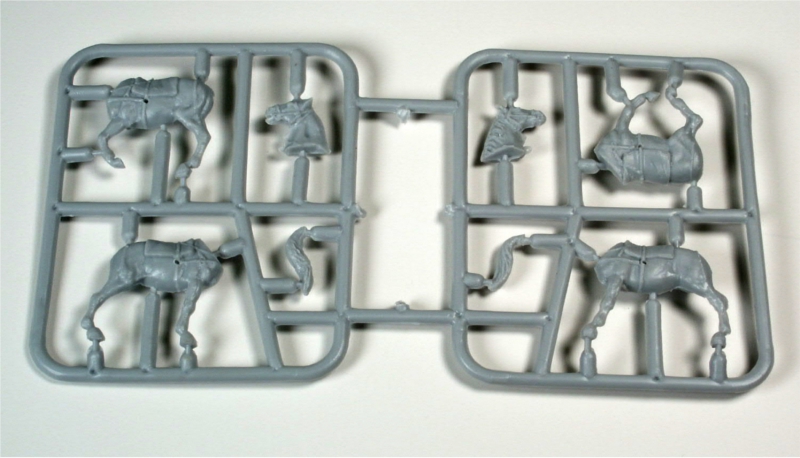 Finishing should be a breeze as there is only one color used for the kitchen and no decals.  Colors used on the horses are at modelers' discretion since horses come in all kinds of colors, though there are color callouts for them in the instructions.
Conclusion
While the modeler should be prepared to deal with some of the common issues associated with short-run kits, Military Wheels' PK-43 gives the 1/72 modeler something different to add to a diorama or even as a stand-alone model.
Check back soon for my build review of this model.  Many thanks to Scale Model Kits for providing this review sample.