Internet Modeler : First Look : Armor
RSS News Feed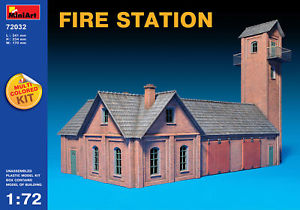 MiniArt 1/72 Fire Station
This new kit from MiniArt (reference number 72032) is a 1/72nd scale Fire Station. You can build it as a stand alone model, or as part of a diorama. The kit comes in a very stout and colorful box with a nice photo of the finished model on the box top.
It consists of 256 plastic pieces, molded in white, gray, black, orange, and "brick" red. 23 of the parts are surplus and are destined for your spares box. The fire station has brick walls and chimney, a tile roof, and a pair of wooden sliding doors for the fire engines.
This model is well detailed and its construction is very straightforward, but details specific to fire stations, such as bells, exterior lights and signage, are conspicuous in their absence. The building will be easy to construct if you follow MiniArt's well illustrated and easy to follow build sequence.
I think there are 2 ways to approach painting this model. You can prime the entire building and then use your own choice of colors and paints. Or you could simplify things and give the finished model a coat of clear gloss, and then use weathering materials to "age" the bare plastic colors.
If you want to use the fire station as part of a diorama there are many 1/72nd scale pieces of fire equipment available and they're easily found on the Internet.
I think this is a neat kit, and I recommend it. I look forward to painting and weathering as much as building it; in fact building it will be the easy part.
I would like to thank Mini Art for providing the review sample.