Internet Modeler : First Look : Armor
RSS News Feed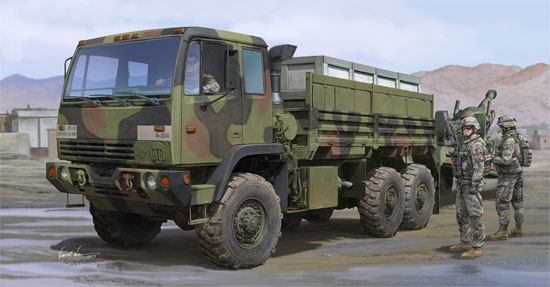 Trumpeter 1/35 M1083 FMTV Standard Cargo Truck
Item No.:01007
MSRP: $82.00

History
The Family of Medium Tactical Vehicles (FMTV) was developed as replacements for the aging and maintenance intensive 2.5t M35 and 5t M939 trucks of the US Army. The design is based on the Austrian Military Truck Steyr 12M18. The M1078 is the Light Tactical Vehicle with a payload of 2.5t while the M1083, as shown in this kit, is the 5t Medium Tactical Vehicle. Initial production was by BAE Systems Land and Armament, but since October of 2010, Oshkosh Corp. of Wisconsin took over production. In August of 2012 Oshkosh announced the delivery of the 10.000th FMTV truck.

The Kit
After the M1078, this is Trumpeters second release of a FMTV class vehicle. The box contains a total 10 light gray sprues with 408 parts, one sprue for clear parts, a PE Fret, the cabin, 7 hard rubber tires and a decal sheet. The parts are very nicely molded with crisp detail. There are no visible ejector marks or flash. Also mold lines are barely visible. The PE parts are on both sides protected by a clear plastic film. Some of the plastic parts were protected by some plastic foam that was wrapped around. The decals look good and are printed in register. Knowing Trumpeters decals, they tend to be on the thin side and care is advised when applying them. Paint and marking instructions are provided for 1 vehicles in NATO 3-color and one in US Army desert camouflage. The paint instructions are printed in color. The assembly of the vehicles is broken down into 18 steps. The instructions appear clear and easy to follow.

There is no tarp provided for the cargo bed and no engine. This is a curbside model with only the underside o the engine and transmission showing, as well as the drive shaft to all 3 axles including the differentials. The only assembly options are to have the bench seats on the cargo bed either in folded up or folded down position.

Conclusion
When I got this kit I didn't know what to expect. I must say that I am positively surprised at the detail and quality of the parts. This kit looks like a joy to build and I can only recommend it to anyone interested in modern armor, or any armor modeler for that matter. I would like to thank Stevens International for this review kit.