Internet Modeler : First Look : Armor
RSS News Feed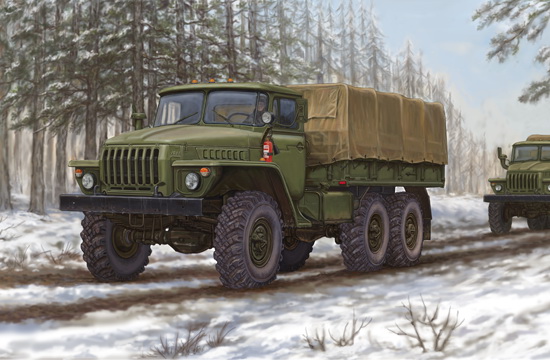 Trumpeter 1/35 Ural-4320 Truck
Item No.:01012
MSRP: $65.00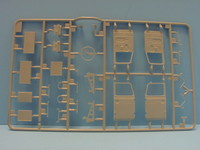 The Ural-4320 is a general purpose 6x6 off-road truck in use with the Russian Army. It was introduced in 1976 and is still in production today. The Ural-4320 was designed for transporting cargo, people and trailers on all types of roads and terrain. It is also used as a launching platform for the BM-21 rocket launcher.
The Ural-4320 is a diesel-powered development of the Ural-375D. It has a good ground clearance, so it is preferred in regions where roads are difficult to traverse due to sand or big rocks. In the proverbial Russian tradition, the Ural-4320 is reliable and easy to repair and maintain. The Ural-4320 is also used as a civilian fire truck, a garbage truck or in the logging industry.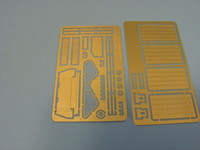 The Kit
This is an inbox-review of Trumpeter's Ural-4320 truck. This kit consists of 8 light grey sprues with 292 parts, 2 PE-frets, 7 rubber tires and a decal sheet for vehicles with various former Warsaw Pact armies. This includes Soviet Union, Czechoslovakia, Poland and East-Germany. Also included are clear parts for the windows, head lights and blinkers.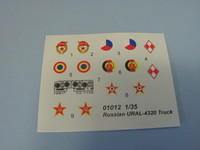 The detail of the parts is very good with some flash and parting line needing sanding. This kit comes with a full interior, engine and drive train.  The instruction booklet has 16 pages with 35 assembly steps. The instructions are clear and easy to understand.
The painting and marking guide has paint references or Mr. Hobby, Vallejo, Model Master, Tamiya and Humbrol.
All in all, Trumpeter has put together another nice kit.
Conclusion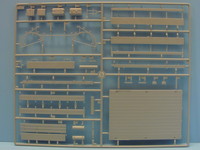 This is a nice and solid model and a nice addition to every collection, especially for the Cold War and Warsaw Pact modeler. Most modelers should not have a problem with this kit. The only drawback in my opinion is the lack of alternative plastic parts for some of the PE-parts, which might make it a more challenging kit for the beginner. Especially considering how far plastic injection molding has come over the last few years.
I would like to thank Stevens International for this review kit.