Internet Modeler : First Look : Armor
RSS News Feed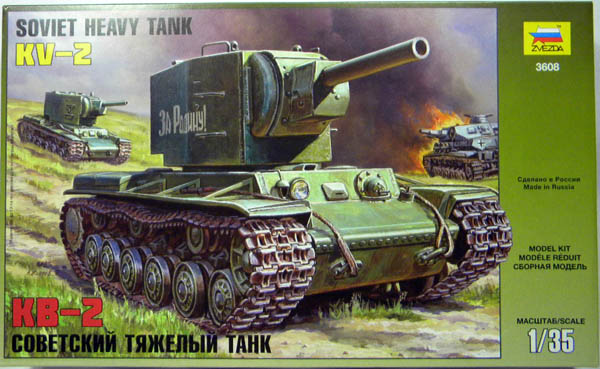 Zvezda 1/35 KV-2
Kit # 3608
MSRP  $33.95  USD
Kit Contents:  8 sprues of dark green, fairly hard styrene, 2 sprues of flexible gun metal-colored track lengths and poly inserts for wheels, totaling 330 parts.  Decals are limited to a patriotic slogan for each side of the turret.  The instructions consist of 2 sheets, outlining 19 construction steps, with step-by-step painting instructions.  Parts are called out by sprue letter and part number, and there is a parts map.  Previously built sub-assemblies are shown in light grey shading.  A full color lid fits over a sturdy, front-close inner box.  Sprues are not bagged.
The parts exhibit a smooth, flash free appearance, with easily discernable milling marks on the inside of the larger pieces.  The builder will be assembling a 4 piece lower hull, and a six piece turret shell, so take care to get those true and square.  Other than the rear mounted machinegun, there is no turret  interior, although the hatches are detailed on their inner faces, without ejector marks, and there is full gun breech and mounting detail included.  The outer 152 mm howitzer barrel is cast in 3 short sections, which do fit tightly together, perhaps making for a rounder barrel than doing left and right halves.  Clean-up should be easy given the tight joints.  The machine guns are fairly well detailed, with separate ammunition drums, but the barrels appear too slender, certainly too fine to even dimple in the muzzles.
Overall, I would have to say this is a very well done representation of the KV-2. It is a must have for any serious Soviet armor builder.  My thanks to Dragon USA for providing the review sample.