Internet Modeler : First Look : Automotive
RSS News Feed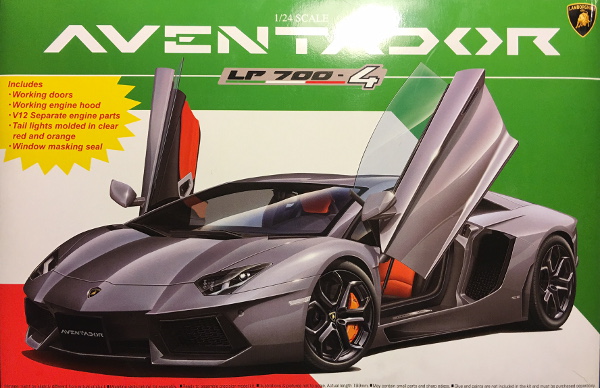 Aoshima 1/24 Lamborghini Aventador LP 700-4
Intro
I must apologize for this one first. My editor gave me this kit for review quite some time ago. I was extremely excited to get it for a lot of reasons, first because it's an Aoshima kit, and second because it's a Lamborghini. Unfortunately, life got in the way as it usually does and I was stuck in a "Modelling rut" for a while. So I apologize for the delay in getting this one done. But, after touching base and getting bitten by the modelling bug again, it's time to get this one going. That said, I wanted to do something slightly different, in that I already have an idea of how I want to build it. I'll explain later.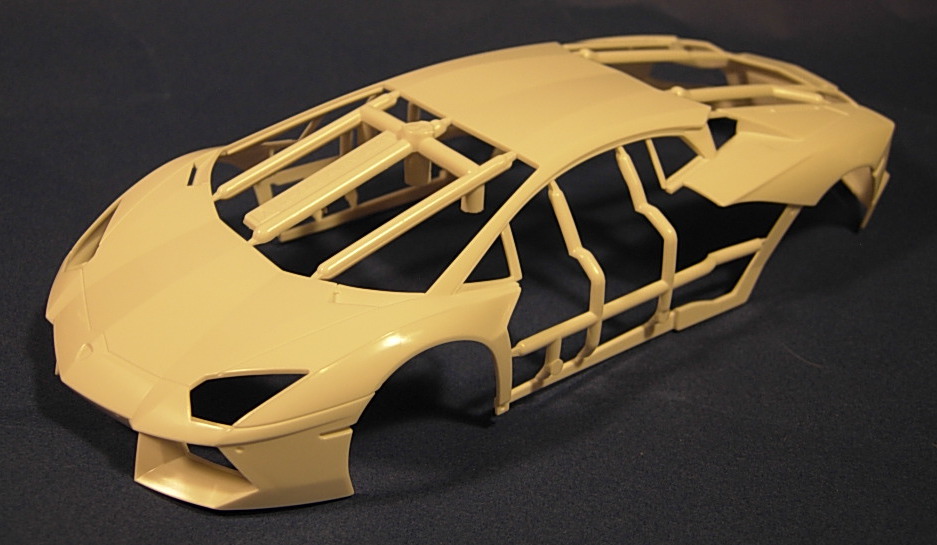 The Lamborghini Aventador, what else needs to be said? It is an iconic automobile and it has been the flagship car of Lamborghini since 2011. The Aventador is a visually stunning car, as are all cars from Lamborghini. Underneath the sculpted carbon fiber body is the signature 6.5L V-12 engine with 690hp and 515 lb ft of torque. These are astounding power numbers, and the Aventador goes from 0-60mph in 2.9 seconds and has a top speed of 217mph.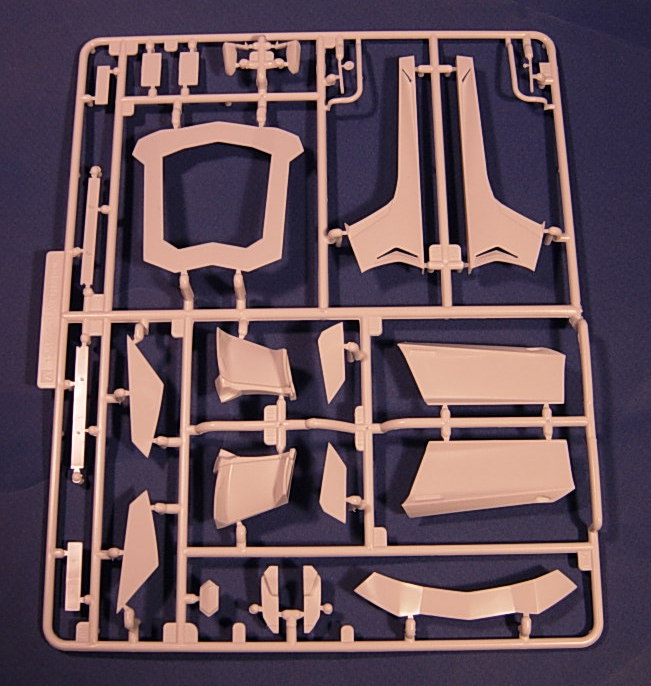 Not to pile on the numbers too much, but it will also complete the quarter mile in 10.6 seconds at 137 mph. These are truly mind-blowing numbers from an all-wheel drive car. This surely gives the Lamborghini Aventador a seat the table with the upper echelon of supercars. I'm so glad that Aoshima has offered a kit in 1/24th scale for assembly.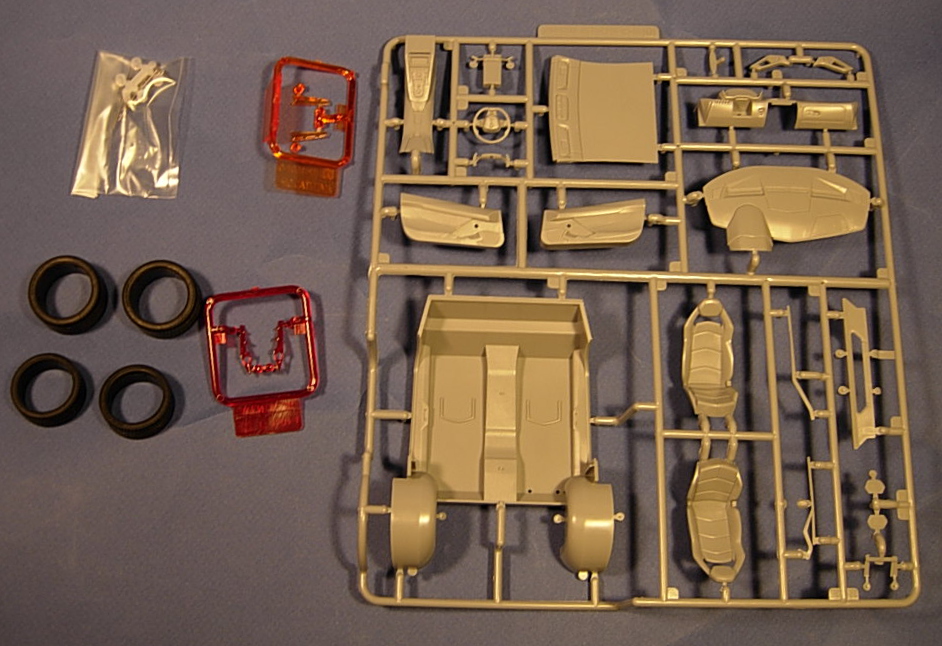 The Kit
The box is impressive at first glance. It depicts the Aventador front and center, but it is shown with the signature "scissor doors" open. One of many exciting build features of this model is that the doors open. Other features include a fully detailed V-12 engine and a opening engine hood. Another really neat observation of the box art is the three-dimensional data image pictures that Aoshima uses in the production of the kit shown on the side of the box. Seeing these images and knowing Aoshima build quality in their kits, you know this one is going to be good!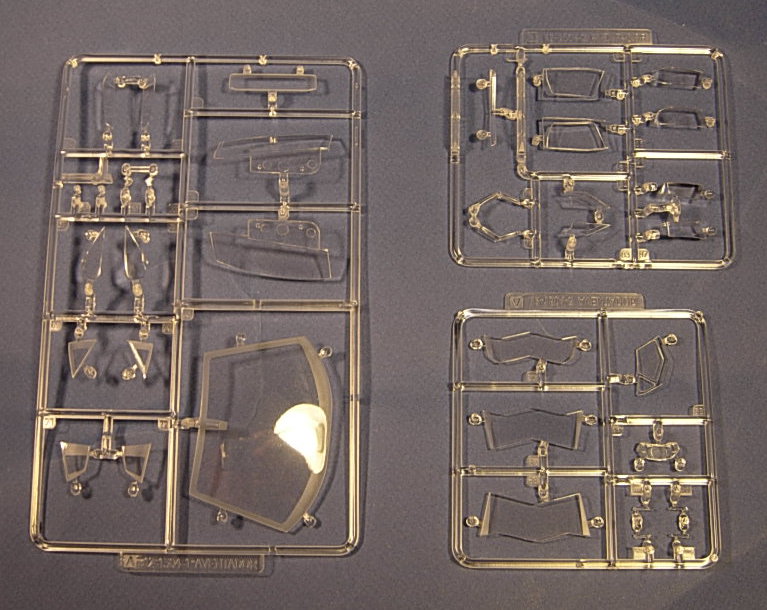 The majority of the pieces are molded in white. There are some gray parts sprues and clear sprues for the windows and lights, of course. There are some chrome parts, such as the wheels, exhausts, and the front and rear lights. All in all, there are 16 sprues with over 140 parts. The detail is really good on these so be careful when removing the parts from the sprues. Use the sprue cutters, as the plastic is pretty hard and it wants to hold onto the parts. This can result leave in gouged parts if care isn't taken. The detail looks really good, and you can see that the lines of the car have been accurately replicated.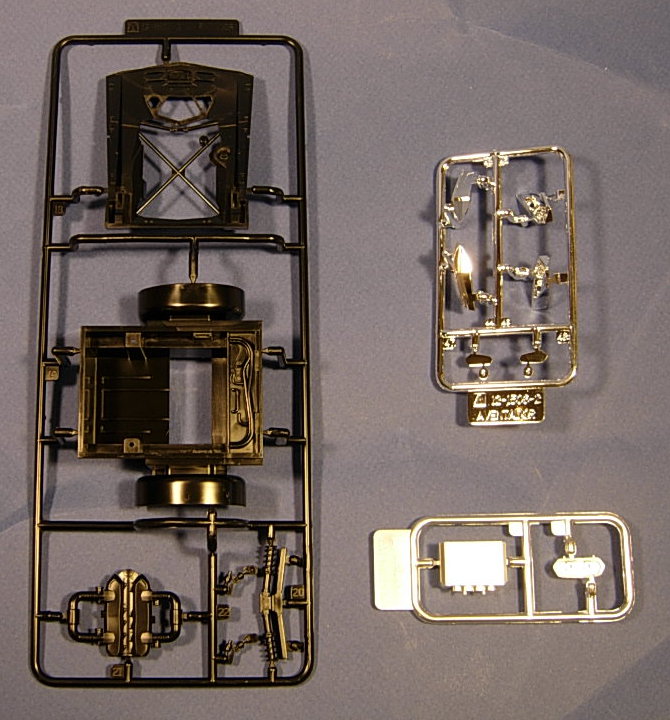 There is a full decal sheet with accurate badges and emblems. The decal sheet also includes some carbon fiber trim pieces for the intake manifold. I am also really happy to see that Aoshima has supplied some window masks. The paint guide takes a little getting used to. Each part in the assembly instructions is labeled with a number that corresponds to a color on a chart on the third page of the instructions.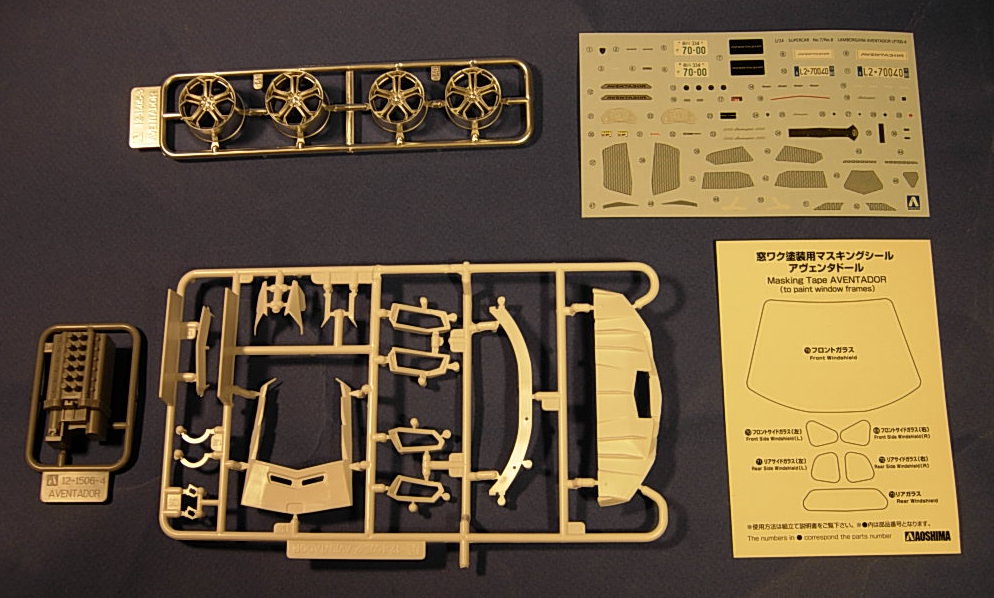 Unfortunately, some of the numbers described aren't shown on the color chart! So, some improvisation, or a little research may be required for some of these. Other than that, the instructions are well organized and easy to follow.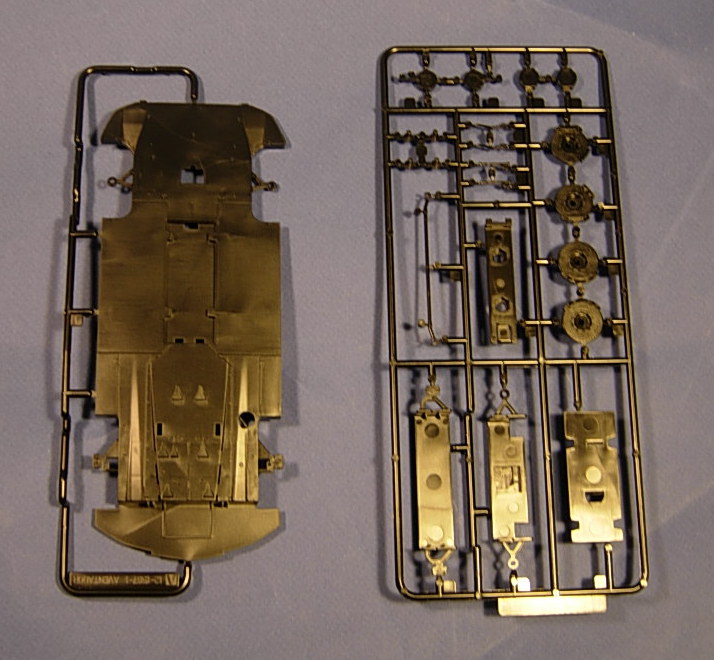 The 140+ parts count seems intimidating, but the instructions describe the assembly clearly and keeps it simple. There is a supplementary assembly guide for the doors. This helps instruct you assembling the metal clips that hold the doors open while on display.
Conclusion
The kit looks daunting at first glance, but the instructions are really good, and the build quality is first rate. There are a lot of body parts, so make sure you have plenty of paint going into the build. I am excited to build this kit and have been thinking about it for a little while. Research comes naturally when you watch YouTube videos and Google image searches of the Aventador. So, there is plenty of material out there to use. I said that this review would be a little different from the norm in that I already have an idea of how I want to build this kit so I will share it with you. I toyed with the idea of painting a model in a semi-gloss black. It's become very popular lately and after some thought, I can't think of a better model to try it on. In fact, a matte black finish is one of the available colors you can get on a Lamborghini Aventador. I also found a trans kit that C1 Models makes for this kit. It includes the DMC Aventador add-ons of a wing, front spoiler and side ground effects panels. So, I hope that you share some of my excitement for this kit. It is a dream supercar that any scale modeler would be proud to display on their shelf. I'd like to thank Aoshima for the review sample.
Happy modelling everybody!