Internet Modeler : First Look : Automotive
RSS News Feed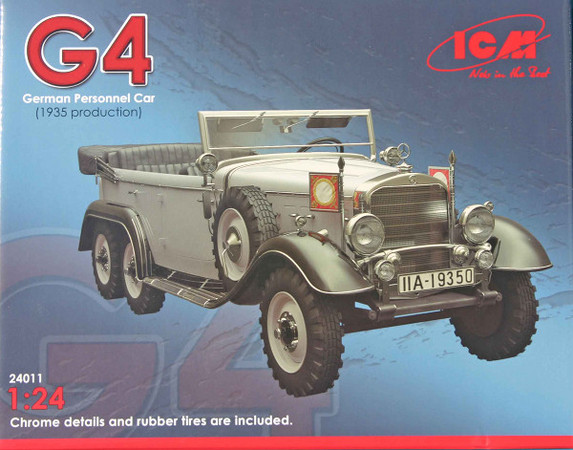 ICM 1/24 Mercedes G4 German Personnel Car
History:
The Mercedes-Benz W31 type G4 was a development of the G1 introduced in 1926. It was introduced in 1934 as a seven passenger 6X4 or 6X6 staff/command car. The Wehrmacht only received 11 as they were deemed too expensive for general military use. Initial deliveries to the SS for use by Hitler and his top staff began in 1937. The G4 was powered by a 5 liter straight 8 engine developing 100 Hp. During the production run from 1934 through 1939, only about 3 dozen were built.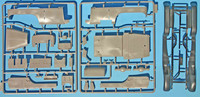 Overview:
This kit is the first foray into large scale vehicles by ICM and based on their 1/35th scale kits, I had high hopes for this kit. I was not disappointed, upon opening the sturdy hinged top box, I was greeted by well packed sprues filled with parts. The layout is quite good and parts identification is reasonable. This is the fifth different kit of this vehicle I have added to my collection and the first in this scale. It appears to be far and away the best of the bunch.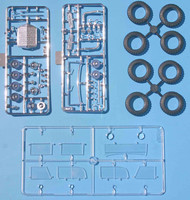 The Kit:
The kit parts are spread over 6 gray, 1 clear, and 2 chrome sprues plus a black fender/running board unit and 8 vinyl tires. A small but adequate decal sheet finishes off the count. Examining the sprues I found the parts to be well defined and cleanly molded. The parts count appears to be a bit high for a kit in this scale, but all parts appear to have a purpose in gaining accuracy or easing assembly. There does not seem to be a mass of fiddly bits for their own sake and increased parts count. The parts breakdown for major structures such as the body leave join lines in awkward places that may be difficult to clean up.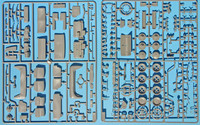 Accuracy:
The parts match the limited published data I have to hand. It does look right, so for the moment I'll call it good.
Conclusion:
For a first go at 1/24th scale, this kit is very good. ICM does produce some of the best civilian & military cars and trucks from WWII in 1/35th scale. Their reputation for quality engineering has greatly improved over the last few years. The only gripe I have at this point is with the molding gate attachment points on the chrome parts. They are in very conspicuous locations and somewhat large, therefore difficult to repair and conceal. ICM, please take a hint from Tamiya: plated parts equals sprue gates on the back of parts or in interior locations. If ICM continues this series of 1/24th scale kits, they will receive a larger share of my modeling dollars. Overall, I do recommend this kit to others.

I obtained the review kit from Skyway Model Shop.