Internet Modeler : First Look : Automotive
RSS News Feed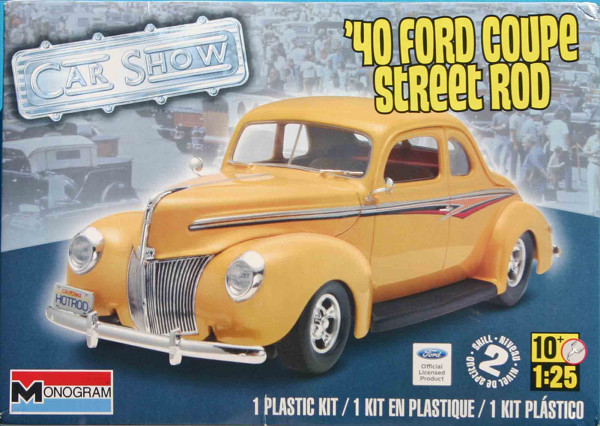 Monogram 1/25 '40 Ford Coupe Street Rod
Overview:
Now a part of Revell's Car Show series, this kit (Kit # 85-4993) has been around several times over the years. The box displays Monogram logos everywhere except for the huge type on the side of the box stating that it was manufactured by Revell. It is another shining example of the tool designers' skill. Where 5 parts make for a more accurate appearance, 5 parts are used.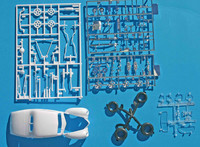 Ford built over half a million Coupes in 1940; because of WWII restrictions a large number survived into the Post-War period. The classic lines, solid construction and low cost made the 40 Ford a popular Rodder's starting point. The 40 Ford is still popular and can be found anywhere from perfectly restored factory stock to wild chopped and dropped full customs. This kit represents a mildly customized Street Rod with custom interior, wheels, and lightly modified Ford Flathead V-8 engine.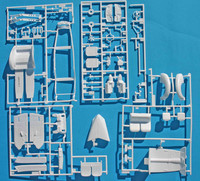 The Kit:
The kit comes molded in white and clear plastic with multiple chrome sprues. Careful examination shows minimal flash and excellent parts definition. Clear and chrome parts are separately bagged to protect against damage. No name vinyl tires and a sharp decal sheet complete the contents of the box.
Accuracy:
Looks to be dead on. The separate X-frame chassis is an absolute gem and designed to make alignment simple while still presenting an accurate appearance. The 17 part engine looks to be a very good representation of the real thing (gripe here, the oil pan is included in the engine block halves, thus creating a difficult to conceal seam).
Conclusion:
Still a great kit after all these years. It is a very mild custom, but a great starting point for those that want to take it further. Listed as Skill level 2, the clean moldings and fit make it a good transition from the snap/glue kits to standard glue kits. Did I say it was a good starting point for further work? I already bought another one to Chop, section, and drop. Highly recommended.
Our thanks to Revell for the review kit.