Internet Modeler : First Look : Automotive
RSS News Feed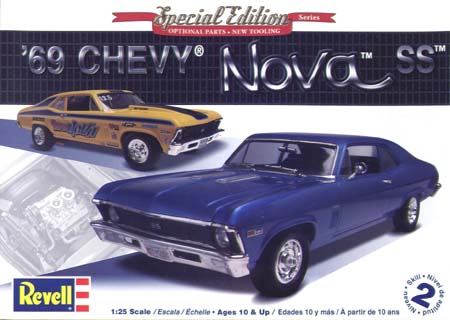 Revell 1/25 '69 Chevy Nova SS
Introduction
The 1969 Nova SS (Super Sport) was a continuation of themes originating in the 1968 redesign of the popular midsized car. The '68 and '69 cars looked very similar externally. Most differences were under the hood and chassis, with power disc brakes included as an integral part of the Nova SS package. An ignition/steering column interlock was also introduced as a theft deterrent. The base '69 SS was powered by a 300 horsepower 350 cubic inch V-8 and for the first time a 3 speed Turbo Hydromatic transmission was available. The engine was revised internally with stronger main bearing bulkheads and caps, which were retained with four bolts rather than two.
The Nova SS was the proverbial wolf in sheep's clothing and the SS badges were the only external difference between the SS and base models. When you toss in options like the 375 horsepower L78 engine or the extremely rare 427 Yenko, which featured a 425 horsepower solid lifter motor and other suspension upgrades, it's easy to understand why the Nova SS was VERY popular with both hot rod builders and racers alike "back in the day".
The Kit
The kit is well packaged in a stout cardboard box. It consists of 130 parts on 14 sprues, which are packaged in nine separate bags. 80 of these parts are molded in white plastic, 26 are chrome plated, and 14 are clear. six vinyl tires and four metal axle pins complete the package. This is a brand new tooling, which is reflected both in the number of parts and in their molding quality. The body is free of sink marks or molding flaws. The multi-piece rear suspension assembly is very detailed. The interior detail, especially on the instrument panel and doors, is crisp and well molded. The engine compartment is brimming with accurate, well-molded parts and it looks convincingly busy. The hood features separate hinges, which allow it to be displayed opened. The chrome is good, though not up to Tamiya standards.
This is a "2 in 1" kit with alternative parts to make a drag racing Nova SS. These parts include a different hood, intake manifold and exhaust manifolds, wheels and rear tires, carburetors, traction bars, and roll bar. The decal sheet is well printed and includes four different sets of license plates, drag racing sponsor logos and graphics, instrument panel gauges, and many of the body scripts and side reflectors. The instructions are clearly written and easy to understand with a logical build sequence, which starts with engine assembly. I am very impressed with this kit. Well done, Revell!
Accuracy
The useful website NovaResource.com lists the following dimensions for the '69 SS: overall length of 189.4 inches, wheelbase of 111.0 inches, and an overall width of 72.4 inches. I didn't bother to reduce these dimensions to 1/25th scale to compare the kit against them. I was ten years old in 1969, I saw a LOT of these cars when I was a kid, and it looks like a Nova to me.
Conclusion
This is a great kit of a popular car. The quality is first rate, and all that you need to add for an accurate and highly detailed model are a wired distributor, battery cables, and various wires here and there. It's also an excellent point of departure for those who want to go to town with the help of aftermarket detail parts. Highly recommended!
References