Internet Modeler : First Look : Automotive
RSS News Feed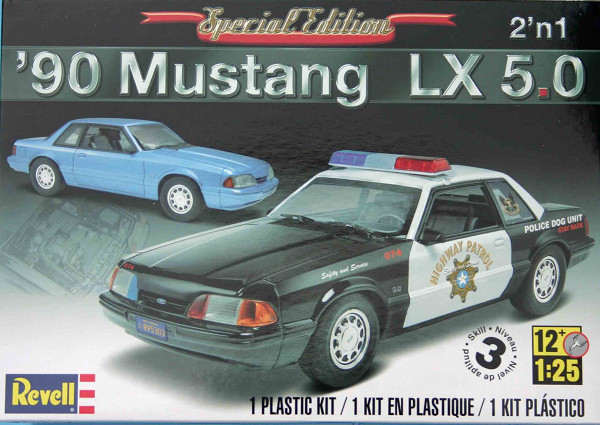 Revell 1/25 '90 Mustang LX 5.0 2'n1
Overview:
23 years after the Ford Mustang LX 5.0 SSP became the pursuit vehicle of choice for most state police and highway patrol agencies, we are finally graced with an excellent kit of this ubiquitous cop car. Some basic history is in order. Ford introduced the SSP (Special Service Package) Mustang in 1982 in response to a California Highway Patrol request for a new interceptor car. The new Fox platform Mustang made for an exceptional pursuit vehicle. It was small, light, high powered, and very fast. The size was both a positive and a negative for the car.  The cramped cabin providing no space for prisoner transport or equipment storage. Some Departments did remove the passenger seat and use one of several aftermarket cages to allow transport capability. The SSP Mustangs were produced from 1982 through 1993.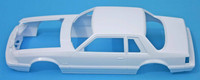 The Kit:
Approximately 126 parts in white, clear, transparent red, and chrome comprise the contents of the box. First impression upon opening the box was of a well executed kit that looked right. Further evaluation revealed some minor flash that will require at bit of cleanup. Overall the parts are well molded with almost all mold and joint lines either concealed or correspond to matching panels on the real car. The 302 cid efi (electronic fuel injection) V-8 is a work of art in its own right and both front and rear suspensions are well detailed without being overly complex. A quick and dirty dry fit of major components indicated no obvious fit problems will be encountered during the build. The interior, built up from the floor and side panels is well executed with fine panel engraving. The glass parts appears to be an excellent fit and has necessary engraving. The high point of the detail is the head and tail lights have separate chrome buckets to backup the clear lenses.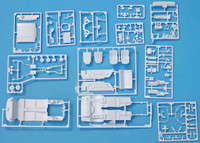 Accuracy:
As a model of a 1990 Ford Mustang LX 5.0 it looks right from all angles as a pile of parts. I can't wait to see it once it is built. The engine, transmission, and suspension all look the part and are neither obviously over nor undersize. Now for the downside: As a CHP Mustang it comes in lacking. The following items are missing: spotlights, one rear deck light (there should be 3), and antenna mounts. The light bar is suspect in shape and can only be built as twin red instead of red & blue (correct on the box art). The decal sheet is highly questionable, none of the resources I checked showed any Dog car Mustangs and the CHP shields included are incorrect for 1990.
Conclusion: Overall, a great kit with a few niggles. This will be a great starting point for a collection of SSP Mustangs. With more than 60 different police agencies using the Mustang LX SSP the choices are many. It also fills another gaping hole it the Mustang kit catalogue, we now have a very convincing LX in a standard production kit. Overall grade A-, not gonna complain too much, have wanted this car for a long time.
Attention aftermarket folks: for us serious cop car builders we now need the special transport cage as used by the Washington State Patrol and others, a windshield wedge light, push bar, and other specialized Mustang odds and bods.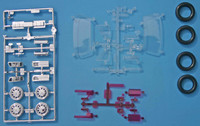 If anyone has reference photos to validate the kit decals, I would be most appreciative.
The review kit was obtained at Galaxy Hobbies, a proud Revell Partner Hobby shop.