Internet Modeler : First Look : Automotive
RSS News Feed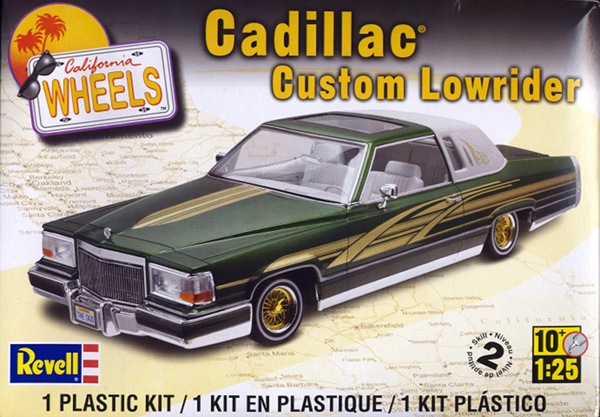 Revell 1/25 Cadillac Custom Lowrider
The 1984 Cadillac Coupe DeVille was not as large as the earlier versions of the same name, but it was still large enough to hide all the accessories needed to make it into a popular candidate for a custom lowrider. With the 4.1 liter V8 it also had plenty of power to keep it moving on down the road.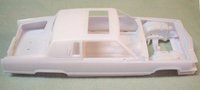 This kit is a modified re-issue of the Revell Donk Cadillac. However, this kit does not contain any of the Donk parts. It is molded in white, clear, chrome and gold. There are nine white trees, plus the body, interior pan, and chassis. There are also five trees of chrome parts, plus one in gold that contains wheel inners, hydraulic pumps and wheel spinners. One tree of clear parts contains windows in one piece plus headlight covers, backup lights and tail lights.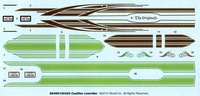 There are four small (lowrider) style tires plus a bag that contains the whitewall inserts. One small bag contains parts, one metal rear axle, two front metal axle pins and two screws. The kit contain plenty of custom parts.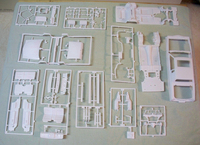 There is only a small amount of flash on the sample kit and the few parts that I trial fit together did so with not too much problem. There are some seam lines visible on the larger assemblies, but they do not appear excessive and should be relatively easy to clean them up.
The decal sheet contains two sets of custom paint accents, one set in green and one set in gold, plus deck lid pinstripes and two license plate options. "THE OGS" and "LOWCAD", both California plates. I am not usually a fan of decals other than license plates, but with all the flat panels on this kit I think that it would be relatively easy to use any of these decals.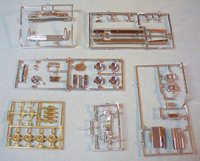 While it is normal these days for a kit to contain an opening or removable hood, this kit also has an opening trunk. This is to allow one to see the stereo, hydraulic pumps and batteries stashed in there and to add a place for additional detail for those who are so inclined. There are only a few other custom parts available than what goes in the trunk, one of the front end choices is chrome and the wheels and tires are certainly not stock. There is also a custom grill choice and a couple of club badges for the rear window and that is actually about it.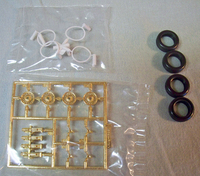 The engine is a multi-piece assembly, but does not contain anything other than stock parts (valve covers and air cleaner are chromed though), including the exhaust system. It is possible to build the car with the front in one of three different heights, using one of two different front end assemblies, and one of two heights in the rear.

It is possible to build the car at the stock height but it does not contain any stock tires or wheels. In fact, with a little scratch building in the trunk area (or glue the trunk lid in place) and some stock wheels and tires, one could build a totally stock 84 Cadillac if one were so inclined.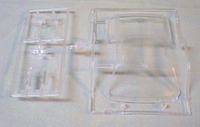 My overall impression of this kit is favorable since it is a different subject, in fact, I had some great ideas while I was doing the photos and such for this review and bumped it up in my build schedule and it is now in work on my bench. I would like to thank Revell for providing the review sample.