Internet Modeler : First Look : Automotive
RSS News Feed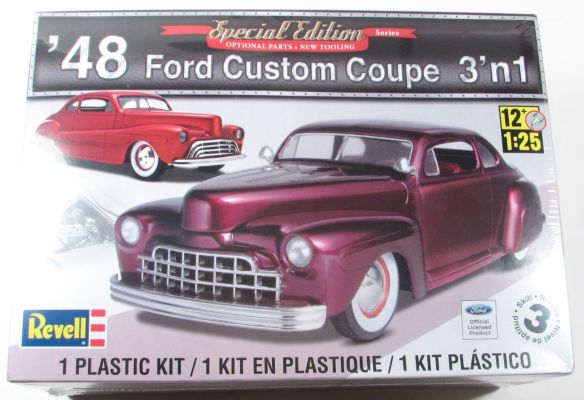 Revell 1/25 '48 Ford Custom Coupe
Background

In 1941, the Ford Motor Company introduced a newly-designed Ford. The United States' entry into World War II would of course see the cessation of production between 1942 and 1945, though a brief run of '42s did make it off the assembly line; these were more similar to the 1946-48 Ford, with a grille unique to its year of production. In 1946, this car would return with an entirely new grille and other upgrades. The 1948 model year would be the final one for this design, becoming the last of what came to be known as "fat-fendered" Fords.

The 1946-48 Ford was popular with customizers, with clean lines that were readily beautified. Major custom car builders such as the Ayala Brothers and Barris turned out many customs based on the many body styles the 1946-48 Fords offered. Many of them were featured at the big car shows and in major custom and hot rodding magazines. Typical custom touches such as chopping, removal of trim and handles, and general all-around smoothing were applied to make for a sleeker overall outline.
All manner of front end treatments were brought to bear; grilles from 1946 Oldsmobiles, 1948 Cadillacs, and other cars found their place in the faces of such customs, as well as various forms of tube grilles; 1953 Buick headlamps could also be made to look great in this application. Various styles of smoothed bumpers could be used, and the engines were invariably hopped up units, either based on the original Flathead V8 powerplant, or using one of GM's hot overhead valve V8s. An early Hemi of course was not out of the question. As with any custom, the builder's imagination and skill were the limit.

The Kit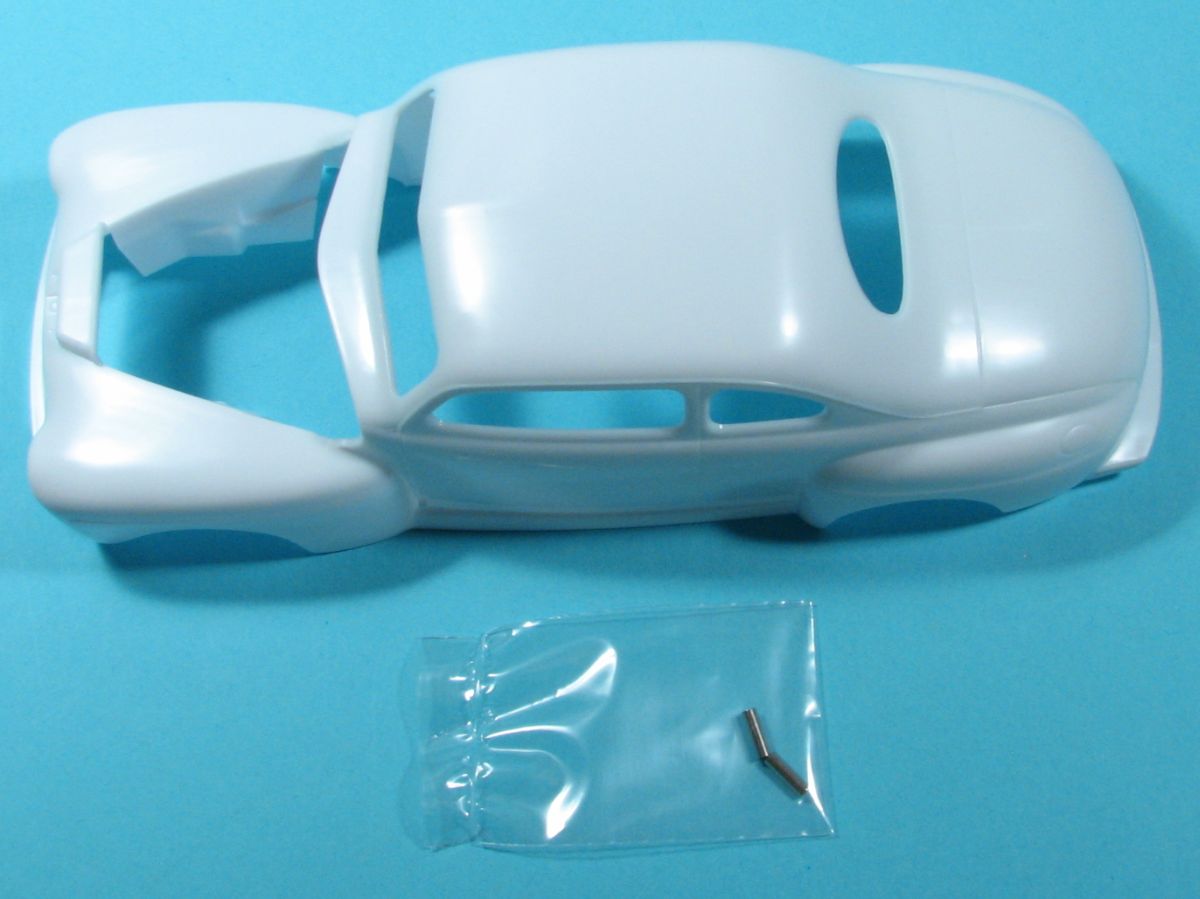 This release seemed to be about as eagerly awaited as the subject of the last model car review, the 1953 Hudson Hornet. Expectations for this kit were high, and those expectations should at the very least be met, if not exceeded.
The body is a one-piece molding. Much smoothing is in evidence, here. Naturally, there is the chop we were told to expect. Most all the chrome trim has disappeared. The drip rails are present, which is fine, since it is certainly easier to remove them than it would be to put them on. The upper rear corners of the doors are rounded, a common custom touch on these cars. The clear tree, separately bagged as we have come to expect, includes individual chopped windshield, vent windows, rear side windows, and stock-height backlight. Also present are the headlamp and Appleton spot lenses.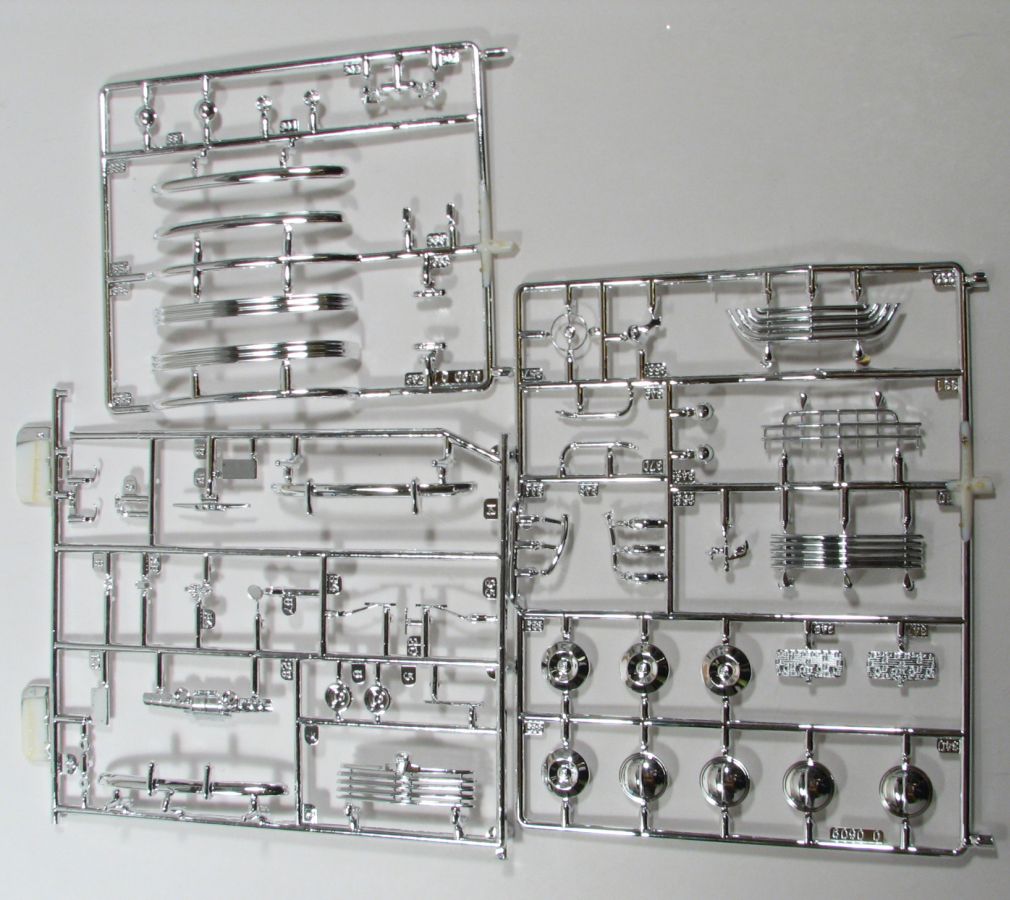 One of the things that made this kit so greatly anticipated was all the exterior trim items. There are four grilles: '46 Olds, '48 Caddy, a tube-grille (of four narrow tubes), and the stock unit, which was retained on some customs. Each grille has its own separate plastic surround which is to be blended into the bodywork. Two smoothed hoods are offered, one of which is louvered. Two sets of bumpers are also included. There are smoothed '48 Ford units, with separate bumper guards, and a set of '49 Plymouth bumpers. Taillights are stock Ford and '49 Lincoln.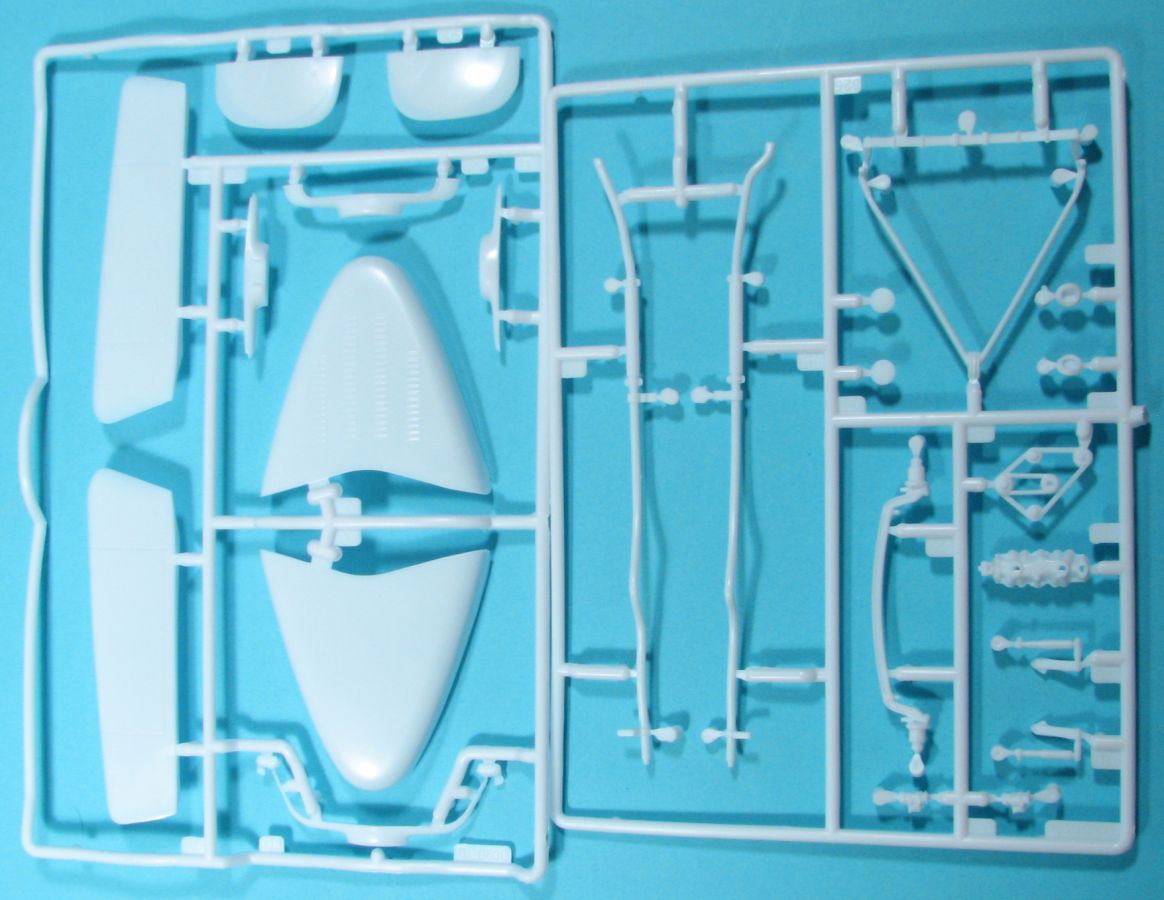 A neat and much-awaited feature of this kit is its separate fadeaway fenders, represented by two large pieces of plastic that the modeler will want to blend into the body if they elect to use them. Attractive fender skirts are offered as an option. A set of Appleton spotlights, a classic addition to many customs, is also included. Stock windshield wipers remain on the chrome tree, and are shown as an option in the instructions. The custom combinations made possible by this kit are many, and the modeler may elect to start from this beginning and work parts box or aftermarket custom pieces into their build for yet more variations.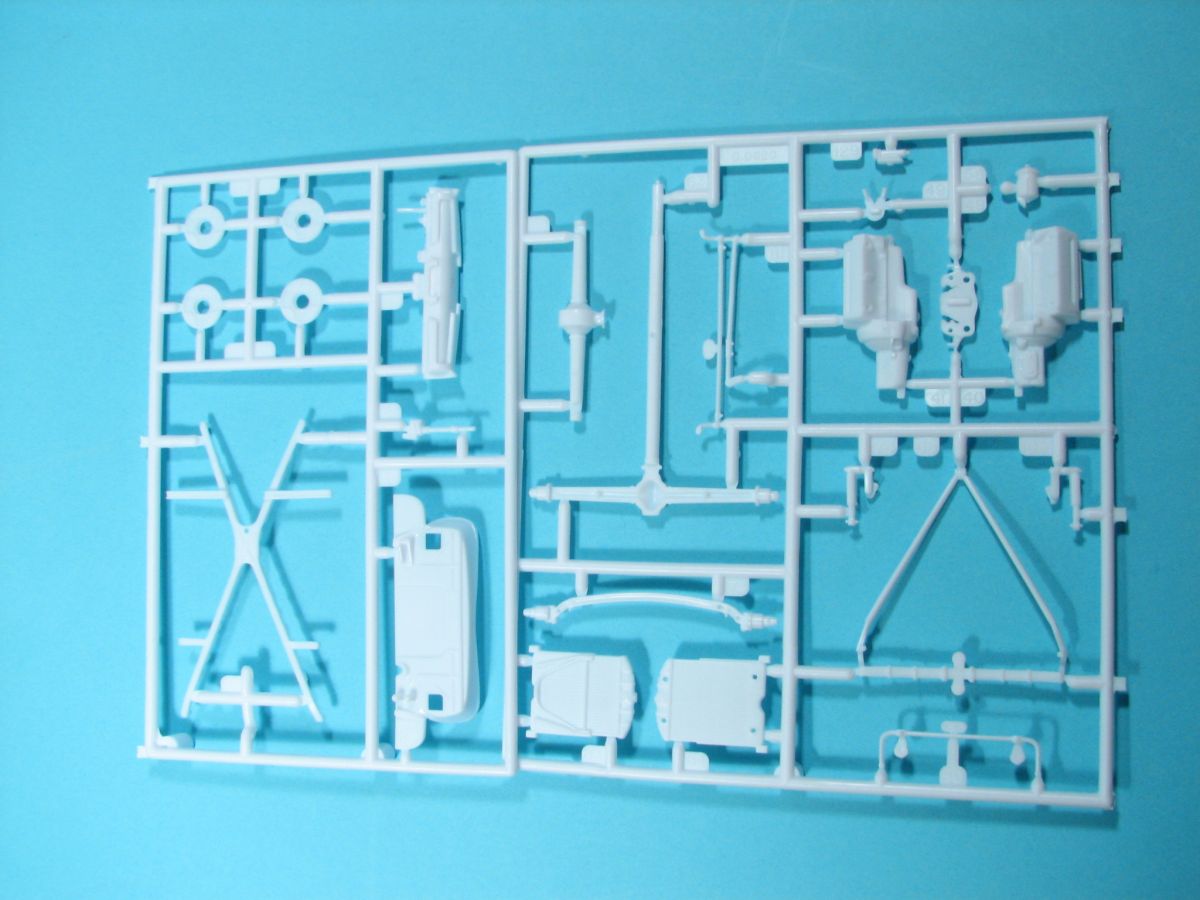 The engine is an 18-piece assembly, based on now-familiar Flathead from the Revell 1948 Ford kits. Something new takes a bow with this kit, though, and that is the new Navarro dual-pot intake and finned cylinder heads, available for the first time in 1/25 scale. Hot rod and custom modelers will no doubt be very keen to get their hands on these. All of these parts are very nicely executed. The heads are plated parts, and the new intake mounts twin Stromberg carburetors with chromed bell-type air cleaners. The generator and bracket, headers, radiator pipes, and fuel pump are also found on the chrome tree. This engine alone will be a major selling-point for this model, with its new and unique hop up items. The engine can further be dressed up and detailed with the many aftermarket parts available, such as the extensive range of scale Flathead Ford accessories from Replicas and Miniatures Co. of Maryland. The possibilities if you choose to build this kit with a Flatty are virtually limitless.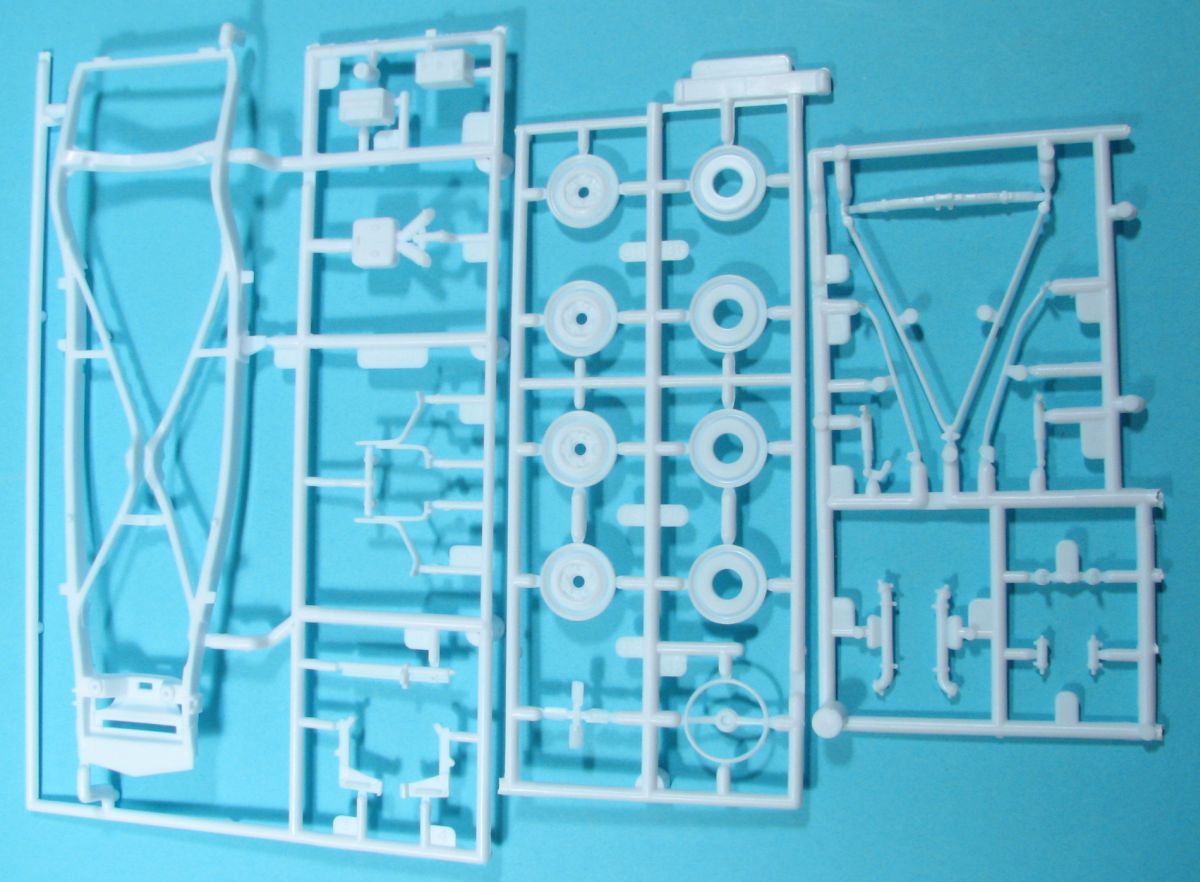 The frame is also familiar to us, though the dropped front I-beam axle might be new. The detail here is very complete, and even features those classic Ford drum backing plates so popular with rodders. The rearend is the stock style, which is more appropriate than the 9 inch Ford would have been. The dual exhausts feature glasspack-style mufflers, and have tubular metal exhaust tips. Careful building and finishing will yield a convincing chassis and suspension. Tying colors in with the body and/or putting a chromed finish on various components can further the cause of making an attractive custom.
At the four corners we find soft rubber tires with pad-printed whitewalls. These mount on stock Ford wheels made in back and front halves. Adding to this kit's immense charm is the choice of hubcaps, either classic single bar flipper hubcaps or '53 Cadillac Sombreros, which mount on the aforementioned stock wheels. Having the caps separate from the wheels is nice, for it allows one to readily paint the wheel color without the need for difficult masking. Another nice thing about having the stock wheels is, many customizers use these instead of putting on caps, often just with polished bolts and beauty rings. These hubcap choices look great, and of course your parts box and the aftermarket offer myriad other fitting options.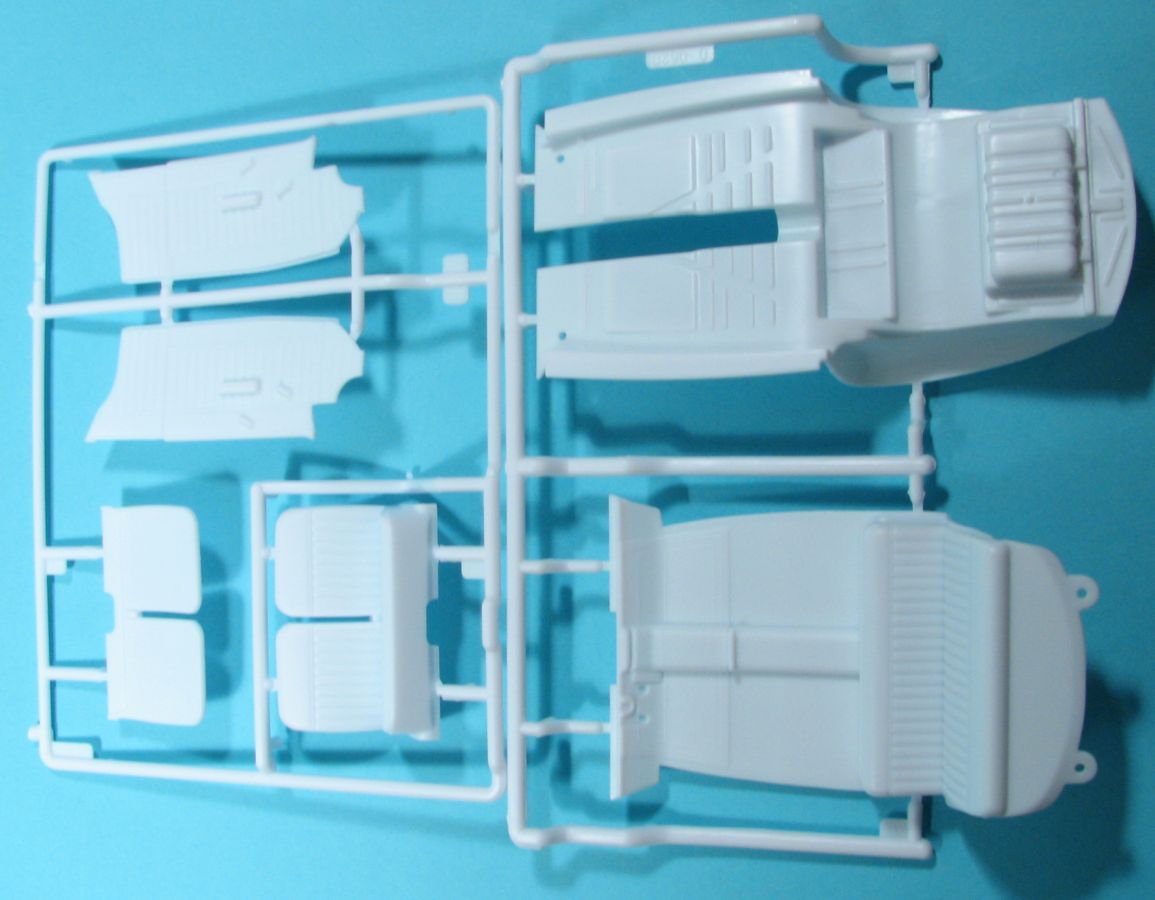 The interior sees the return of the stock dash with separate chromed trim insert and wheel with chromed horn ring, but is otherwise all new, depicting a traditional custom rolled and pleated interior. The sidewalls have good armrest and handle detail. Decals represent the different instruments and gauges of the dash, including two different options for the tach and speedometer, appearing to be a stock set, and a more modern pair of black background. Given varying solid and two-tone painting treatments, and with differing hues of flocked carpeting, many different looks may be captured from the plastic of this new interior; additionally, one is always afforded the choice of borrowing the optional custom interior of Revell's '48 Ford convertible, which with a bit of modification should be able to be made to fit here, offering a more modern appearance.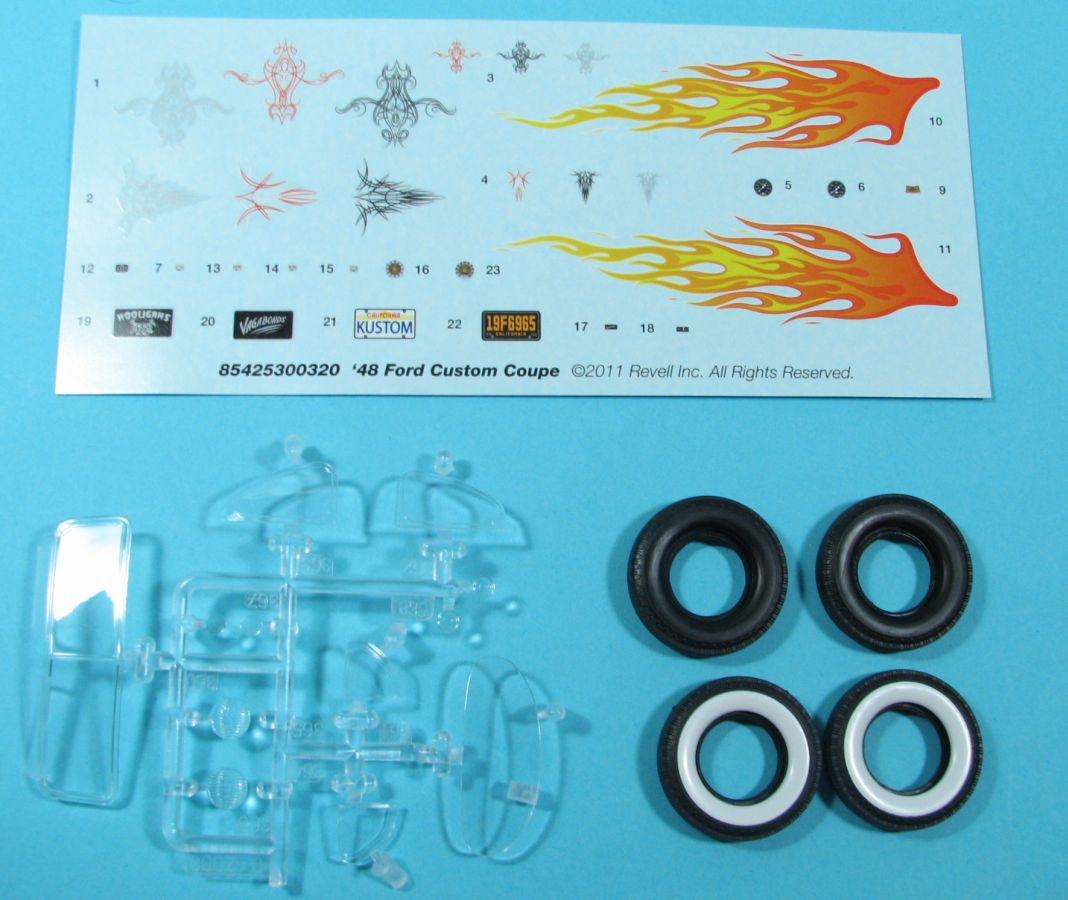 The decal sheet features some neat-looking flames, though they only apply to the car's sides. There are also elaborate pinstripe decals in silver, black, and red. Several license plate and and club plaque choice are present, along with the aforementioned gauges and underhood decals.

Conclusion

Back in 2007, Revell did something very interesting by offering a custom-only 1949 Mercury with several different grilles, taillights, wheel skirts, and a choice of wheel/tire combination. It made making a personalized classic custom relatively easy, and provided a basic canvas for further expressions of creativity. This model continues that tradition, with exciting results. This kit will be bought for its excellent custom parts as well as for what it offers as a whole. With its multiple building options, and the fact that it will have many spare parts that can be shared with its sister '48 Ford convertible kit, there is very real value and a definite "fun-factor" offered by this kit. For a really accurate period custom, it has been pointed that the stock hood from the other Revell 1948 Ford kits can be used. Additionally, with a bit of kit-bashing, this all custom car kit can be turned into a fine hot rod version, as well. With careful building and finishing, the end result cannot help but be very cool indeed.
Review sample courtesy of Revell-Monogram. Many thanks to Rik Hoving for his help with this article.