Internet Modeler : First Look : Aviation
RSS News Feed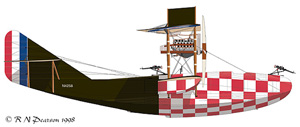 T.C. Models 1/48 Vickers Vimy, Felixstowe F2A, & Short 184
Overview



New from South Africa is a line of limited-run cast resin kits created by master moldmaker Tony Collins. The first three models, all in 1/48, include the Shorts-184 seaplane; the Felixstowe F.2A flying boat; and the Vickers Vimy.

None of these three models should be attempted by anyone not thoroughly familiar with cast resin model building and biplane construction. The modeler who takes the time to give these kits the lavish care they deserve will be rewarded with what can only be described as a "museum-quality" model.



The Short 184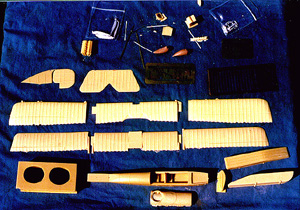 The backbone of R.N.A.S., and used from 1915 into the 1920s, the two-seat Short 184 seaplane pioneered maritime reconaissance, and made the first aerial torpedo attacks of history. T.C. Models have produced both the standard and (more widely-produced) Robey-built version, and it is the Robey version that has been provided here as a review copy.

Comprised of 16 major cast resin pieces, the Short 184 looks to be the easiest of the three to construct so far as the basics are concerned.

As can be seen in the photo, the upper and lower wings come in three parts, while the fuselage is one-piece solid resin with the cockpit area open and a decking piece provided. All the white metal parts are from Aeroclub. The quality of the cast resin is excellent, though some clean-up will be necessary on the lower surfaces. The surface detail looks a bit heavy, but under a coat of P.C.10 with Clear Doped Fabric undersurfaces, it should look quite realistic.

One good point in this and the other two kits is that the interplane struts are made from heavy-guarge photoetched brass, which will profice sufficient strength, without being too thick, as would be the case with white metal of similar strength.



Vickers Vimy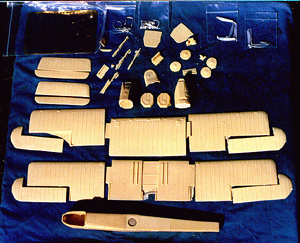 Moving up on the difficulty scale, the Vickers Vimy is impressive just lying in parts in the box. Had the war continued into 1919, the Vimy and the Handley-Page O-400 would have clearly demonstrated that the British had learned everything about strategic bombing that the German Gothas had taught.

This kit will easily make up into a model nearly as large as some Second World War 4-engine bombers. For the modeler with the proper research material, construcing the Alcock-Brown Vimy which was first to fly the Atlantic non-stop in 1919, or the Vimy G-EAOU (for "God 'Elp All Of Us" allegedly) flown to Australia by the Smith brothers that same year, will make up into impressive models of historically-significant aircraft.

As with the Short 184, the surface detail is a bit heavy, but the parts look well-engineered to make a kit like this as easy to assemble as possible. Once again, white metal parts come from Aeroclub, and interplane struts are heavy-guage photo-etch brass.



Felixstowe F.2A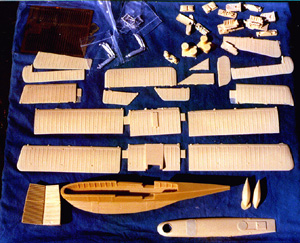 Largest of the three kits and obviously the most complex (and therefore most difficult) is the Felixstowe F.2A flying boat. The first effective long-range open ocean maritime reconaissance and anti-submarine aircraft, the Felxstowe set the style for similar flying boats that would be used by many naval air forces over the next 15-20 years.

With a four-piece upper wing that measures almost 28 inches, this is a big model. The underside of the hull will need clean-up work, but other than that, the rest of it looks quite nice and crisp. Both of the different kinds of upper wing ailerons are provided, and the modeler will need research material to determine which to use.

As with the others, white metal parts come from Aeroclub and the interplane struts are photo-etched heavy-guage brass.

One difficult area was easily spotted: the casting of the radiators for the engines is "muddy," and a modeler will need to remove this part of the casting and likely replace it with fine wire mesh.



Overall



The instruction sheets that accompany these models are clear and concise, and following instructions will result in a good model, at least from the initial read. None of the kits comes with decals, though Tony Collins has informed me that future models will have decals (whether this means future models of these kits is unclear). However, suitable decals are available from Americal/Gryphon, and this will be one time the modeler is happy that British aircraft of the First World War were rather plain as regards markings. Each kit provides stainless steel wire for rigging. The modeler will need to weight these and hang them against a wall for some period to let gravity do its work in straightening them.

These models cry for super-detailing. Since all the basics are there, and the models are accurate, they look to be well worth the effort expended.



T.C. Models - The Future



Tony Collins has told me that the next kit he will release, shortly after the first of the year, will be a 1/48 Vickers Vildebeest! Talk about an airplane that could easily win the prize for Ugly Brit Monster hands-down! T.C. Models are also developing a series of 1/48 kits of both British and Italian motor torpedo boats of the First World War, and these will be reviewed here at Internet Modeler as they become available.

Personally, when I opened these boxes, I was daunted when I looked at what was inside. That hasn't happened to me as a modeler in a very long time, and it makes me look forward to building the Vimy. Bob Pearson, one of our profilers, will be doing the Short 184, and Ken Goldman, who can make building difficult models almost look easy, has already picked up the Felixstowe, which will likely be the subject of our first full-build review of these new and interesting kits.



How To Get One



(Editors Note, 4 Jan 2009: Unfortunately TC Models is no more.) If you're interested in getting one of these for your own collection, T.C.Models can be e-mailed from here for further information.