Internet Modeler : First Look : Aviation
RSS News Feed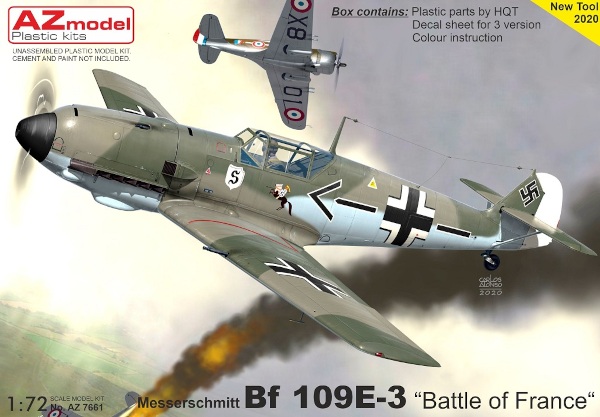 AZ Models 1/72 Bf109E-3 "Battle of Britain"
This is KP's new 1/72nd scale Messerschmitt Bf109E-3 "Battle of Britain" edition. It consists of 52 parts on 3 sprues, one of which is clear. The parts are well molded with no flash. The sprue attachment points for the parts are well located so they will be easy to remove from the sprues. The surface detail is finely recessed panel lines with small rivets where appropriate. The smaller parts, such as the landing gear retraction struts, control stick, rudder pedals, etc., are executed with finesse.
The cockpit is a nicely detailed multi piece assembly. Careful painting, dry brushing and washes will accentuate the detail. The instrument faces and seat harness are reproduced as decals.
There are 2 types of spoked wheels (E and early F series) so check your references carefully. The fuselage looks good and the fabric covered rudder and control surfaces are very convincing. The wings are nicely executed and so is the one piece lower wing. The lower half of the control surfaces are molded as part of the upper wings. The propeller and spinner look accurate. The clear parts are clear, thin and distortion free. The armored windscreen is a separate piece and you get the early canopy which is applicable to most Emils up to the E-4.
The 2 small decal sheets are well printed. The second sheet includes the air frame stencils, instrument panel and seat harness. The colors are bright, the letter is crisp and legible and everything is in register. It includes markings for 3 different Bf109E-3s:
"Black 13", Stab I./JG 77, France 1940. This plane is camouflaged in RLM 71 Dark Green/ RLM 02 Grey over RLM 65 Light Blue with a black and white spinner.
"White 5", 4./JG 53, Uffz. Stefan Litjens, Wiesbaden-Erbenhaim, early 1940. This Emil is camouflaged in a segmented pattern of RLM 71/02/65 with small segments of RLM 70 Black Green and a black spinner. The RLM 65 and 71 were added to the upper wing pattern and each color segment is smaller than usual.
Bf109E-3, JG 26, Geschwaderkommodore Oberstleunant Hans-Hugo Witt, April 1940. This E-3 is camouflaged in a soft edged, segmented pattern of RLM 71/ 02 over RLM 65 with a black spinner. The entire rudder is RLM 65, which looks a bit odd.

The instructions are well illustrated and feature a parts map and color callouts for Humbrol paints. There are color profiles for all 3 decal options on the bottom of the box.
I have always been a fan of the Messerschmitt Bf109 so I'm happy to have another Emil kit. KP's Bf109E-3 is accurate and well detailed. I recommend it and I would like to thank Kovozávody Prostějov for the review sample.