Internet Modeler : First Look : Aviation
RSS News Feed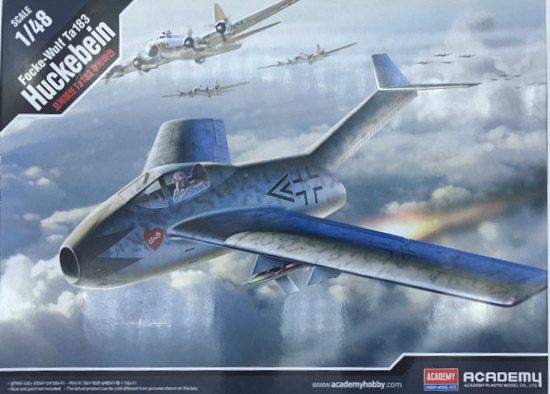 Academy 1/48 Focke-Wulf Ta183 Huckebein
This is Academy's re boxing of AMTech's 1/48th scale Focke-Wulf Ta183 Huckebein. It consists of 55 parts. 47 of these are plastic on 5 sprues, one of which is clear. You also get a tiny photo-etch fret containing 7 parts and set of rice paper masks.
This is a simple kit. The parts are well molded and have good detail. There is no flash to speak of. There are some ejector pin marks on the landing gear doors but these will be easy to remove.
The attachment points are well located so the parts will be easy to detach from the sprues. The cockpit has an adequate level of detail. You get a photo-etch ejector seat harness which increases the cockpit's accuracy.
The fuselage and wing surface detail consists of recessed panel lines. The wheel wells have adequate depth and they will look good with an oil wash. Under wing stores consist of 4 Ruhrstahl X-4 wire guided AAM rockets and a center line mounted drop tank.
The Focke-Wulf Ta183 never saw service and never advanced beyond the prototype stage, but Academy still provides a decal sheet with markings for no less than 6 hypothetical planes:
"Double Black Chevron", General Adolf Galland, Commander of JV44, early 1946. This plane had a stylized tulip on the nose. It was overall RLM 76 Light Blue with a dense mottle of RLM 74 Gray Green over the upper surfaces.
"Red 1", JG1, early 1946. This plane was RLM 81 Brown Violet on the port fuselage and upper wing and RLM 82 Light Green on the starboard fuselage and upper wing. The fuselage band was RLM 23 Red. The lower surfaces were RLM 76 and this color carried up over the nose.
"Black Chevron", Stab./JG7, early 1946. Overall RLM 76 with a dense fuselage mottle of RLM 81/82 with a "splinter" camouflage pattern of the 81/82 on the upper wings and a blue/red fuselage band.
"Red 2", built by Soviet Russian research group from German leftovers. This plane was overall natural metal.
"Red 13", Oberst Heinz Baer, JV44, early 1946. RLM 81/82 splinter camouflage on the upper surfaces over 76 with an RLM 23 Red nose ring.
"White 3", Unknown unit, early 1946. The fuselage was mottled RLM 81/82 over 76 with 81/82 splinter camouflage on the upper wings.
The decal sheet is great. Crossdelta designed it and Cartograph of Italy printed it. The colors are bright, the printing is crisp and the type is legible. Academy usually provides excellent instructions and this kit's are no exception. They are well illustrated and have a clear and logical build sequence, profiles for each aircraft, a parts map and color call outs for Humbrol, GSI Creos (Gunze), Lifecolor, Testors/Modelmaster, Revell, Vallejo and AK Interactive paints.

This is a nice kit. It has an acceptable level of detail and it will build up into a nice model. The Focke-Wulf Ta183 never flew, so if you're not satisfied with the kit decal options you can go to town, paint it whatever colors you like (within reason) and no one will be able to say that you're wrong. I recommend this kit for "Luftwaffe '46" fans and I would like to thank Model Rectifier Corporation for the review sample
References
Wikipedia:
https://en.wikipedia.org/wiki/Focke-Wulf_Ta_183