Internet Modeler : First Look : Aviation
RSS News Feed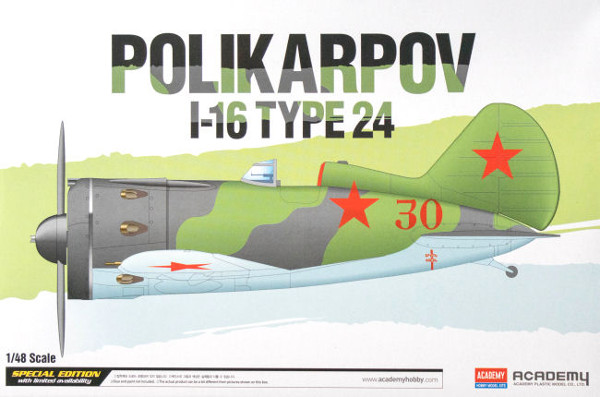 Academy 1/48 Polikarpov I-16 Type 24
The Plane
The I-16 was Polikarpov's first single wing fighter. Its fuselage was of mixed wood, aluminum and steel construction. The fuselage was covered with plywood planks, which were filled and sanded smooth, and then covered with fabric. The wing had a pair of tubular spars and an aluminum leading edge. The rest of the wing, including the ailerons, was covered with fabric. The I-16 type 24 was powered by the 9 cylinder Wright Cyclone M-63 engine. Its armament consisted of 2 7.62mm ShKAS machine guns mounted in the fuselage upper decking and a pair of ShVAK 20mm wing mounted cannons.
The Model
This is another Academy reissue. Academy is reintroducing some kits that were released under the Hobbycraft name, and this is one of them. The kit comes in a stout cardboard box with a computer-generated color profile. It consists of 54 parts on 5 sprues, one of which is clear. 2 of the parts (cannon barrels) go unused for this model and are destined for your spares box. The clear parts are a bit thick and will benefit from a dip in Future prior to masking.
Surface detail is by both recessed and raised panel lines where applicable. The recessed panel lines are of a uniform depth and width as is customary with Academy kits. The main wheels are mediocre, which also customary with Academy kits.
All of the parts are free of flash with the exception of the radial engine, which appears to suffer from mold shift. It's a moot point as the cowl will hide 98% of it. Overall it is a well molded, albeit simple kit. But so was the real thing, especially in comparison to a P-51 Mustang, Bf109 or FW 190. Underwing stores consist of 6 rockets with launch rails.
Old Hobbycraft kits were infamous for their terrible decals. I used to throw them away as soon as I bought a decent aftermarket sheet. One of the best things about Academy's reissues is the new and improved decal sheets. Cartograph of Italy printed the decal sheet. The colors are bright, crisply printed, and in-register. An instrument panel decal is included. The decal sheet has marking options for 4 aircraft:
"Red 30," Lt. I.K. Bratushka, 286th IAP, Leningrad Front, Soviet Union, July 1942. This plane was AII Green and Black over AII Light Blue with a thin natural metal cowl band.
"Red 21," Capt. G. Tsokolajew, 4 GIAP, Black Sea Fleet, Soviet Union, April 1942. AII Grey over AII Light Blue and natural metal cowl band.
"White 27," Lt. Krichevsky, 254th IAP, Leningrad Front, Soviet Union, 1942. AII Green over AII Light Blue, with a red star on the spinner and natural metal cowl band.
"White 3," 69 IAP, Odessa, Soviet Union, Summer 1941. AII Green over AII Light Blue with a red fin/rudder and natural metal cowl band.
The instructions are up to Academy's usual standards. There is a parts map, and color callouts for Humbrol (enamels/acryclics), GSI Creos (Aqeous/Mr. Color), Lifecolor, Testors/Modelmaster (enamel/acryl), Revell (enamel/acryl) and Vallejo (Model Color/Model Air). While this information is both welcome and handy it would also be nice to have FS (Federal Standard) color reference numbers, because many Russian colors of World War II can be difficult to match to existing paints.
Conclusion
This is a nice kit and I am glad to have it back with much better decals and instructions. The Eduard I-19 kits are more accurate and have a higher level of detail, but Academy's Polikarpov I-16 is a solid value. I recommend this kit and I would like to thank Model Rectifier Corporation for the review sample.
References
Fighting Polikarpov, Eagles of the East No.2, by Michael E. Abanshin, Aviation International, 1994