Internet Modeler : First Look : Aviation
RSS News Feed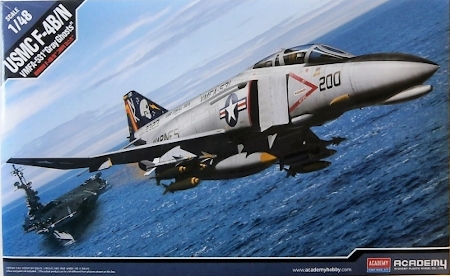 Academy 1/48 USMC F-4B/N VMFA-531 "Gray Ghosts"
The Plane
The McDonnell F-4B was the second production variant of the Phantom series of aircraft, following the F4H-1. 649 of them were built. The F-4B was powered by the General Electric J79-GE-8, rated at 17,000 lbs of thrust in afterburner. It was an enormous aircraft: over 58 feet in length with a combat weight of 38,606 pounds and a maximum takeoff weight of 56,000 lb.
It had a maximum rate of climb of 45,800 feet per minute, a combat ceiling of 55,400 feet and a maximum speed of Mach 2.16. Armament consisted of 4 AIM-7 Sparrow and 4 AIM-9 Sidewinder missiles. It had 5 external hard points for fuel tanks and ordinance and 4 recesses in the lower fuselage carried the missiles. The electronics suite included the General Electric ASA-32 autopilot, Lear AJB-3/3A bombing system and the ACF AAA-4 infra-red detector under the nose. Martin Baker supplied the Mk H7 ejection seat.
The F-4N designation refers to upgraded F-4B aircraft. In the 1970s both McDonnell and the Navy expressed reservations about the F-4B fleet's age and condition. Under a project designated Project BEE LINE 178 F-4Bs were sent to North Island NAS, the F-4's Naval Air Rework Facility, for structural fatigue testing.
The aircraft were completely rebuilt: any parts which could be replaced with newer designs resulting in a longer service life, were replaced. The airframe life was subsequently extended into the 1980s. The electronics were upgraded. Updates included the helmet sight Visual Target Acquisition System (VTAS), Sidewinder Expanded Acquisition Mode (SEAM), Auto Altitude Reporting, a dogfight computer, air-to-air IFF, etc.
Externally the F-4N could be distinguished by long antennas horizontal mounted on the air intake shoulders for the Sanders AN/ALQ-126 Deceptive ECM system, with additional antenna fairings on the intake and wing undersides. The inboard wing leading edge flaps were also fixed closed. The first F-4N flew on June 4, 1972 and service aircraft deliveries began in February of 1973. 301 aircraft were slated by the Navy for modification to F-4N standards.
The Model
This is a big box full of lots of parts, for a kit of a big aircraft. The box art is well done, depicting an F-4N shortly after launching from one of the catapults of the CAG USS Coral Sea. Like I said, this is a big kit. It consists of 413 parts on 14 sprues plus the fuselage. 69 parts go unused for this Phantom variant so they are destined for your spares box.
This is a nice kit. Surface detail on the fuselage consists of finely recessed panel lines plus some good rivet detail where appropriate. The upper and lower wings have a similar finesse. The parts are well molded, with minimal flash and well located parts attachment points which will make them easy to detach without damage. There are some ejector pin marks on some of the parts but most are these are either hidden or they will be fairly easy to fill.
The landing gear are okay; they lack the finesse and quality one might associate with Eduard and Hasegawa, but with the addition of some brake lines and an oil wash they will look pretty good. The wheelwells enclosing them are multi-piece assemblies that will look very impressive with the addition of wires, hoses and an oil wash. The clear parts are well executed. They are thin and distortion free.
The cockpit is a multi-piece assembly, complete with a pair of pilots for the Martin Baker ejection seats. If you have every wanted to try your hand at painting figures this is your chance. Each figure gives you a choice of heads, one with the oxygen mask and one without, so if you aren't satisfied with how one of the heads turns out, just use the other. If you want to dispense with the figures altogether, then you might want to purchase a pair of resin aftermarket seats.
| | |
| --- | --- |
| | |
The kit parts aren't bad, but they don't measure up to the level of detail and finesse of resin ejection seats from Quickboost and others. The aftermarket is your friend here! The instrument panels and sidewall consoles aren't bad. They will come up nicely with an oil wash and dry brush but the instrument faces are blank. Once again, the aftermarket comes to the rescue with instrument panel decals available from Airscale. There is also a standing pilot figure but I would replace his head: his face looks goofy and bemused rather than confident.
The jet intakes and afterburner cans look pretty good. One of the fun things about painting Phantoms is the extensive discolored metal areas under the tail planes. You can go to town here with the metalizer paints of your choice. Have fun!
The underwing stores are comprehensive. They include a 600 gallon center line tank, 370 wing tanks, and a host of armament. You also get the aforementioned AIM-7 Sparrow and AIM-9 Sidewinder missiles, and Mk. 82 general purpose bombs. The missiles and bombs are well executed but the fins are on the slightly thick side.
The decal sheet is by Cartograph of Italy produced the decal sheet. It is superb: crisply printed, with excellent colors and registration. It includes 3 decal options for 2 F-4Bs and an F-4/N:
F-4B, BuNo. 152274 VW-5, Maj. E.C. Paige and D.D Rodmond, VMFA-314 Black Knights, Da Nang, March 14, 166. This plane was Light Gull Gray over white. The nose was black, and the rudder, flaps, and outer tail planes were white.
F-4B, BuNo. 153066 VW-3, Maj. Carl E.R. Black and Bob Schmitt, VMFA-314 Black Knights, Chu Lai, November 1, 1968. This plane was Light Gull Gray over white. The nose, rudder, flaps, and outer tail planes were white.
F-4N, BuNo. 152323 VK/200, VMFA-531 Grey Ghosts, CAG USS Coral Sea, April 1980. This plane was overall Light Gull Gray with a black anti-glare panel over the top of the nose. The fin and rudder were blue with elaborate artwork.
One thing that I really like about Academy kits is their instructions. This time they are broken into 4 sections, Manual One (main instructions), Manual Two (armament load-out instructions, profiles and decal application guide for the 2 F-4Bs), a color decal placement guide (for the airframe stencils) and a separate color profile and decal application guide for the F-4N. Manual One includes a parts map and color call outs for Humbrol (enamels and acrylics), GSI Creos/Gunze (acrylics and lacquers), Lifecolor, Testors/Modelmaster (enamels and acrylics), Revell (enamels and acrylics) and Vallejo (Model Color and Model Air). The instructions are well laid out and illustrated and they have a logical and clear build sequence.
Conclusion
This a good kit. Hasegawa's Phantom kits have better detail but an adept and patient modeler can get an excellent result from Academy's F-4B/N kit. I recommend that you search the aftermarket for more detailed ejection seats, wheels and instrument panel decals. The paint scheme's simplicity gives you the opportunity to hone your weathering skills, and you can practice your metal finishing techniques on the afterburner cans and the aft fuselage. I think you can have fun with this one. I recommend this kit and I would like to thank Model Rectifier Corporation for the review sample.
References
F-4 Phantom in action, Aircraft Number 65, by Larry Davis, Squadron
https://www.militaryfactory.com/aircraft/detail.asp?aircraft_id=24