Internet Modeler : First Look : Aviation
RSS News Feed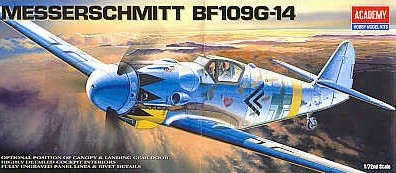 Academy 1/72 Messerschmitt Bf109G-14
The Plane
The Messerschmitt Bf109G-14 was intended to be a "standardized version," incorporating the numerous changes made to its predecessor, the Bf109G-6, during its production run. The modifications included MW-50 (Methanol Water injection for emergency power during combat), the Daimler-Benz DB 605AM engine, the FuG 16ZY radio with under wing "Morane" antenna, FuG 25 IFF (Identification Friend Foe) device, tall fin and rudder, and the Erla Haube canopy with Galland-Panzer armor and canopy mounted antenna mast.
It is sometimes hard to differentiate between G-6s and G-14s from photographs, especially when the weknummer is not visible. There are numerous examples of G-14s with the "short" tail and Erla Haube canopy, G-14s with tall tail and standard canopy...
Approximately 4,500 G-14s were produced by Messerschmitt Regensburg and subcontractors Erla Werke, WNF and MWG Györ.
The Kit
This is a reissue. Chris Banyai-Riepl reviewed this kit earlier and you can read his review here. Academy's G-14 consists of 59 parts on 4 sprues, one of which is clear. 9 of the parts go unused for this Bf109 variant so they're destined for your spares box.
The parts are well molded with no flash. Surface detail is by way of recessed panel lines and they are well done. The tall fin and rudder are molded separately so that Academy can use the same fuselage halves with a shorter tail, as in their G-6 kit. But Bf109G-14s came with both standard and tall tails, the standard, framed canopy or "Erla Haube" clear vision canopy, so it would be nice to have all of these parts in the box. This gives you more options and enhances the kit's value. The clear parts are very good.
| | |
| --- | --- |
| | |
Messerschmitt produced 2 different upper cowlings for mid-late War 109Gs, one with a small round opening for the cowling machine guns, and another with a larger, rectangular hole for them, and Academy thoughtfully provides both. This is a nice touch! You also get both types of starboard cowling "Beules" (bulges), the plain one and the alternate bulge with the small generator cowling scoop and bump for the larger oil cooler. The main wheels are not good at all. Their detail is exaggerated and unrealistic. I would recommend that you replace them with aftermarket wheels.
The cockpit is simplified, but mid to late War Bf109 cockpits were painted RLM 66, a dark color, so not all that much will be visible anyway. You can just add a pair of seat belts and call it done.
Under wing stores include a drop tank and rack and a pair of under wing gondola cannon so you can build a "Kanonenboote" if that interests you.
The decal is well done. The colors are bright and the printing is crisp and in-register. You get a complete set of stencils and national insignia. The sheet includes marking options for 2 aircraft:
"Black Double Chevron," flown by the "Ace of Aces," Hauptmann Eric Hartmann, Kdr./JG53, Veszprem, Hungary, February 4th 1945. I believe that the instructions are incorrect. The plane was actually painted in standard RLM 74 Graugrün/75 Grauviollet splinter camouflage over RLM 76 Lichtblau. The plane was then over painted with temporary white distemper paint. The lower cowl and fuselage band were RLM 04 Yellow and there was also a yellow identification marking under the port wing. The spinner and forward cowl were white and JG53's distinctive markings adorned the nose.
"Yellow 9," 3./JG11, Spring 1945, Germany. I disagree with the painting instructions for this plane as well. Academy says it was painted the standard mid-War Day Fighter colors of RLM 74/75/76 with a dense mottle of these colors on the fuselage and an RLM 02 Yellow nose band and fuselage band. There is a photograph of this plane on page 43 of the Squadron/Signal book, Messerschmitt Bf109 in action, Part 2. There is also a color profile in the center spread, depicting the tactical number as white rather than yellow, and the upper surface camouflage in the late War colors RLM 81 Braunviolett/83 Dunkelgrün with dense mottling. I'm certainly NOT one of the "Experten," but these colors seem more likely to me.
The instructions are up to Academy's usual standards. They include a parts map, black and white profile artwork, and a well illustrated, logical build sequence.
Conclusion
This is a pretty good kit. It is reasonably accurate and it has an adequate level of detail. You can build it as a G-6 or G-14, depending on which parts you use. I like this flexibility. Both Hasegawa and AZ Model also produce 1/72nd scale Bf109G-17 kits. They are more refined and more expensive kits, and they are also harder to find. Academy's kit is widely available. I would recommend aftermarket wheels and perhaps a resin cockpit if you elect an open canopy. There are also lots of G-6 and G-14 decals available. This kit is perfect for a paint job showcase. I recommend it and I would like to thank Academy for the review sample.
References
Messerschmitt Bf109 in action, Part 2, Aircraft Number 57, by John R. Beaman, Jr., Squadron/Signal Publications, 1983
Bf109 Late Versions, Camouflage & markings, Krzysztof W. Wołowski, MMP Books, 2010