Internet Modeler : First Look : Aviation
RSS News Feed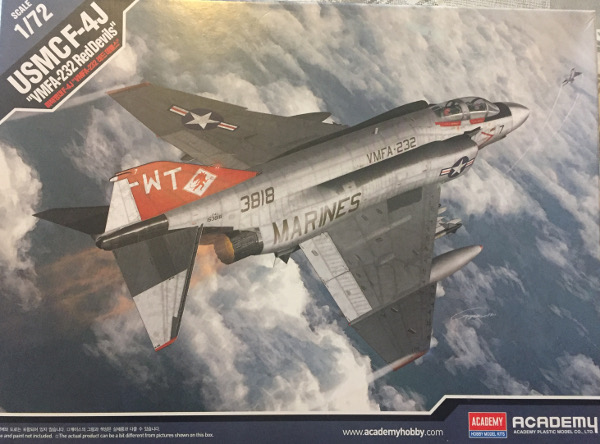 Academy 1/72 USMCF-4 "VMFA-232 Red Devils"
This is Academy's reissued McDonnell-Douglas F-4J kit. It was originally issued as a snap-together kit with multi colored plastic. The new F-4J consists of 119 parts on 17 plastic sprues, one of which is molded in clear. The rest of the parts are molded in medium gray.
My initial impressions of the kit are positive. The surface detail on the wings and fuselage consists of finely recessed panel lines, with rivets where appropriate. The parts are finely molded and flash free. The sprue attachment points are located in areas where it will be easy to remove parts from the sprues without damage.
There are very few sink marks on any of the parts. These are confined to the landing gear doors and the main wheels will hide them. The clear parts are well done with minimal distortion.
The cockpit is convincingly busy for 1/72nd scale. The sidewall consoles have good raised detail, which will look great with some careful dry brushing and oil washes. The ejection seats are okay, but they are nothing to write home about, so I would replace them with a pair of aftermarket resin seats.
The landing gear, wheels and the landing gear doors are well done. The wheel wells, which have the correct "flat" (i.e., featureless) roofs, will look pretty good with an oil wash.
The engine intakes are nicely executed. They are multi-piece assemblies that do a good job of capturing this complex area of the real plane. The prominent afterburner cans are equally well done, as is the aft fuselage. You can get out your favorite metallic paints and go to town here. The rear fuselage with its discolored, heavily weathered metals was a prominent and distinctive area on all F-4 Phantoms.
The under wing stores are comprehensive. The wing pylons are nicely detailed and you get under wing and fuselage drop tanks, plus Sidewinder and Sparrow missiles, and bombs. Academy's instructions don't tell you that what kind of missiles are included (I found that information on Wikipedia), nor do they provide the drop tank capacity or the weight of the bombs. This data should be included in the kit instructions.
Academy's instructions are well done, with the exception of the missing under wing stores information. They are well illustrated with a logical build sequence. The instructions are divided into 2 sections. The first section, "Manual 1", is confined to model assembly. Manual 2 includes a parts map, decal application guide and color call outs for the following paint lines: Humbrol (enamels and acrylics), GSI Creos (Gunze) acrylics and lacquers, Lifecolor, Testors/Modelmaster (enamels and acrylics), Revell (enamels and acrylics), and Vallejo (Model Color and Model Air).
Cartograph of Italy printed the decals. The colors are bright and the decals are crisp, legible and in register. You will have "fun" applying more than 68 stencils all over the air frame There are marking options for 3 F-4J Phantoms from VMFA-232 "Red Devils". All 3 aircraft are Gull Gray over white, with a white nose and rudder, and a red fin:
"WT-1", Bu No 153791, c/n 3791, Iwakuni AB, Japan 1974.
"WT-3", Bu No 155801, c/n 5801, Iwakuni AB, Japan 1974.
"WT-7", Bu No 153818, c/n 3818, Iwakuni AB, Japan 1974.
This is a nice kit. Despite its snap-together origins it is accurate and well detailed. Add a pair of aftermarket resin ejection seats and I think that you will be quite pleased with your finished model. I recommend Academy's F-4J Phantom and I would like to thank Model Rectifier Corporation for the review sample.