Internet Modeler : First Look : Aviation
RSS News Feed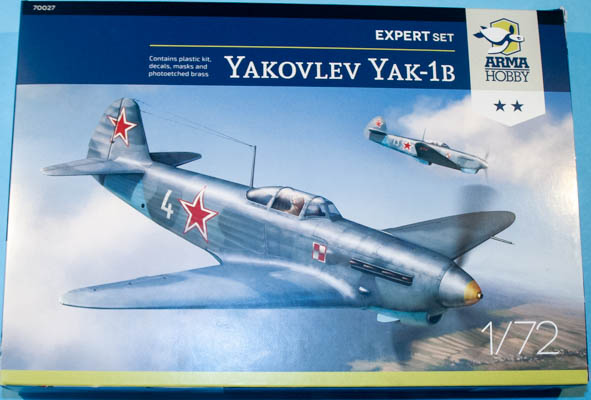 Arma Hobby 1/72 Yak-1b Expert Set
Introduction
Unfortunately my life has been "unsual" last year. Lots of personal changes and losses meant I was unable to attend to working on IM as I should. So, this is definitely a late review and for that I apologize to Arma Hobby. The kit has been on multiple other sites - some built - so it has been out for some time.
The Kit
The Arma Hobby 1/72 Yak-1b Expert Set consists of 41 pieces of gray injected plastic, a clear injected sprue with two pieces on it (the one-piece canopy and the clear armored panel behind the pilot's head), a photoetch fret with 17 pieces on it, and a set of masks for the canopy and all wheels. There are decals for six aircraft:
Yak-1b, No. 4, 1 squadron, 1 Fighter Aviation Regiment, W/O Edward Chromy, Zadybie Stare, lato 1944 r.
Yak-1b, No. 13, 2 squadron, 1 Fighter Aviation Regiment, " От польского патриота проф. Вольф-Мессинга польскому летчику", F/SGT Hugo O'Brien, Operation Berlin 1945.
Yak-1b, No. 2, 148 IAP, "Сталинскому соколу Леониду Смирнову от трудящихся Фрунзенского района г. Саратова". Aeroplane flown by Regiment CO, Capt. Leonid Smirnov. After his death flown by Ltn. Mikhail Shkomplektov, who has mistakenly landed on German airbase in  Anapa on 11 May 1943.
Yak-1b, "Сталинскому соколу Леониду Смирнову от трудящихся Фрунзенского района г. Саратова" in German markings. Probably in Erprobungsstelle Rechlin on Autumn 1943.
Yak-1b, No. 26, 31 GIAP, "Лётчику Сталинградского фронта Гвардии Майору тов. Ерёмину от колхозника колхоза «Стахановец» тов. Головатова", major Boris Yeryomin , Solodovka, Stalingrad Front, December 1942 r.
Yak-1b, No. 6, GC3 Normandie, Albert Durand, Khatenki, Summer 1943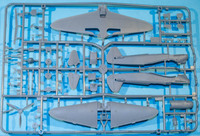 Construction naturally starts with the cockpit and even with just the plastic components is really nicely done. Add the few photoetch components in this Expert set and it takes on a whole new dimension. Unfortunately the one failing with this kit is that although the canopy is nice and thin, it comes as only one piece so either you'll need to cut it apart to show off the incredible cockpit detail, or source one elsewhere. Unfortunately as of this writing none exist so you might have to restort to "squashing" or vacuum-forming your own. Thankfully Arma Hobby also includes seat belts in this Expert set so you won't have to track down aftermarket items.
Now the fuselage halves are assembled after the side-panel and some cockpit details are added to the fuselage halves. The main floor of the cockpit exists on the one-piece wing so the entire cockpit doesn't come together until the wing is glued to the fuselage. The level of detail in general on this kit is simply fantastic.
There are items to add to the wing prior to adding it to the fuselage so pay attention to the instructions. Once those pieces are added then the wing upper and lower half can be glued together. Now construction moves to adding the horizontal tail surfaces and the tail wheel (which you might want to leave off until after painting and decaling), followed by adding the separate, upper nose piece and exhausts. Note that SBS Model and other manufactuers have created aftermarket exhausts for this kit with hollowed out ends.
Now you add the underwing radiator pieces before turning your attention to the main landing gear, wheels and doors. The tires are fantasitc for injected plastic, none better. I honestly can't see how any resin replacement will be better. They are "bulged" a little, but nothing too pronounced, and the level of detail on them is amazing for injected plastic. Sure, you can replace them if you want, but I don't see why you would want to.
The final steps of the instructions have you finish up the model. One thing that isn't extremely obvious is you can make the propelloer spin, if you're so inclined.
Aftermarket
Since the release of the kit, there have been a number of aftermarket items specifically for the Arma Hobby kit that has been released. Yahu has not only produced two really nice instrument panels for the kit (an 'early' and 'late' panel), but they also have made a "Yak-1/1b Set" that consists of not only additional items for the cockpit, but also - more importantly - the one item that Arma has neglected to provide, the wing fuel gauges. No idea why Arma left out a very important - and noticeable - part of the Yak-1, but thankfully Yahu has come to the rescue.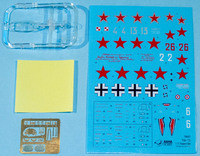 Other aftermarket items released have been photoetch sets from Eduard (a Zoom and a "regular" set), along with a set of masks, and Yahu also has a set of Yak fighters seat belts. As was already mentioned, SBS Model has released a set of resin, hollowed-end exhausts as has Quickboost. While not specifically for the Arma Hobby kit, Armory released a set of resin wheels awhile back, but as I mentioned, the injected wheels contained in the kit are truly superlative and don't really need replacing.
As far as decals go, so far only one set has been released catered specifically to the Yak-1b, and that's the set from Exito. I have yet to see them in person, but they do look nice with some unique markings. Here's hoping more companies follow suit.
Conclusion
Overall the Arma Hobby 1/72 Yak-1b is a superlative kit, one worth tracking down and building if the type appeals to you. I've seen a few on-line builds where it builds almost flawlessly so be prepared for a fun build. My only complaints with this kit is one huge miss from Arma - the lack of the fuel gauges on the wing - and the canopy not being seprated in two parts. But even with those two misses this is a kit definitely worth building.
Huge thanks - and apologies to - Arma Hobby for supplying the review model.